Scannability in Action: Pro Tips to Make Your Site a Skimming Paradise
So, you're on board with the scannability ship and ready to set sail. But where do you start?
Fear not, for here's your treasure map of tactics, each promising to transform your website into a haven for hasty browsers without sacrificing style or substance. Let's embark!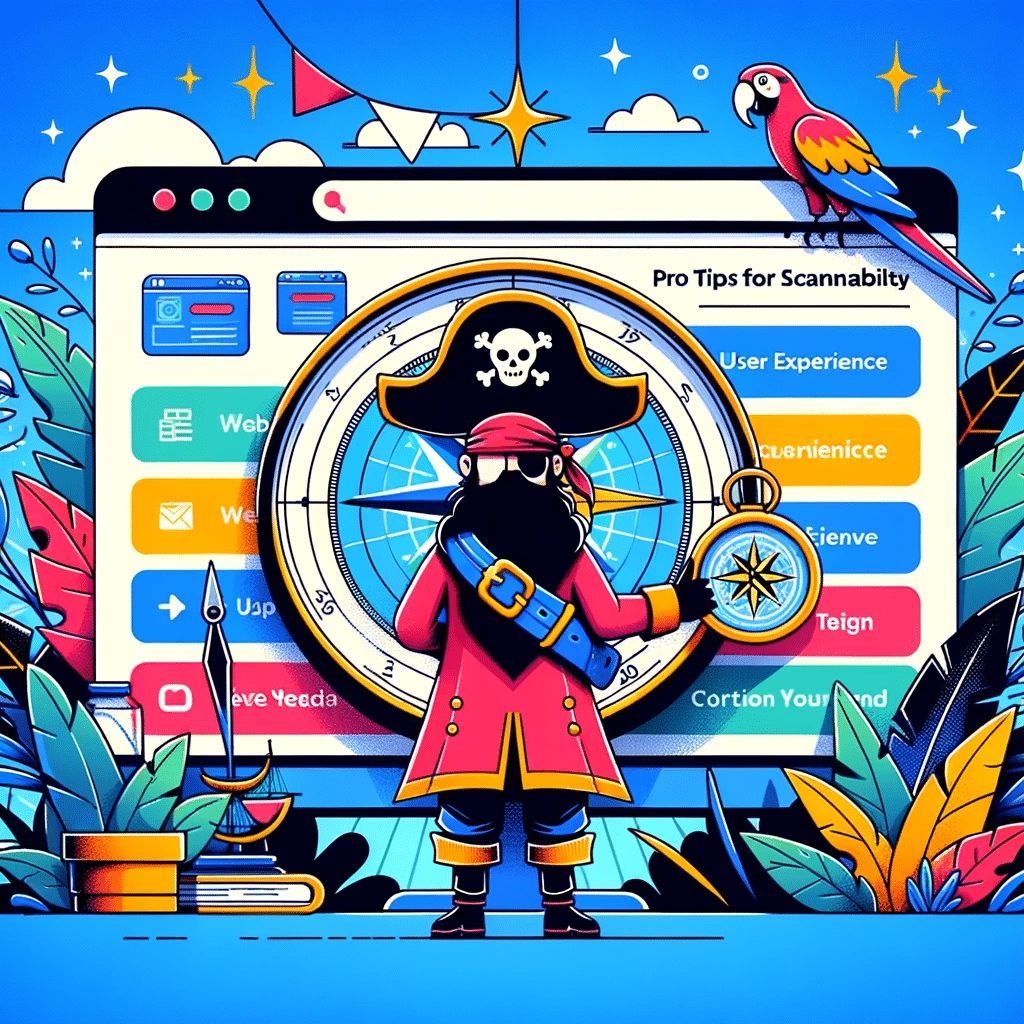 The Pyramid Principle: Hierarchy in Content
Because if it's crucial, it should be king (or at least, up top).
Top-tier Treatment:
Prioritize key messages by placing them prominently at the beginning or where they can't be missed.
Visual Weight:
Use design elements to emphasize significant points, ensuring they grab attention.
The Siren's Song: Crafting Compelling Copy
Words matter.
But the right words?
They mesmerize.
Magnetic Messaging:
Employ engaging language that resonates with your audience and beckons them to read on.
Hook 'Em Early:
A powerful intro can be the difference between a glance and a deep dive.
Font-tastic! Leveraging Font Dynamics
Fonts aren't just letters; they're silent persuaders.
Guide the Gaze:
Mix font types and sizes to create a flow, guiding readers seamlessly through your content.
Weighty Matters:
Use varying font weights and colors to highlight significance and create contrast.
Bold is Beautiful: Emphasizing Key Points
In a sea of words, let your golden nuggets shine.
Standout Statements:
Bold essential phrases to ensure they don't get lost in the shuffle.
Capture and Convey:
Emphasized text captures attention and swiftly conveys its importance.
Lists: The Scanners' Best Friend
For when paragraphs seem like daunting mountains.
Break It Down:
Use bullet points or numbered lists to segment information for bite-sized consumption.
Structured Simplicity:
Lists offer clarity, making complex topics easily digestible.
Straight to the Point: The Beauty of Conciseness
Ditch the fluff.
Keep the gold.
Trim the Fat:
Eliminate unnecessary jargon and filler words, offering pure, unadulterated content.
Swift Satisfaction:
Direct, concise statements lead to quicker understanding and appreciation.
The Guiding Lights: Clear Calls-to-Action (CTAs)
If you want them to dance, you've got to call the tune.
Transparent Intentions:
Make CTAs unmistakable in their purpose, removing any guesswork.
Spotlight on Action:
Position CTAs prominently and design them to stand out.
Links with Purpose: Beyond the "Click Here"
Transform your links from mere connectors to informative guides.
Descriptive Dynamics:
Use information-bearing words in links to enhance both accessibility and user comprehension.
Predictable Paths:
Ensure users know their destination before they take the leap.
The Consistency Key: Uniformity Across Pages
Because predictability can be a good thing.
Seamless Surfing:
Ensure a consistent layout, design, and navigation structure across all pages.
Familiarity Breeds Contentment:
Users appreciate knowing what to expect, enhancing their browsing experience.
Colors That Command Attention
More than just pretty hues; they're strategic tools.
Highlight with Hues:
Use contrasting colors to spotlight important points or sections.
Psychology of Palette:
Understand how colors evoke emotions and use them to your advantage.
Graphics Galore: Context over Confusion
It's not about decoration; it's about communication.
Purposeful Imagery:
Utilize graphics that add meaning, context, or clarify content.
Clarity over Clutter:
Avoid visuals that might confuse or distract from the main message.
With these tactics in hand, your website won't just be another digital platform—it'll be a scannable masterpiece, harmonizing with the rhythm of modern web surfers and ensuring your messages don't just get seen, but truly experienced.