How Facebook's News Feed Change Can Affect Your Company's Outreach
It may feel like Facebook is constantly rolling out updates, but their latest News Feed update is the biggest change they've made in a long time. The update is supposed to be helpful to users, but in the process it might hinder your company's outreach efforts.
What the Change Is
Since its inception, the Facebook News Feed has gone through many changes. Originally, it was a timeline that listed items based on when they were posted, with no filter for the content at all. Later, it evolved to News Feed that relies on an algorithm to determine what the user wants to see first. Now, Facebook is putting the user in control of their News Feed. Instead of relying solely on an algorithm to figure out what content they want, Facebook is letting users decide who and what to see first.
With this update comes a new feature in settings (on iOS only — for now), where users have access to a list of their friends, as well as pages they've liked. From this list, up to 20 pages or friends can be prioritized. The prioritized people and pages will now be the first items in the user's News Feed, and will feature a star signifying their status as the chosen few.
What it Means for You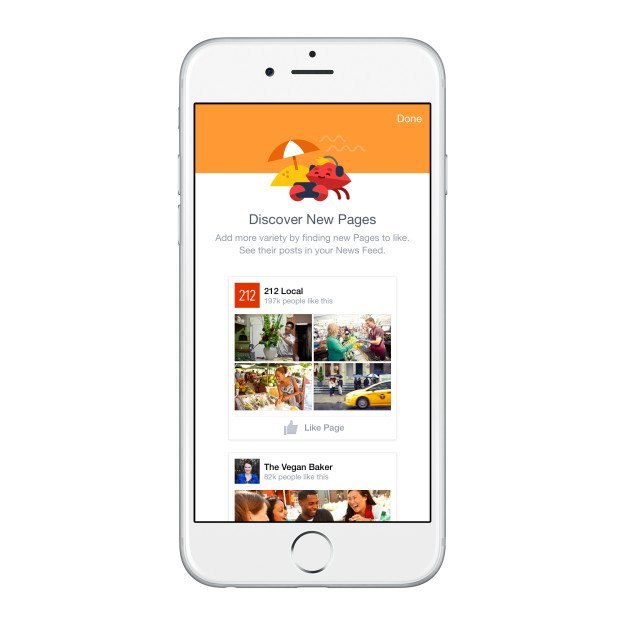 If your company's marketing strategy largely involves social media (and let's be honest, whose doesn't?), this news might have you quaking in your boots.
Now that users can choose who it is they want to see in their news feed, they might not choose your company page, and then all of your hard work will be for nothing. Right? Not necessarily. It's still likely that your activity will be visible to them, especially since the vast majority of users have more than twenty pages and friends that they enjoy.
However, this doesn't mean that you should roll over and leave it up to chance whether or not you're included in anyone's top 20. Now that there's something to compete for, plenty of brands (and your competitors) are going to be stepping up their game.
What You Can Do to Stay On Top
Although your first instinct may be to start putting out a ton of content in the hopes that the quantity will inspire users to include you in their top 20, resist that urge.
The most important step is to focus on producing quality content. Now that users have more control than ever before on which content they want to prioritize, it's your responsibility to produce the content that will make them want to prioritize you. Think even more critically about what you are putting on Facebook and if it meets the needs of your audience.
Noticewhat makes your audience react, and whether that reaction is positive or negative.
Don't post one piece of content on multiple social media sites without tailoring the presentation. The appropriate formatting for a tweet is not appropriate for a Facebook post.
Quality, engaging content is much more important than the quantity of content you produce.
Stay true to your brand. Don't start changing up your messaging just because of this update, or you run the risk of confusing your audience. Stay consistent with your branding unless you have evidence that it's not working out for you.
Pay up. It's no surprise that as Facebook continues to hinder company page posts from organically showing in news feeds, businesses are being forced to utilize Facebook Ads to ensure their content reaches their audience.
Be careful not to view this change as completely negative; being a part of the prioritization process is valuable. Users will now place more weight on the content they know they've chosen to see. The user has obligated themselves to pay attention to their top twenty, because they actively chose what's important to the. Becoming a part of this system could give you a much bigger boost than working solely within the original algorithm, which predicted what users wanted to see, but got no confirmation from them.
If you really want to stand out, see how we can help you serve and impress your audience. Register today for our Social Media: Steps to Success seminar.
About Insivia