Benefits of Collaboration with Sales Agencies
So, how exactly can a SaaS company benefit from collaborating with a sales agency?
Especially for newer SaaS companies trying to break into the market and create credibility, it can be extremely difficult to scale the company. With a sales agency though, SaaS companies can increase their reach and acquire new customers without having to think about building additional features or doing a sales process audit.
Below is an overview of 3 forms of partnerships SaaS companies can choose from: technical, channel, or strategic.
Collaboration with a sales agency can be a great sales strategy for your company if you are eager to tap into new audiences or even if you simply don't have all of the necessary skills or experience. Additionally, sales can assist sales leaders or marketing teams that don't have enough sales representatives to scale your company.
By partnering with an experienced sales agency, SaaS companies can explore new verticals, enter regional or global markets, and gain access to the agency's existing customer base. This can help them to expand their user base and grow their business.
Also, as written by Revenue Grid, collaboration with a sales organization can help your company identify opportunities and manage your sales pipeline. When multiple individuals work together with the same data, they can share their respective insights into how they use it and what conclusions they draw. This can prove useful in spotting details that may have gone unnoticed by other people - providing valuable guidance when attempting to progress with a sale.
Increased Reach and Accessibility
The old African proverb reads, "If you want to go fast, go alone. If you want to go far, go together."
That proverb is true in most areas of life, including the world of SaaS.
If you want to "go far" and create an untouchable company, then collaboration is the way to go.
​​By partnering with sales agencies, SaaS companies can tap into the resources and expertise of these agencies to help them reach more potential customers. Sales agencies can provide valuable insights into customer needs and preferences, as well as access to networks of independent retailers that may not have been accessible before.
Additionally, sales agencies can help SaaS companies develop effective marketing strategies that will help them reach their target audience more effectively. Below is an example of successful sales agency collaboration selected from Insivia's website.

This is exactly the kind of work that Insivia excels at. With decades of experience in the SaaS industry, our collaboration with SaaS companies has repeatedly helped them increase their visibility and accessibility in ways they never thought possible.
On the whole, collaborating with sales agencies is a great way for SaaS companies to "go far" and maximize their reach and accessibility. Such collaborations provide access to resources, expertise, customer insights, and networks of independent retailers that may not have been accessible before.
Additionally, effective marketing strategies can be created through these collaborations that help target the right audience in the most successful way.
Leveraging Expertise to Improve Operations
According to an article by Referral Rock, some of the biggest SaaS brands, including HubSpot CMS, SEMrush, Zendesk, and Databox, launched partner programs early on, which were instrumental in helping them scale.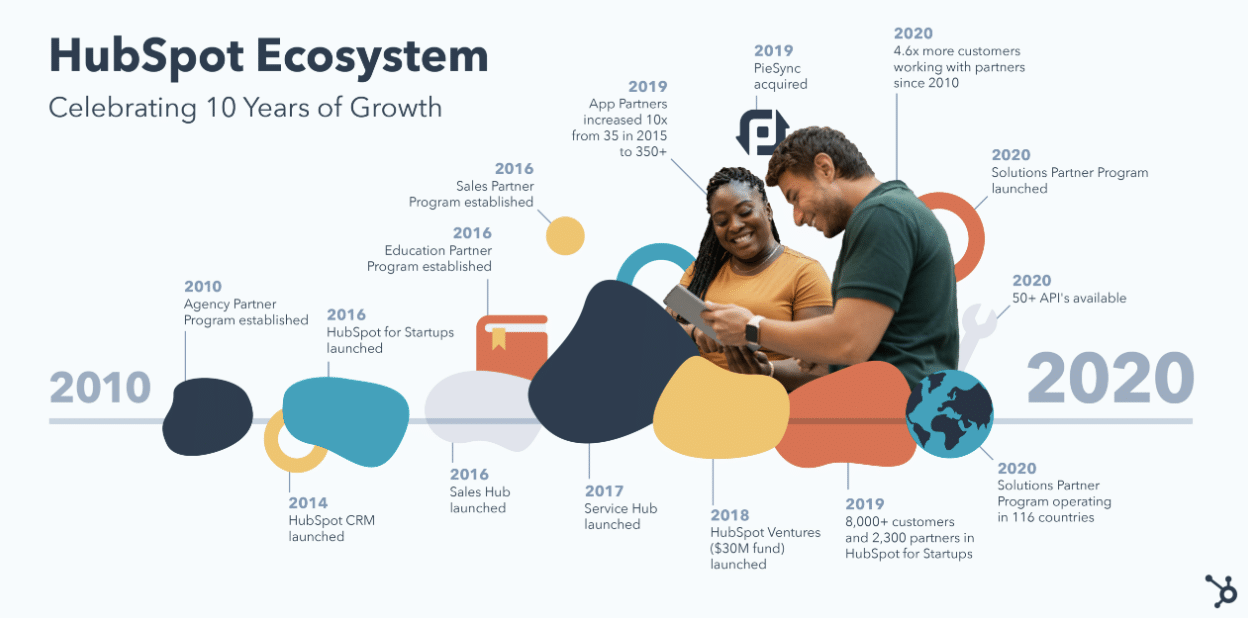 These brands continue to use their partnerships to accelerate growth, improve the sales process, encourage user retention, and increase revenue.
Why?
Because they each understood how valuable collaboration and partnerships could be to leverage expertise, improve operational efficiency, enhance the sales process, and eventually scale their company.
By leveraging the collective knowledge and skills of the sales agency, SaaS companies can improve their operations and increase their revenue potential.
For example, a sales team of a SaaS company could collaborate with a sales agency to create a comprehensive customer profile that includes insights into their needs and preferences. This would enable the team to better understand their customers and tailor their approach accordingly.
Additionally, by sharing information about successful strategies, sales agencies can help teams learn from the successes of others and apply those lessons in their own operations.
Finally, sales agency partnership helps foster a collaborative culture of innovation within an organization. By bringing in unique insights and encouraging open dialogue within the company, agency collaboration can help create an environment where new ideas are welcomed and explored.
This encourages team members and sales professionals to think outside the box and come up with creative solutions that may not have been considered before.
Overall, sales agency collaboration is an invaluable tool for any SaaS company looking to maximize its sales success and improve internal operations.