Marketing for iot & devices
We work with technology and IoT device companies to scale sales.
Smart device marketing to drive the right audiences ready to buy.
WHY DEVICE COMPANIES WORK WITH INSIVIA
Take your tech product to the next level.
We've developed an intense focus, strong experience and unique methodologies for a wide range of device organizations.
WHO LOOK LIKE:
Selling To Consumers
Online & In Store Sales
Product Syndication
Rely On Word-of-Mouth
WHO LOOK LIKE:
Selling To Businesses
Wide Range of Industries
Sell Online or Direct
Build Reseller Programs
WHO LOOK LIKE:
Selling To Hospitals or Labs
Regulated
Markets To Doctors
Highly Technical
WHO LOOK LIKE:
Inventors
Manufacturing
Leverages Resellers
Provides Consulting
WHAT WE DO FOR Device COMPANIES
Sell More Tech Products
Our team integrates with yours to balance our knowledge and experience with yours to produce big outcomes and key results.
Research & Strategy
To Convince.
MARKET
RESEARCH

GO-TO-MARKET
STRATEGY

POSITIONING
STRATEGY
Creative & Technology To Convert.

BRAND &
IDENTITY

WEB &
ECOMMERCE

INTERACTIVE
EXPERIENCES
Execute & Optimize
To Win.
INTEGRATED
CAMPAIGNS

PUBLIC RELATIONS
& WORD-OF-MOUTH

CONTENT
& MEDIA

SEARCH
& SOCIAL

CONVERSION
OPTIMIZATION

MARKETING
AUTOMATION
Improve & Retain
To Scale.

PRODUCT
STRATEGY
UI/UX
DESIGN

RETENTION
CONSULTING
WHAT DO SOFTWARE COMPANIES NEED
IoT & Device companies face unique challenges and opportunities that we are attuned to.
We know how to sell devices -- B2C, B2B, medical or direct from manufacturers.
Customers often need education about the product and its value.
Validation is imperative not just through voice of the customer but product proof.
Bootstrapped and funded product companies have similar goals but different pressures.
Affiliates, partner programs, and influencers can drive massive product sales.
The product and its value has to be the hero and showcased in smart, beautiful form.
Syndication of a products across channels such as Amazon and other sites is imperative.
DON'T JUST TAKE OUR WORD FOR IT
Hear from great technology leaders.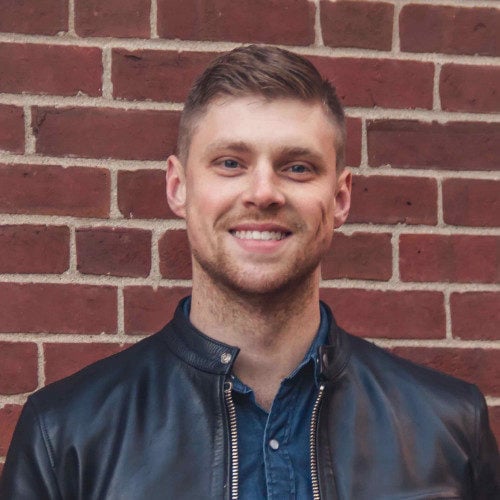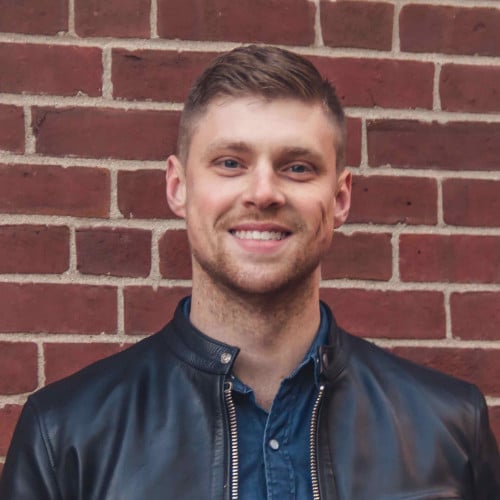 David Lecko, Founder of Deal Machine
"They're just really talented and they have vast experience in many different domains."
"Our churn has moved from 15% down to 10%, which is the lowest it has ever been. For us, that's a savings of about $35,000 per month."
"Definitely work with Insivia ... because when we've made those based on their recommendations, it has paid off."
"Insivia took my rough concepts and goals, crafted them into a compelling vision, and then executed that into a fantastic solution."
– Jeff Epstein, Health Tech Corridor
"Insivia applied new technology and techniques coupling them with old school values like hard work and meeting tight deadlines to create effective campaigns."
– Bob Brooks, Bearware
"Insivia created an amazing site focused on generating quality leads for our sales team — and they delivered big time and on time."
– Roy Bielewicz, Mongoose Metrics
OUR THOUGHT LEADERSHIP
And watch our shows on SaaS topics.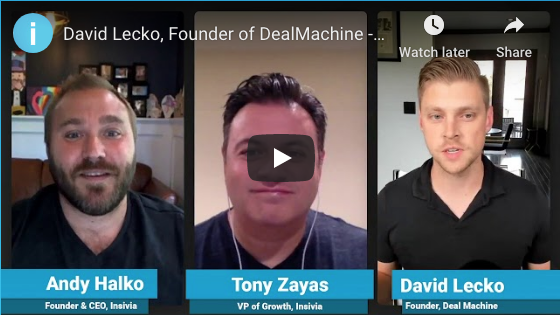 Fascinating conversations with SaaS founders sharing their journeys, learnings & insights.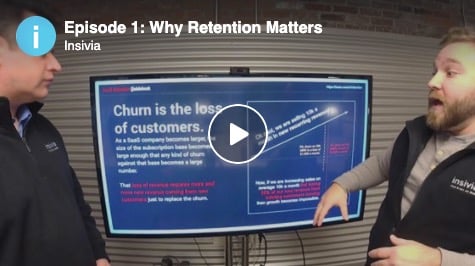 We discuss strategies to keep users coming back and reduce software user churn.
SaaS Founder Interview
SaaS Founder Interview: Lindsay Tjepkema
Lindsay Tjepkema is Co-Founder & CEO of Casted, the first podcast solution for B2B marketers.
SaaS Founder Interview
SaaS Founder Interview: Jessica Willis @ Pocketnest
Jessica Willis is Founder & CEO of Pocketnest, a venture-backed B2B2C SaaS platform that helps users achieve financial wellness, while strengthening their relationship with their financial institution.
SaaS Founder Interview
SaaS Founder Interview: Matt McCarrick @ SkillSetz
Matt McCarrick is the CEO & founder of SkillSetz. SkillSetz offers businesses of all sizes a one-stop shopping experience for all of their Project-based Services needs.
SaaS Retention
Who's in Charge of Retention?
Retention plays an important role in the success of any company. It's key to assign the responsibility to someone.
SaaS Retention
User Retention: Don't Wait Until They're Gone
Churn is a silent killer of the modern-day SaaS business. So, to avoid the loss of customers, we've come up with a useful list of customer retention strategies to consider.
SaaS Retention
Customer Feedback: Why You Need It
Customer feedback is a powerful guide that provides you with critical insights, and acting on it will take your business to a whole new level. Read all about the ins and outs of this valuable tool.
SaaS Websites
SaaS Website Design Consistency for Conversion
Our goal is to increase conversions into demos, trials, and purchases as well as downloads, webinars, and follows.Often a huge design mistake is not developing a consistent and predicatble experience that makes it significantly easier for visitors to traverse a site and know when to take actions.To get started, watch episode #8 of our SaaS
SaaS Websites
SaaS website scrolling to improve time on site and conversion
People are now more likely to scroll than click to another page — the influence of mobile browsing and social media sites has influenced all online behavior.
SaaS Websites
SaaS Screenshots & Product Tours for Conversion
Prospects want to be able see and feel a product before buying it and software is no different.For software, our goal should be to provide an experience that allows visitors to virtually touch and try on our product before they convert.
SOFTWARE + TECHNOLOGY MARKETING E-BOOK
Check out our article on marketing for technology companies that explores how to scale your SaaS or Software company with marketing.
ABOUT DEVICE MARKETING
Challenges and Solutions for IoT Marketing
Products that come under the description of the Internet of things or commonly referred to as IoT or smart devices have struggled to gain a sizable market share over the past few years. Or at least a market share that is commensurate to the usefulness of such devices.
There are many reasons for this, but the main ones are:
Consumers taking their time to adopt new products
Lack of good in-store education
The complexity of IoT systems
A large variety of different products
Marketers not taking lifestyles and tastes into consideration
Taking a Look at the Products
Smart devices are those that can perform different smart functions such as tracking, monitoring and can be controlled remotely via the Internet.
Devices and products that are capable of doing these functions are highly diverse.
Examples are health monitoring systems, TVs, HVAC units, cameras, lighting systems, and more recently, solar panels and automobiles. The problem is that all smart devices are not at the same level of maturity. Smart TV and entertainment systems, for example, have been around for a while, therefore, are some of the most mature of smart devices, technology wise.
When there is so much to choose from, consumers will get discouraged and put off getting a new smart device.
Educating the Buyer
Even though smart devices have been around for a few decades, not many people knew what they were and how it worked.
The first devices were hardwired and complex to set up and use. Nowadays, you operate smart devices through digital means such as hubs and Wi-Fi connections. Therefore, it is up to retailers to educate the customer and show them how to do it. If you were around in the 1980s and 90s think of the days when you shied away from programming the VCR or when you had to set up the answering machine for the phone.
You probably shied away from it. The fact is that fear of electronic devices is a real thing, and it needs to be addressed by tech product marketing and the retailer. Smart devices are highly complex and require foundational knowledge to use correctly.
So Many Products to Choose From
Whether you shop online or visit a brick-and-mortar store, one of the first things you will see is the sheer variety of smart products available today.
On top of all this, new ones are getting added to the list, and older ones become outdated and replaced. According to a CTA study, most people are not even aware of the different types of smart devices on the market today that are available for purchase! But it is not all doom and gloom on the sales front.
Since 2014, smart devices have grown from approximately 20 million units to nearly 36 million units sold by 2019. The trend is upward; however, there are still many potential customers out there who have not signed on. The following are lists of predictions and numbers that show just how seriously IoT needs to be taken by tech marketers.
In two years, the IoT market for home devices is expected to grow to $53 billion
In three years, most automobiles will have an internet connection
In four years, the medical IoT market globally will be worth nearly $140 billion
By 2027 there will be over 40 billion IoT devices being used by consumers
Nearly 2 billion people will have 5G cellular service in the next few years
Most manufacturing companies are making plans to start using IoT devices to simplify the production of goods
Taking Lifestyle into Account
Obviously, each consumer is going to be different when they start shopping for a smart device.
A younger, more tech-savvy customer is going to be much easier to sell to. However, with device marketing, it is more nuanced than that. There was a time you looked at electronic products as just another commodity. With smart devices, they are becoming more personal.
You will need to point this out to customers.
The days of just turning a device on and forgetting about it are over. Smart devices have become like pets that need attention and care. However, with proper knowledge, it will be easy to do. These products are customizable according to each person's needs. This is very important since what each person wants from similar products can be different.
Once you identify what the customer is looking for in a product, the product will sell itself.
What IoT Marketers Need to Keep in Mind
Ultimately, the main factor behind the success of smart devices can be boiled down to one thing; convenience.
A home or office that uses smart products will make life much easier for the user and quicker to get things done. Now, with a press of a button, you can order more coffee, set the temperature of your house, lock a door, keep an eye on your health or manufacture something remotely. Did you forget to turn off the stove in the kitchen when you went to work? No problem.
You can now do that using an app on your smartphone. You've heard the term "value proposition". Well, in the context of IoT marketing, you will need to understand the unique value proposition offered by your product.
For B2C products, you will need to understand how your product will solve customers' problems and make life easier, and for B2B, you will need to educate customers on where the product fits in their value chain.
A Device Marketing Example
An example of B2B customers that is changing the game using IoT devices is the solar panel industry.
Now, solar panel manufacturers can give their customers the option of real-time power production monitoring of their panels. It is possible to see what is happening with all the assets from one central unit, connected to the cloud. The benefit of this is that the user will not suffer many power outages and downtime.
In fact, with the help of smart technology, solar power farms are easily capable of managing large amounts of power production and distribution with minimum hassle.
The Tools of Tech Product Marketing
If you have a database with information regarding your customer's likes and dislikes, you can do more specific and targeted marketing campaigns.
If they have already bought a product and are having issues with it, you can help them by sending them appropriate messages to help solve technical issues or advice. In fact, real-time marketing is one of the hallmarks of the IoT business.
According to the famous business consultant Peter Drucker,
"quality in a service or product is not what you put into it; it is what the customer gets out of it".
This quote is perfect in the context of IoT product marketing. Once you understand who your customer base is and what they want, you can market to them by highlighting what they will get out of a smart device.