Brand + Positioning Strategy
Define & articulate what makes your business unique, convey your value, and convince audiences to act.
We create 'ah-ha' moments through a structured process, candid feedback, guided brainstorming, and expert insight.
GO TO MARKET TO WIN
Positioning & Brand Impact Every Aspect of Growth
We believe the right positioning is the key to capturing, defending, and owning your corner of the market.
Evolve your revenue generation into a system that is efficient, effective, and frictionless.
With prioritized audiences, defined unique selling points, a consistent voice, and well-crafted messaging, marketing and sales deliver.
Align and inspire your team to drive everyone towards a common vision.
When every member of the team knows why they are there, where you are going, and how to articulate your message, that's when vision becomes reality.
Focused and smart experiences convert customers into evangelists.
Support teams are a direct line to customers and influence what customers become raving fans and which destroy your social proof.
Products must be made for customers to attract and retain them.
No matter what you offer, it should be influenced by your audience's needs, wants, and motivations to drive scale.

Indonesia's first decacorn, valued at 10 billion dollars, worked with Insivia to develop a smarter brand strategy.
"For months my team and I have struggled to find just the right solution for our perpetually complex branding problem…
Insivia then came in and helped us to bring structure that is flexible enough to play around with, yet is solid enough to become a foundation for our group of brands."

Diera Hartono | VP of Merchant Marketing
Our specialized Breakthrough Program is built to produce big outcomes.
Our unique system has evolved through hundreds of engagements to be a candid, exercise-driven, collaborative process lead by experts who leverage evidence and logic to progressively solve and define your strategic position.

Breakthrough Positioning produces:
Audience Segmentation & Prioritization
Personas & Buyer Insights
Brand Voice
Value Propositions
Positioning Statements
Key Messaging
Brand Strategy Guide
Know What Works
Prioritize, examine, and interpret target audiences.
Our process removes bias to truly see audience drivers creating instant affinity and desire.
Prioritize target audiences leveraging past data, your expert-insights, market research, and a logical process to focus resources and budgets on the best opportunities.


Breakdown audiences into personas understanding the research and decision cycles that your buyers go through.


Define key motivations and buying factors as foundational information to utilize in the process of creating your unique positioning.
Position To Win
Define and articulate your voice and value propositions.
Every interaction with a prospect, customer, recruit, or employee is an opportunity to win or lose their interest.
Build a brand hierarchy that clearly communicates and proves your unique position in the marketplace and naturally removes competitors from the board.


Develop a consistent persona, tone, language, and purpose so that everything your organization produces backs up your strategy.


Create messaging that truly articulates and conveys your who, what, why, and how as well as sets the foundation for every audience interaction.
INFUSE YOUR STRATEGY
A great strategy has to be evangilized and executed.
When you position your organization for success and invest in messaging that seperates you from the competition, it must be infused into every experience and interaction.
Download our Brand Strategy Guidebook
A detailed, awesome step-by-step guide to positioning and brand strategy.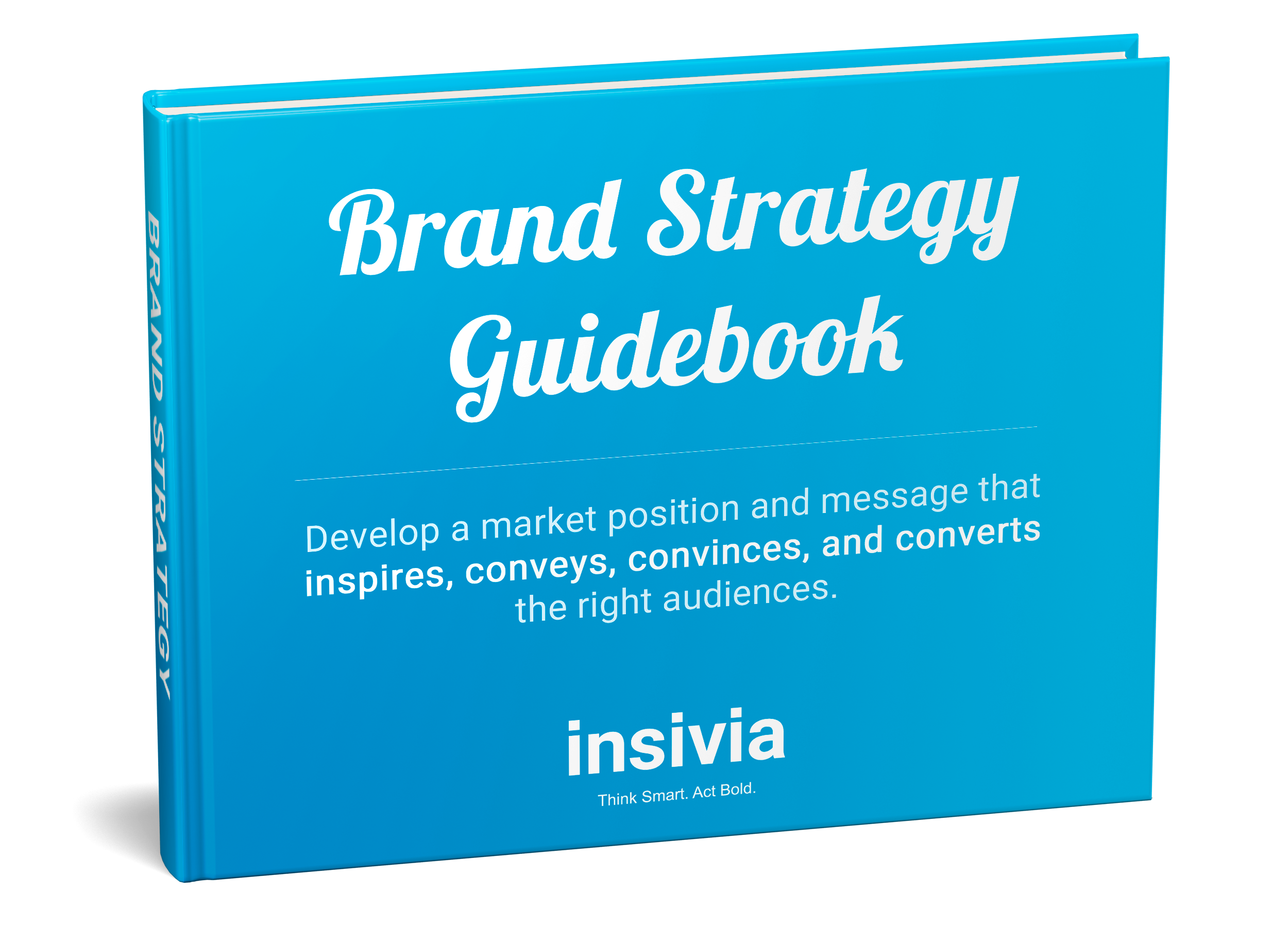 Samantha McClintock, Director of Marketing
"The entire Insivia team was wonderful to work with on our
brand and marketing strategy

.
We needed a
critical eye and outside opinion

to help us navigate a rebrand and other internal changes.
They came in,
listened well, guided our conversations, and produced a clear strategy

that will help us move forward as a company.
We're confident

that our new brand and marketing strategy will help us generate new business and better service for our current clients."