Define & articulate what makes your software or technology business unique, convey your value, and convince audiences to act.
We create 'ah-ha' moments through a structured process, candid feedback, guided brainstorming, and expert insight.
Your Positioning & Brand Messaging Impact Every Aspect of Growth
We believe the right positioning is the key to capturing, defending, and owning your corner of the market.
Increase conversions with messaging that resonates with your key audiences.
Improve validation and confidence by communicating key points clearly.
Achieve frictionless sales by truly articulating what makes you unique in the market.
Align your team towards a consistent strategic message communicated to every outside person.

"For months my team and I have struggled to find just the right solution for our perpetually complex branding problem. Insivia then came in and helped us to bring structure that is flexible enough to play around with, yet is solid enough to become a foundation for our group of brands."
Diera Hartono | VP of Merchant Marketing
Indonesia's first decacorn, valued at 10 billion dollars, worked with Insivia to develop a smarter brand strategy.
Achieve big, game-changing outcomes through our structured, yet collaborative methodology.
Outcomes are unique to ensure we deliver positioning that will deliver on achieving growth objectives and set a foundation for significantly more effective marketing and sales.
Audience Segmentation & Prioritization
Focus your targeting for highly personalized messaging to increase marketing and sales effectiveness.
Personas & Buyer Insights
Understand your audience capture their attention, ensure your message resonates with their needs, and engage at a deeper level.
Brand Voice
Develop a consistent framework for your entire organization to communicate how you sound, look and feel.
Value Propositions
Develop key points that truly define what make you unique and articulate why people should do business with you.
Positioning Statements
Define your core messaging that articulates your value propositions in your brand voice to convey to and convince your audiences.
Key Messaging
Create messages across offerings, channels and roles for consistent and strategic communication across marketing, sales, service and operations.
Explore Insivia's philosophy and methodology in our Brand Strategy Guidebook
A detailed, awesome step-by-step guide to positioning and brand strategy.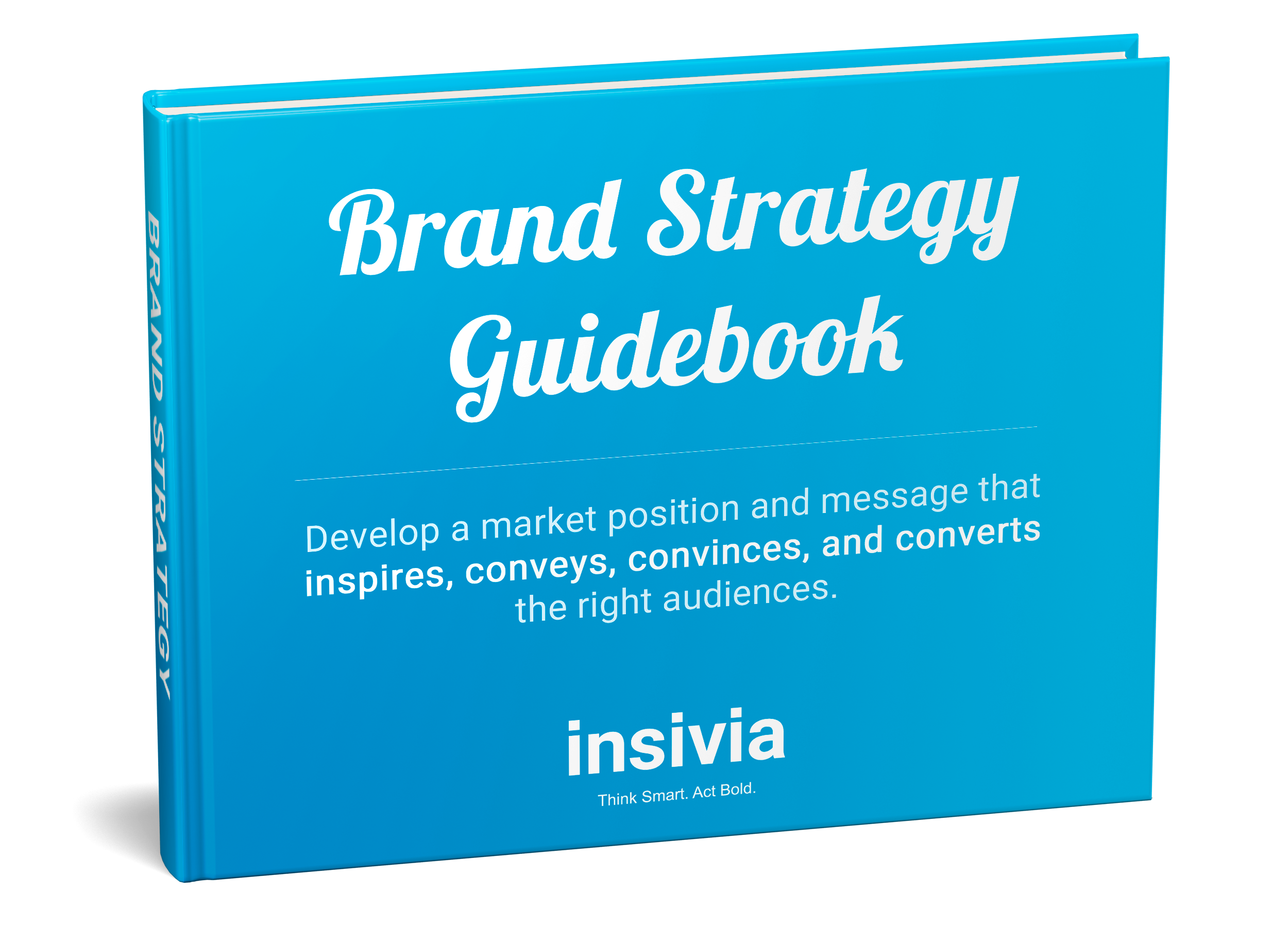 "The entire Insivia team was wonderful to work with on our brand and marketing strategy. We needed a critical eye and outside opinion to help us navigate a rebrand and other internal changes.
They came in,
listened well, guided our conversations, and produced a clear strategy

that will help us move forward as a company."

Samantha McClintock, Director of Marketing
Follow a proven path to create an impactful positioning strategy.
We've build a systematic, yet flexible program where tailored exercises are selected to uncover insights and create solutions. Based on upfront analysis, we build an organized and connected path to produce a smart, strategic outcome.
True SWOT
Dig deep and clear out bias to determine where you stand.
Start, Stop, Continue
Gather team insight into what the organization should start doing, stop doing, and continue doing.
ICP Prioritization
Examine your ideal customer profile through opportunity, demand, specialization, and competition.
Persona Detailing
Explore the most important factors of your target audience and organize them to define truly impactful insights.
Buying Factor Mapping
Understand what buyers use to make a decision and explore them in comparison to competitors.
Offering / Feature Matrix
Explore and detail what you offer to create organized and structured presentation of what you provide.
Problem-Fix-Outcome Definition
Brainstorm around formulic and PFO positioning structures for messaging.
Red Teaming
Analyze your company from a competitors perspective with nothing held back.
Brand Voice Exploration
Select and analyze words that define your persona, tone, language and purpose.
Need-Feel-Want Ladder
Break audience goals down to understand what is a need versus want and the emotions driving buyers.
MVP Dissection
Understand what makes an MVP for your organization to be highly successful to outline key organizational messages.
Celebration Breakdown
Determine a future outcome and breakdown the path to accomplishment to uncover actionable insights.
Start with audience insight with structured prioritization, examination, and interpretation.
Our process removes bias to truly see audience drivers creating instant affinity and desire.
Prioritize target audiences leveraging past data, your expert-insights, market research, and a logical process to focus resources and budgets on the best opportunities.


Breakdown audiences into personas understanding the research and decision cycles that your buyers go through.


Define key motivations and buying factors as foundational information to utilize in the process of creating your unique positioning.
Define and articulate your what makes you absolutely unique and why audiences should buy.
Every interaction with a prospect, customer, recruit, or employee is an opportunity to win or lose their interest.
Build a brand hierarchy that clearly communicates and proves your unique position in the marketplace and naturally removes competitors from the board.


Develop a consistent persona, tone, language, and purpose so that everything your organization produces backs up your strategy.


Create messaging that truly articulates and conveys your who, what, why, and how as well as sets the foundation for every audience interaction.
Evangelize and execute your strategy to ensure consistency across the organization.
When you position your organization for success and invest in messaging that separates you from the competition, it must be infused into every experience and interaction.
Looking for SaaS focused services?