What is a Brand Strategy?
Explore our weekly live show, guidebook and webinar that dives deep into building a smart Brand Strategy.
WATCH THE LATEST EPISODE:
A Discussion on Brand Strategy, Culture, And Our Last 8 Episodes.
Join Our Live Cast Weekly by Subscribing or Following Us:
Why Is Brand Strategy So Important?
Brand Strategy actually influences almost every aspect of your business.
What should you expect your Brand Strategy to include?
A lot of people think brand is about a logo, but it is much more than that.
So, What Is Brand Strategy?
One of the biggest challenges we face in business is influencing and causing growth. It can feel like an uphill battle and monumental effort to force an increase in revenue.
The entire team from sales and marketing to operations and customer service have to be aligned, working together, and executing on their objectives.
The biggest issue is that it's easy to get sucked into the day-to-day working in the business - just checking tasks off your list - rather than working ON the business figuring out where you want to go and how to get there.
Foundational questions that are often overlooked but significantly impact revenue and growth never truly get answered... like...
Who are the best potential customers that will be easier to sell and drive profits?
What motivates our customers to buy?
What makes us different than all our competitors?
What will make people desperate to work with our business or choose our products?
And how do we articulate to the world and prospects why they should want to do business with us?
When we don't know the answer to these fundamental questions, then our marketing, sales, and operations are not aligned and working together.
That makes the uphill growth battle even more challenging.
What's the answer to creating a strong brand strategy?
Defining a crystal clear, intelligent Brand Strategy that gets every person in our organization able to articulate what makes you the most unique company in the world.
And when every marketing activity, every sales meeting, and every customer interaction is infused your unique market position and value propositions
It completely obliterates competitors - making them irrelevant - while your target market salivates at the idea of choosing you.
Developing an impactful and powerful Brand Strategy isn't easy but it doesn't have to be impossible.
Over the last 18 years in my own business working with hundreds of organizations on how to grow, I've developed a program that brings logic and simplicity to the process of developing unique brands while making the outcome even more strategic.
We call it the Breakthrough Brand Strategy.
The Breakthrough Brand Strategy
Our video series dives deep into our specialized approach to building a smart strategy to drive growth.
What makes it special is that we have created logical expercises that build upon each other in a progressive process. This approach removes a lot of the bias and gives structure to the problem solving required to create the right brand strategy.
If you are interested in learning more about our program, just contact our team.
Let's take a high-level overview of our program and what we will be diving into for the Brand Strategy series.
Episode 2
Prioritizing Your Target Markets & Audiences
Being everything to everyone makes it impossible to scale, personalize our message, or execute efficient marketing so we must prioritize our targets.
Episode 3
Personas, Motivations & Buying Factors
To develop a great brand strategy and message we must start with who we are targeting, what drives them and why they buy.
Episode 4
Market Differentiation & Value Propositions
One of the most important parts of marketing and sales is defining what makes you truly unique in the marketplace and how to articulate that.
In this episode we explore the personification of your brand strategy into a visual identity with your fonts, colors, and logo.
Episode 6
Positioning Statements
We talk all about developing your foundational messaging including a short identifier, flag in the ground, position statement, and elevator pitch.
In this episode we explore the personification of your brand strategy into a visual identity with your fonts, colors, and logo.
Episode 8
Communicating Your Brand Strategy
A great brand strategy must be evangelized by every employee and infused in every nook and cranny of your business.
Download Our Guidebook On How To Create A Brand Strategy
Join our Growth Strategy monthly tips list and get our awesome guidebook to start.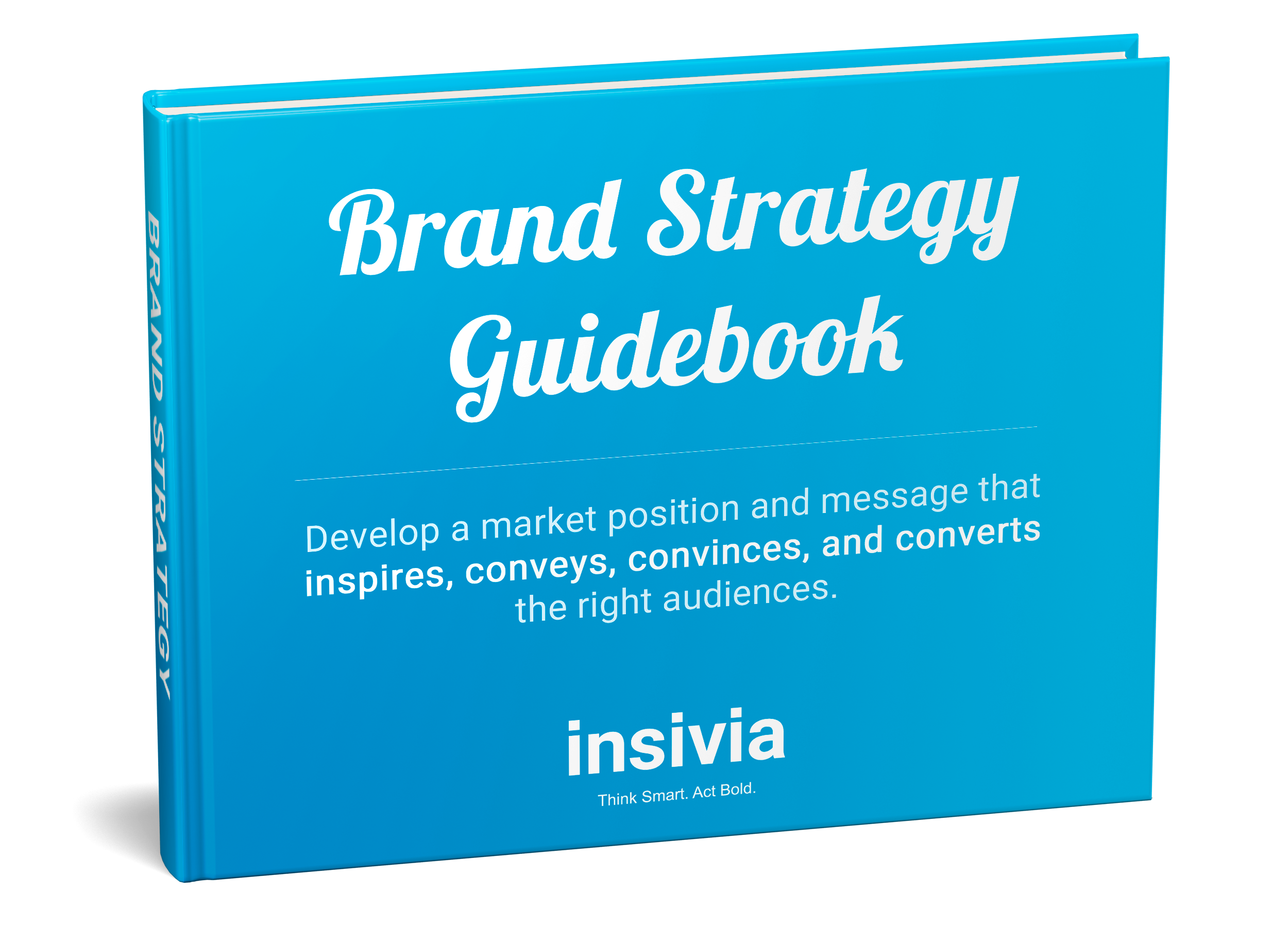 Includes 50 pages of explanation and exercises.
Attend Our Brand Strategy Online Workshop
We've combined the topics from our guidebook and live show into an on demand webinar to take you even deeper into creating a smart brand strategy.
Duration: 1.5 - 2 hours
Speaker / Trainer: Andy Halko, CEO of Insivia
Type: Interactive with Active Working Time
Materials: Brand Strategy Workbook
Brand Strategy Resources from Across The Web
BRANDING Article
There are two things required to reach a destination - first to know where you want to go, but second to also know where you stand today. It's true, if we asked Google maps to direct us to Pittsburgh, but it had no idea where we were then it could not show us the path we need to take.