Advanced Website Trends for 2019
On December 18, 2018 at 11:30am - 1:30pm
Advanced Website Trends You Should Pay Attention To In 2019
When:
December 18th
11:30am - 1:30pm
Where:
MidTown Cleveland
5000 Euclid Avenue #100,
Cleveland OH, 44103
Disclaimer: This seminar is not for newbies.
If you've whizzed through all the "Website 101" articles you can stand and you're ready to get down and dirty, then don't miss this seminar. We'll discuss advanced website design topics and trends that take you to the next level and finally leave you feeling satisfied.
Topics we will discuss include website compliance, personalization, and more include:
GDPR: What it is and why you need it.
GDPR, or the General Data Protection Regulation, requires companies to protect the personal information of European Union (EU) citizens; for example, banks, insurance companies, and other financial organizations.
ADA, COPPA, and other compliance standards you need to know.
Just like wheelchair accessibility in buildings, the ADA, or Americans with Disabilities Act, requires certain businesses to maintain accessible websites. COPPA, or the Children's Online Privacy Protection Act, protects kids under 13 years of age. We'll look at standards and laws you need to be thinking about.
Website personalization creates unique experiences.
Imagine if you could provide a custom experience that is tailored to each and every website visitor. When conversations are personal, imagine how many more conversions you can drive.
Chatbots and artificial intelligence: employees who never need sick days.
Computer systems are technologically advanced to the point where artificial intelligence (AI) can listen to your customer's question to determine and provide the correct answer - no humans required.
Mobile & AMP
Google's Accelerated Mobile Pages (AMP) help create super speedy mobile websites. Why are faster websites better? Because they provide a better user experience (duh!) and help sites rank higher.
Take your web knowledge to a higher level by learning these advanced website trends for 2019. Passersby will gaze in wonder at how big your brain is after attending our seminar. Don't miss out!
Whether you are using WordPress, Sitecore, Sitefinity, Hubspot or any other CMS - you can get value from our session.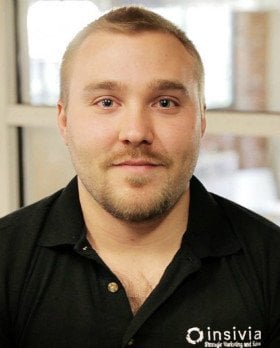 About The Speaker
Andy founded Insivia 14 years ago right after graduating from John Carroll University, growing the Strategic Consulting & Digital Business firm to 20 plus employees, working with middle-market and fortune 500 companies.
Featured in a number of national publications and NBC Nightly News -- while being a keynote speaker and avid volunteer growing entrepreneurial communities -- Andy provides expertise in business strategy, a wide variety of marketing tactics, technology, and entrepreneurship.