User-Centric Design
User-centric design is vital in enterprise web development because it puts the needs, preferences, and goals of users at the forefront of the design process. By prioritizing the user experience, enterprise SaaS companies can create websites that are intuitive, engaging, and effective in achieving their business objectives. This approach ensures that the website aligns with user expectations, enhances usability, and fosters positive interactions, ultimately leading to increased user satisfaction and higher conversion rates.
Design Intuitive User Interfaces (UI) & User Experiences (UX)
Creating intuitive user interfaces (UI) and user experiences (UX) is at the core of user-centric design. The UI encompasses the visual elements and interactive components of the website, while the UX focuses on the overall experience users have while interacting with the site. Enterprise tech companies should strive to design clean, visually appealing interfaces that are easy to navigate and understand. This involves organizing information effectively, utilizing clear navigation menus, and providing intuitive controls and interactive elements. The goal is to ensure that users can easily find what they need, accomplish tasks efficiently, and enjoy a seamless and satisfying browsing experience.
ClickUp
is an enterprise project management software and they take a clean and sleek approach to organizing their solutions on their website in an effort to not overwhelm the visitor: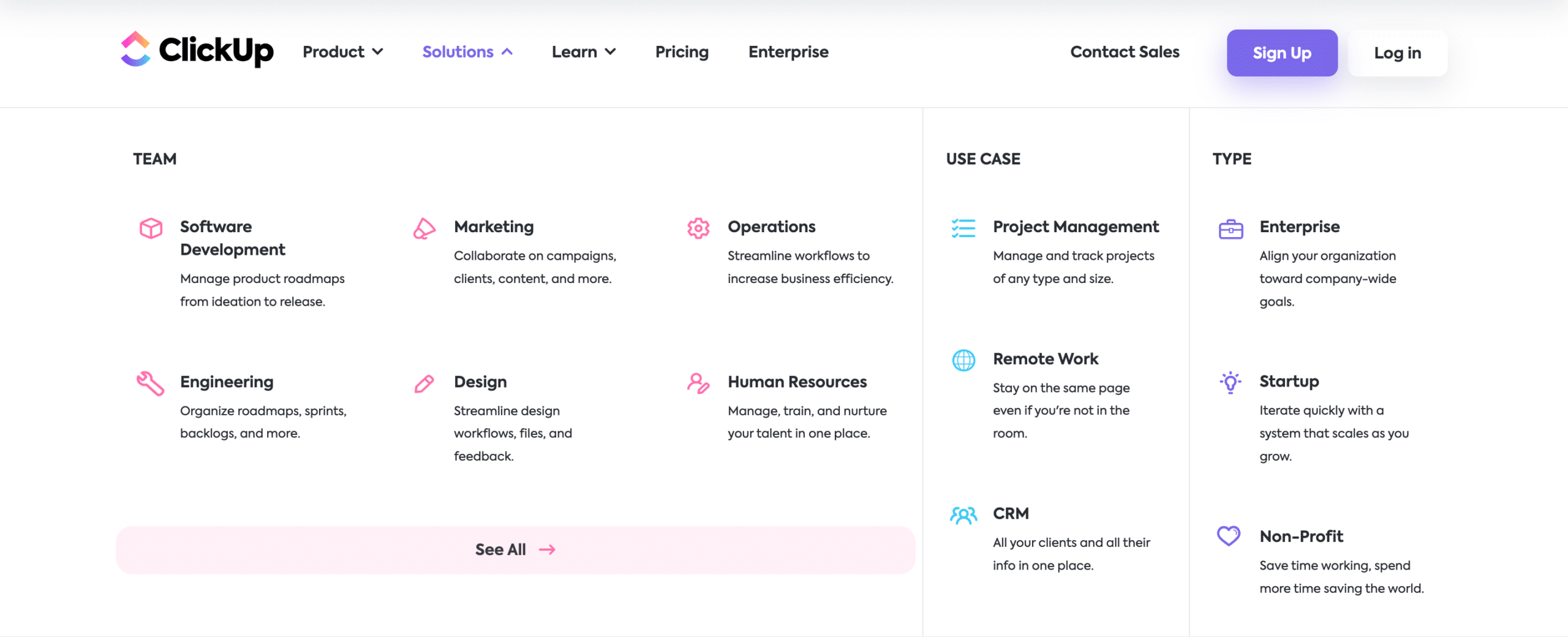 Implement Responsive Design for Optimal Cross-Platform Performance
In today's multi-device world, responsive design is necessary for enterprise web development. In fact,
73.1% of web designers
believe that a non-responsive design is the top reason why visitors leave a website. Responsive design ensures that websites adapt and display properly across a wide range of devices and screen sizes, including desktops, laptops, tablets, and smartphones. With more users accessing websites from mobile devices, it is crucial to provide a consistent and optimized experience across all platforms.
Trello
is a perfect example of responsive design. Their website looks great on any device and it's simple yet eye-catching: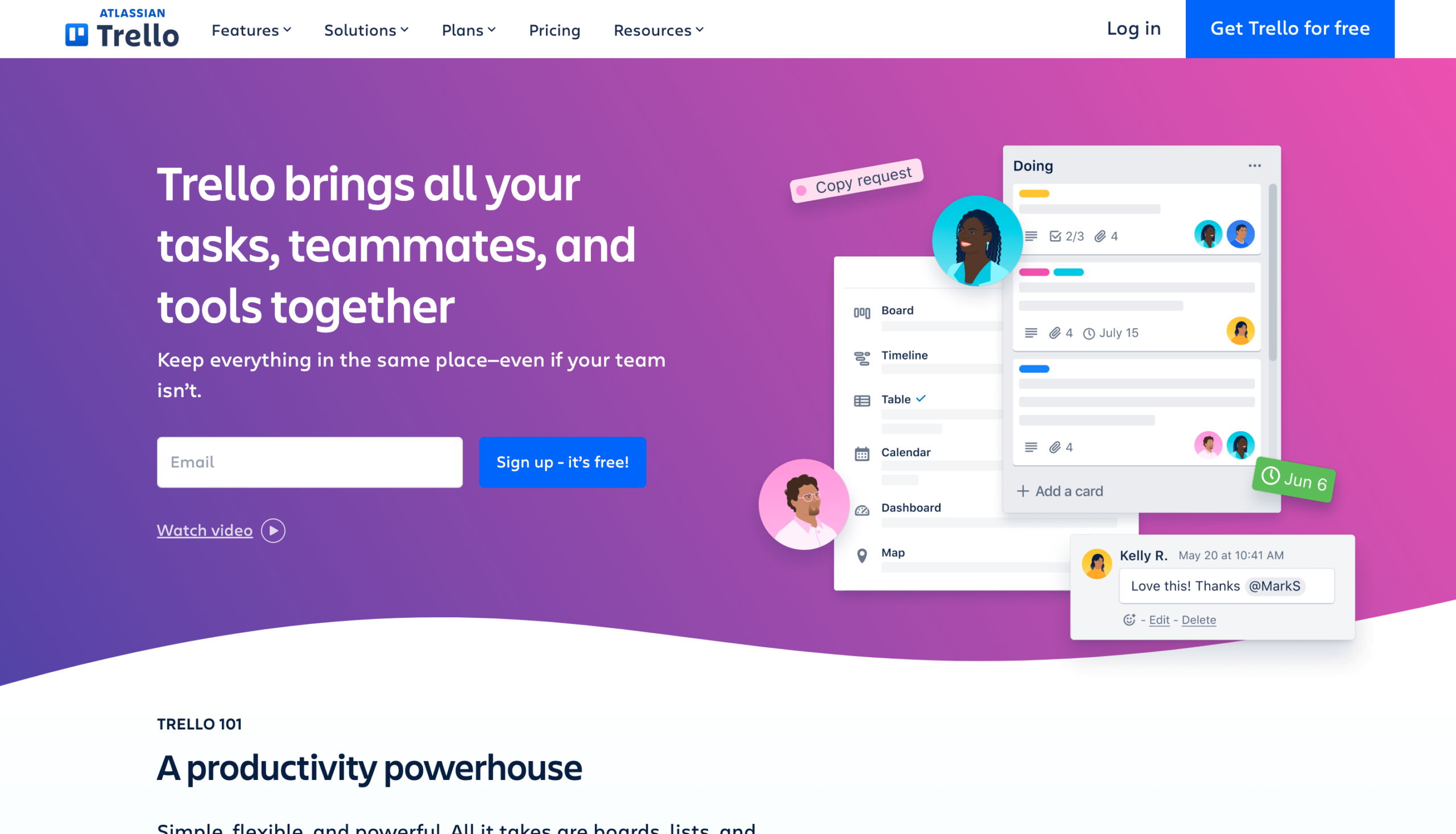 Implementing responsive design principles, such as flexible layouts, fluid images, and adaptive navigation, ensures that users can access and interact with the website effortlessly, regardless of the device they use. This enhances user satisfaction, reduces bounce rates, and improves overall engagement. Putting users at the center of the design process leads to websites that not only meet user expectations but also align with business objectives, fostering success in the digital landscape.
Design With The Target Audience in Mind
You want to ensure that your enterprise SaaS web design is catered toward the audience that will be most interested in your product. Why should they choose you over other competitors? You want to express how you stand out from other software solutions.
Zendesk
does a great job of this by keeping statistics subtle but also clear to the visitor that they are a trusted brand: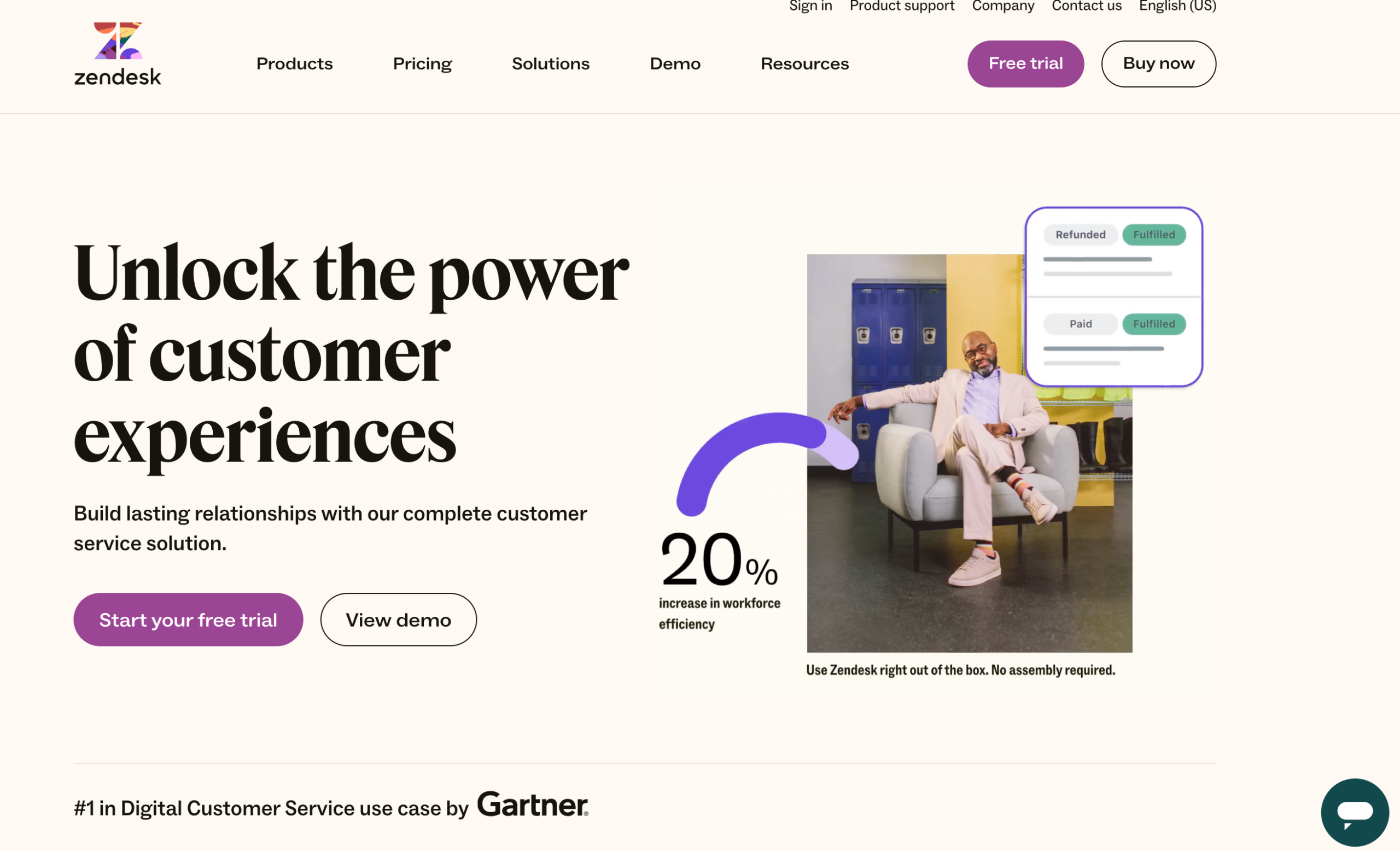 Notice the statistics "20% increase in workforce efficiency" and "#1 in Digital Customer Services use case by Gartner".