A beautiful, functional and SEO friendly new website for Tech Eleveator.
We continue to work with this fast growing national bootcamp and enterprise tech reskilling organization to scale student enrollment & B2B leads.
Brand Strategy
Website Design
Search Optimization
Conversion Optimization
Multi-Platform Integrations
"I was an agency president, so choosing an agency to build a website is something I know inside and out. We chose insivia."
CHRIS CAPUTO, VP OF MARKETING
SEO is a huge part of what we do and Tech Elevator's website saw a huge increase upon launch.
See, that's us in April then November. Mic drop.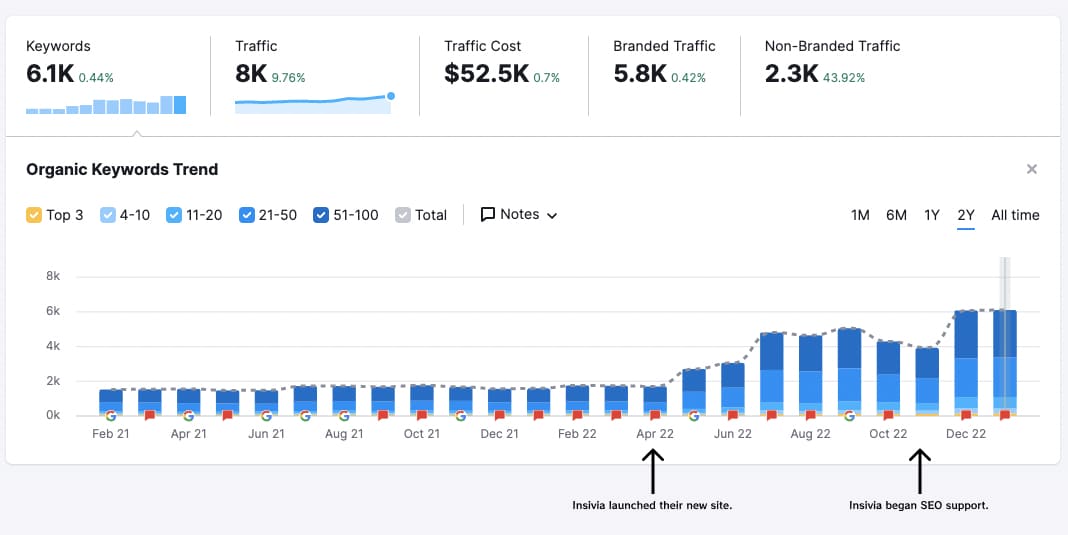 Contact us about SaaS or Tech SEO.
It's hard to know where to start because the story of this website design is so multi-faceted.
We know that YOU of course don't have a short attention span, but if you did...
TLDR ( too long, didn't read )
A super sophisticated, modern design that centered around real people.
An enterprise WordPress implementation that is structured like a headless CMS, but leveraging the ease of the most popular CMS in the history of the world.
Customized integrations with their CRM.
Really neat-o interactive features for finding courses and viewing valuable info.
Flexible, easy-to-manage HTML-built graphics with subtle animations.
An SEO-first strategy for scalable page creation and smart cross-linking.
A super happy client that that likes us almost as much as Taco Tuesdays - cause everyone loves tacos.
It wouldn't be a case study without a challenge, right?
---
Tech Elevator is growing by leaps and bounds, but was still on a Squarespace - yes we said Squarespace - website from the early days.
You can imagine all the issues they were having especially when in growth mode and expanding nationwide. Their multi-person marketing team was handcuffed. Their big ideas and aspirations stuck in a square -- space. Get it?
Squarespace gave limited ability to create a sophisticated design or acheive solid SEO.
They needed like 7 form tools to do all they wanted, but few integrated and most were missing needed features.
They wanted their team to be able to build new pages at scale for SEO and a strong PPC game.
The site just looked dated and who wants to look dated?
They wanted, no needed, an awesome, scalable, conversion-focused website.
If you haven't figured it out, they chose us.
Alright, we'll tell you what magic made this site magical.
---
We put the soul in solution with this site redesign.
Our approach to this site really is like and onion, layer upon layer of smart decisions to help Tech Elevator do big things for years to come.
Like a phoenix rising, the site soared majestically like a website with wings burning brighter than ten, maybe eleven, suns.
---
It's all about the results right?
Well, first off cause we think it's pretty awesome. The site doubled ( thats twice as much ) in number of phrases in the top 100 search results of Google in less than 30 days.
Three weeks ( thats 21 days ) after launch they hit the highest number of bottom of funnel conversions ever.
The team at Tech Elevator lifted Sandie, their Marketing Manager, in the air and cheered with pure unadulterated joy; and every day she receives a slow clap from her coworkers.
Ok, we're not sure this one is 100% accurate, but it just feels right, doesn't it?
Be like Tech Elevator and get a shiny new website.
One quick call and we'll share our approach - no pressure.
Talk with us