#2: Value Over Bundling
Pricing models that provide value over bundling are more likely to get conversions
SaaS services have traditionally been provided to customers in the format of a bundle. Once the bundle was received, customers would then determine which aspects of the bundle they would use
COVID-19 made many customers realize that they had been paying for services that they didn't need or use when determining where budgets needed to be cut. Many customers felt that they were wasting money on unused services, and weren't getting as much value for their money as they could be.
Bare-Bones Model
To meet customer needs, more and more SaaS companies have taken a hard look at their business offerings and started to unbundle their services. They take a hard look at what their services core functionality is, and what those "add-ons" would be. After determining this new business model, customers can choose what "add-ons" they want to choose in addition to the pared-down core services
By taking a value-first approach over bundling, you get ahead of competitors who haven't yet taken this step. For example, 40% of SaaS companies have reported taking on a value-based pricing model, meaning the majority are still focusing on the old model.
Transaction-Based Model
Similar to creating a value-first approach, a way to optimize for what customers really need and add value to their experiences with your business is by creating transaction-based models with your SaaS service
Instead of enforcing a subscription-based model, some SaaS companies have started to operate on a "pay-per-use" type of model. Similar to unbundling, clients have realized in recent years that they only want to pay for what they're using
One leading example of a company using the transaction-based model is Amazon Web Services (AWS). AWS has used a pay as you go transaction model from the start. This model allows customers to adapt as their business needs change over time, and doesn't leave unused services on the table
This model pays off for AWS. They have consistently held about ⅓ of the cloud infrastructure market share since 2017
SaaS Sales Models Shifts
The pricing models themselves are shifting in 2022, but so is the way that SaaS is sold to potential customers. SaaS sales interactions have changed as a result of the pandemic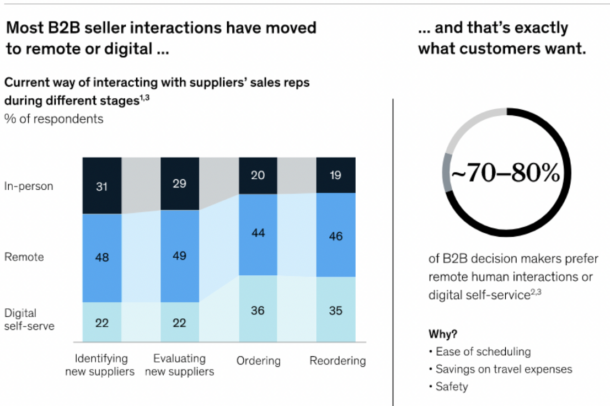 B2B seller interaction data from McKinsey
From research done by McKinsey, there has been a massive shift towards digital in the B2B sales space. The impact on the SaaS industry has been one to focus more on remote and digital self-serve selling tactics rather than in-person. Customers are moving along the sales funnel without in-person interaction more than ever. Particularly, ordering and reordering are vastly focused on remote and digital self-serve
The good news is that the vast majority of customers prefer remote interaction or digital self-service. By allowing customers to self-serve or selling remotely, you give your customers what they want!