Implementing Buyer Personas
Buyer personas
are a key component of any successful SaaS marketing strategy. They allow marketers to target and craft content specifically tailored to their intended audience, boosting efficiency and increasing conversions. With HubSpot, SaaS marketers can easily create buyer personas based on what they know about their target customers. The software allows users to build a
comprehensive profile
for each persona, based on insights gathered from customer surveys and feedback forms.
Once the buyer profiles are created, HubSpot's segmentation tools make it easy to send specifically targeted emails and ads to each persona group. Marketers can also use the software's analytics platform to track the performance of their campaigns by persona, helping them refine and adjust their approach as needed.
HubSpot allows for automated optimization of content delivery, ensuring that content is seen by the right people at the right time. By leveraging HubSpot's extensive capabilities in implementing buyer personas effectively with its powerful automation features, SaaS marketers can ensure they're reaching their intended audience without wasting resources or missing out on potential opportunities.
Making a sale in the SaaS industry doesn't involve just convincing one person. More likely, you'll have to convince multiple stakeholders within a single organization, as well as market to those individuals in a targeted manner to get their attention in the first place. For these reasons, many SaaS companies now work with HubSpot to develop buy personas and implement specific strategies and tactics that are designed to reach each persona in a targeted fashion.
For instance, many SaaS companies serve a wide array of industries and key decision makers to target specifically within those industries. Shore software, one of HubSpot's SaaS customers,
worked with HubSpot
to create buyer personas (as well as buyer journey path-to-purchase) for each of the many industries Shore's scheduling software is used by, from insurance and health-care to restaurants and auto repair shops.
When a
target buyer
searches online for health-care related scheduling software, for example, they might click through the search result to a custom landing page (designed, managed, and tracked through HubSpot) that will display content geared towards that specific buyer persona. And after the visitor signs up for a free trial, HubSpot nurtures the lead automatically on a marketing track tailored towards that persona's buyer journey.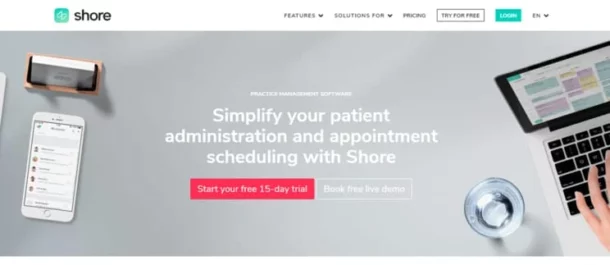 Custom landing pages for each buyer persona (as above in the healthcare field, for instance) can be implemented within HubSpot.