SaaS Founder Interview with Andrew Duffy and Jake Levin, Co-Founders @ SparkPlug: Curating their Perfect SaaS Product with the Perfect Team
Five Key Takeaways from SparkPlug's Co-Founders Andrew Duffy and Jake Levin's SaaS Founder Show Interview
Having a workforce that is motivated at its core is incredibly important, especially for SaaS product-led growth. A motivated team is a productive team, and it comes down to management to inspire their employees. A big part of this is transparency, communication, incentivization, and clear goal-setting.
SparkPlug is a software solution designed to provide retailers, companies, restaurants, and other businesses with a tool that motivates and incentivizes employee performance. SparkPlug is a platform that uses gamification to inspire employee performance with vendor-sponsored rewards and sales bonuses. The platform manages the distribution of rewards, handles reporting features, and eliminates the need for businesses to manage the incentivization program.
SaaS product co-founders Andrew Duffy and Jake Levin joined Insivia's VP of Growth, Tony Zayas, for an extended chat that covered everything from solving core problems in retail to developing their initial audience base. Below, we'll break down five of the key takeaways from Duffy and Levin's hour-long conversation with Zayas.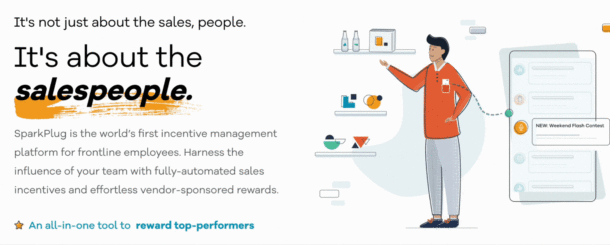 #1. Focus on the Problem Before the Product
While ultimately, having a set SaaS product or solution is a necessity for any business, there is a major advantage to be found in flexibility. Levin notes that not having a set SaaS product or solution allowed them to focus on the problem they were always trying to solve, leading to a better overall SaaS product-led growth strategy.
"At the outset, we understood the problem. We wanted to understand the problem space so much better. And that allowed us to really quickly iterate on different sorts of solutions and ideas and test different things and be super responsive to what we were hearing," notes Levin.
The flexibility of focusing on the problem first allowed the team to be "…just super obsessed with the challenge and really, I think empathetic with our customers and the people that we were talking to every day about, you know, how they were thinking about their employees, their customers, their relationships, and what opportunities that were to use technology to solve those problems," notes Levin.
#2. Take the Time to Hone in on Your Industry 
When Duffy and Levin had keyed in on the industry in which they wanted to focus,, they knew there was a big learning curve ahead. What they did to combat this was to immerse themselves as much as possible in their industry.
"It was really just talking to every single operator that we possibly could, to the point of being really, really annoying," expresses Duffy. "Just constantly trying to talk to retailers and figure out how they think about their employees, how do they compensate their employees, talking to their employees and figuring out like, Hey, do you guys get a commission? Do you guys get any type of reward?"
This involved significant effort but helped establish the early vision. "Then similarly, making a few key relationships with brands who we could just through aggressive networking, find the executives of and identify for them, you know, hey, we've identified these things in retailers," states Duffy.
"Those (conversations) really crystallized and I think, solidified our early intuitions."
#3. Embrace the "Sell-Until-a-No Philosophy"
Duffy and Levin had a SaaS product and innovative solution ready with SparkPlug, but they needed to get customers to sign on. Zayas asked, "How did you guys go about getting those first few customers?" The answer? They embraced a strategic marketing approach with a "sell-until-a-no philosophy."
"That was kind of the philosophy that we always had, like, we either get a yes or no and nothing else is acceptable. And we're going to email and call and follow up with people until they were like, No, leave us alone, in which case we drop it and forget it," says Levin.
Selling until a no helps founders stand out and differentiate themselves. "I think that kind of 'selling-to-a-no philosophy' is just so important, because people are gonna let you sit in their inbox," explains Duffy. "And you really do have to be aggressive in getting that attention. And then ultimately, if your product kind of speaks for itself, then you're gonna get that yes, that you're looking for."
#4. Invest in Your Co-Founder Relationship
Duffy and Levin have been best friends since college and are at a 50-50 split as co-founders of SparkPlug. Maintaining their partnership is pivotal to their business, and they say investing in their relationship has made a difference.
"Early on when we were working together, and we were facing some of the harder times of the business, we went to a co-founder counselor who was just an after hours marriage counselor, she was a marriage counselor during the day and did co-founder counseling at night," says Duffy. "And that was really, really valuable."
According to Duffy, an investment in your co-founder relationship is money well-spent. "I think investing really heavily in the working relationship you have with your co-founder is probably the most valuable non cash or cash investment you can make. Because that ultimately is going to drive the quality of life that you have," explains Duffy.
#5. Enjoy the Process of Earning the Seat
Zayas asked, at the end of the interview, "If you could both go back in time, and sit down and have a cup of coffee with your former self, before you delve into the business, what's the one piece of advice that you'd give to yourself?"
Duffy answered to enjoy the process of earning the seat. "What that means, ultimately, is everybody, particularly people who are starting out on an entrepreneurial journey, want to be in Jeff Bezos' seat or want to be in Elon Musk's seat, and they want to have that impact, they want to have that visibility, they want to have that financial outcome," explains Duffy. "But it takes a long time. And it takes a lot of experiences to actually earn that seat."
"In reality, I don't think I would change anything in my past. From a decision-making perspective, I'm so happy about where we are today and what we've accomplished," says Duffy. "So I think I would just want to maybe experience it with a little less of a tight grip.
–
While these were five of the most significant takeaways, much more was covered. Their conversation touched on numerous important topics, from leadership strategizing to building an MVP. Watch the full interview of SparkPlug's co-founders Andrew Duffy and Jake Levin's interview with Insivia's VP of Growth, Tony Zayas at the top of this page!