Followers, Friends, and Fans Oh My!
Social Media is Proving to be a Useful Marketing Tool for Small Businesses on a Budget
Small businesses are always on the lookout for ways to connect with their clients and potential clients without breaking the bank. As I'm sure you've heard, social media tools can be incredibly useful to businesses with small marketing budgets.
To highlight the usefulness of social media for small business owners, we interviewed a small business owner that is dominating on the social media field.
Amanda Montague opened Lilly Handmade Chocolates in Tremont in 2008. Lilly Chocolates is not your everyday chocolate shop. Montague uses all natural flavors (even bacon) to create exceptionally daring masterpieces. She doesn't stop at chocolate. Lilly is stocked with a selection of fine beers and wines from around the world. From the start Montague has done a remarkable job using free sites to promote her business. Read on for tips about which social media channels are best and how to use them to benefit your business.
Why and when did you decide to start using social media?
"Before I opened Lilly, I knew we would need a Facebook page. It's been almost 2 1/2 years using it and I love it. I can post pictures of new chocolates, beers & wines, respond to customer questions, create instant feedback on an idea - pretty much like a 'focus group' of Lilly fans! Twitter came later, and while it was harder to manage at the beginning, I've gotten the hang of it. It's great to connect with people on a one-on-one level, with quick Q & A stuff. I definitely get different clientele from each."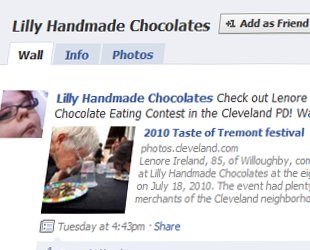 Which site is most beneficial for your business?
"They're both great for different reasons. Facebook is great for photos or almost any kind of immediate response I may need. For example, if I post 'Bliss Bar of the day...milk chocolate or white chocolate?', people will give me their suggestions and I'll incorporate their feedback into my daily selections! Twitter is great for advertising tastings or specials because people re-tweet, so you can get double exposure and more buzz about your event. Personality really plays a big role in my business, people like talking to me because I AM the brand. I am the face of the business, so the more 'face time' I get with my customers, the better - not many better or more cost effective ways to do that than social media."
Did your sales increase due to social media?
"I'd definitely say yes. If I Tweet or Facebook a new flavor, be it a truffle or bliss bar, it has encouraged folks to actually come down before the day was over to grab some. One day we made 'Caramel Macchiato Bark' and it was completely gone within an hour. People made a stop after work to grab as much as they could, it was awesome!!!"
How much time a day do you spend on social media sites to promote your business?
"Some days/seasons more than others; when we're busy I don't have as much time to devote to them (like Christmas/Valentine's Day/Easter etc...) but in the summertime it's great to tell people about new beers & wines, tastings and what not. I'd have to say on average, it's about 30 minutes to an hour each day."
What advice would you give to a small business owner that is skeptical to start using social media?
"There is no reason to be skeptical! People love being 'in the know' in their own communities. It's just another level of customer service that can be supremely beneficial to your business when you don't have a ton of cash to throw at advertising. Talking to people like people, may it be over the phone, in person or online, is a huge part of being a successful business owner. It's quick, it's easy and it's FREE. Try it, you just might like it."
Insivia, headquartered in Cleveland, Ohio, is a leading strategic marketing agency. Insivia delivers world-class strategy and design, distancing clients from the competition while increasing the bottom line.
About Insivia