Building Amazing SaaS Pricing Pages That Convert
To help you understand great pricing pages even more, let's look at
10 well-designed pricing pages

from existing SaaS companies.

There are an overwhelming amount of resources just from a quick Google search which showcase stunning pricing pages and although we know that great design is valuable in of itself, we will go beyond that from an actionable, segmented lens of driving conversions and revenue.

In SaaS, it's now table-stakes to make the pricing and value proposition of not just the product but also each pricing tier clear and easy to convert on. So, what strategies and tactics can we use to drive things forward from a conversion rate optimization standpoint?
First, The Key Principles of for SaaS Pricing Pages
One of the most important elements to consider for making your SaaS pricing page worthwhile is by making it frictionless for prospects to convert into customers.
Make It Easy

for Prospects to Convert Into Customers
If you have the historical data, highlight the most popular plan on your pricing page, considering which plan drives the highest customer lifetime value for your SaaS business and which has the highest click-to-signup conversion rate.
Take a look at Mailchimp's pricing page. They customize the user experience and use color contrast in order to highlight their Standard plan as the recommended option. Additional ways to optimize this further would be to consider whether adding bolded and larger characters could be applied to this section.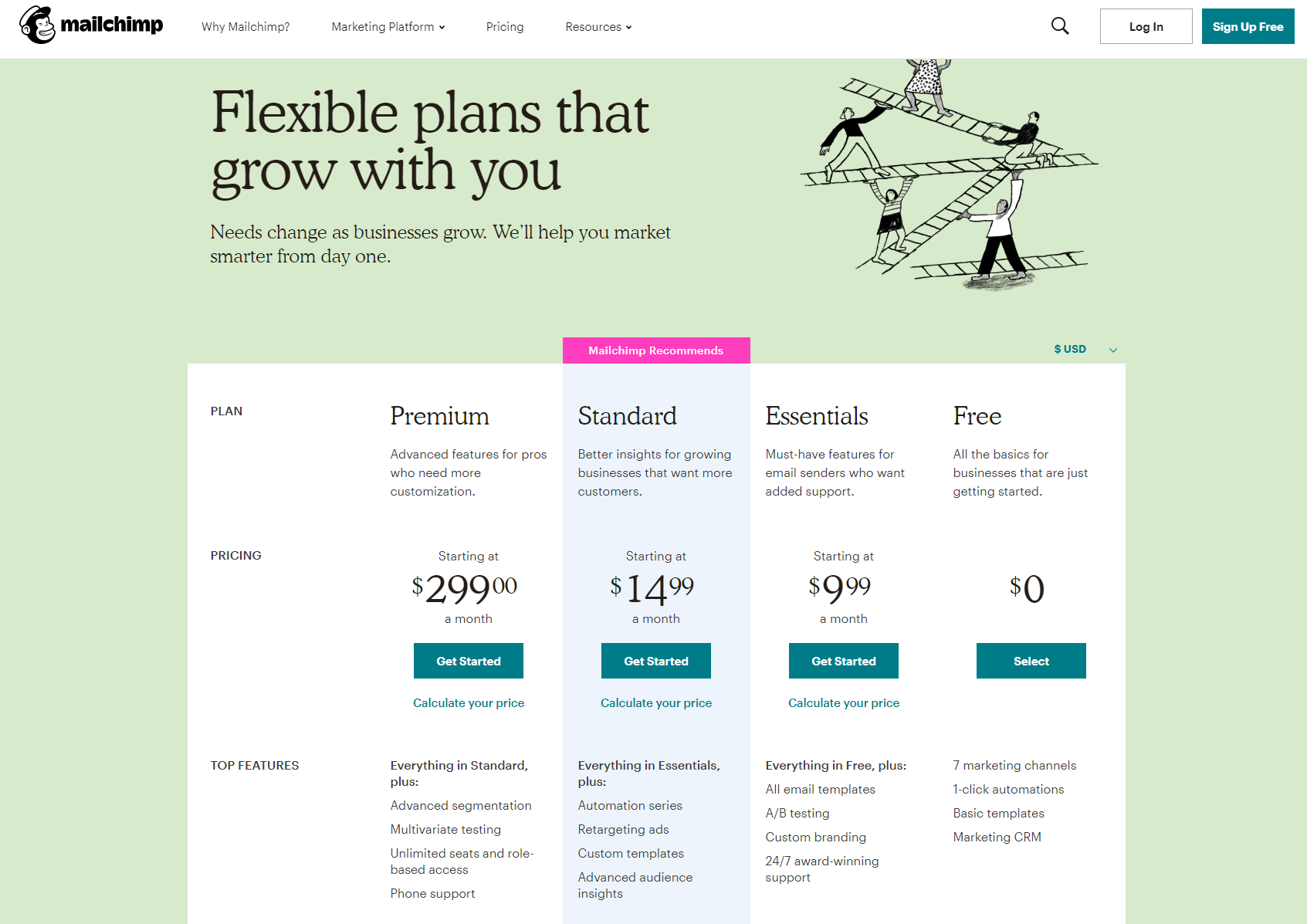 For SaaS businesses that have both monthly and annual plans, making it appealing to customers to convert on annual plans since this typically increases retention in the long run as well.
And if you're just launching a new business and don't have data on pricing pages just yet, don't fret - choose the plan that you believe would drive the most value for future customers and for your bottom-line.
Be an Advocate

for Prospective Customers
Surprisingly, it's also important to always be aligned with your product and product marketing teams on the standards and expectations for your pricing page. Over time, as internal teams compete for real estate on the pricing page, the pricing page experience can get disjointed. What this often nets out to, unfortunately, is a steady decline in signups and conversions overtime.
To create alignment, have proactive conversations with product and product marketing. For example, if your product team is adamant that you implement a full, comprehensive list of features to onto your pricing page to highlight the newest things, have a healthy discovery conversation with them and collaborate with them on what you'd expect the net result of the changes would be relative to your conversion goals.
Will the changes increase or decrease conversion rate, and what's the hypothesis backing the opinion? Getting the balancing act right between the needs of your customer relative to the requests that your own internal teams may require tough conversations, but those conversations will help remind folks that high-performing pricing pages help prospects make an educated decision to ultimately sign up for your business.
If you believe that adding too many features to your pricing page runs the risk of bloat, trust your intuition that this will be harmful for your conversion rate. One better alternative would be to place the new features on your product landing pages instead. Always be an advocate for prospective customers.

Notice that to reinforce the idea, they also include the company logo and a headshot of the customer.
Octane.ai is another example of a company that quantifies social proof in a way that is very appealing to prospects. They pair the personalized, unique customer stories on their homepage with a banner that solidifies an impressive list of logos of their biggest customers as well.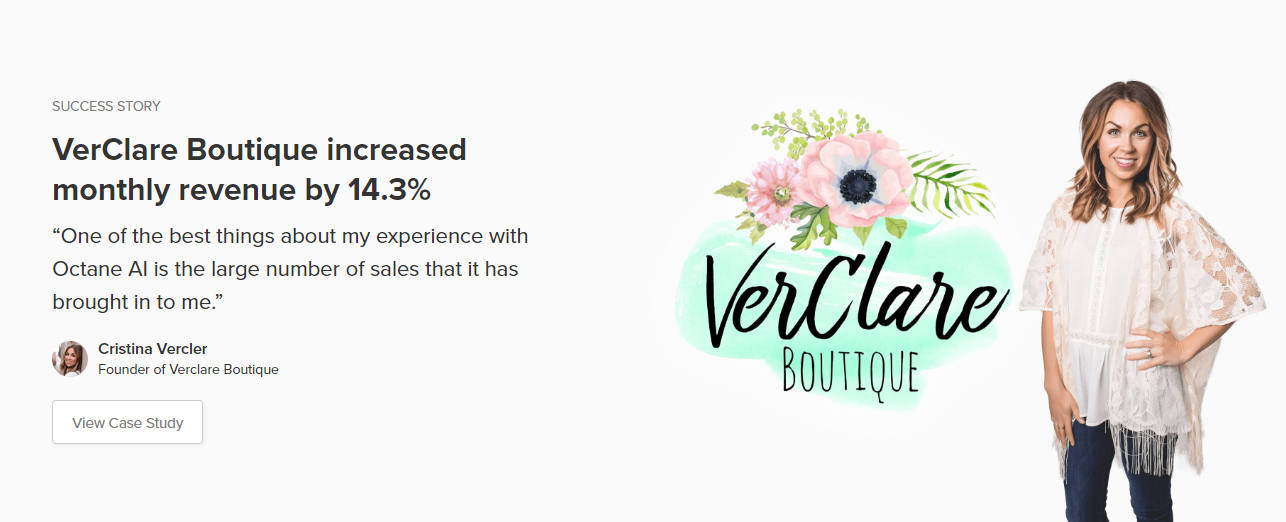 If you have the bandwidth to do so, create a
Case Studies page just like Drift has
which acts a repository for your customer stories. It's a high-effort project but one with incredibly high impact and is the perfect pairing for a great pricing page.
Highlight Important Features

to Assure Prospects
Another strategy that Slack and Quicken deploys on their pricing pages is showing how safe and secure their SaaS products are. They do this with a combination of copy and with seals, badges, and certifications that are substantive and visually appealing.
It's very clear that Slack values security, as they state clearly that they believe their security certifications exceed the industry standard. They even have a unique page called
Security at Slack
that highlights their methodology for security along with the social proof of certifications from sources such as the Health Insurance Portability and Accountability Act and SOC3.
Quicken takes it a step beyond that and highlights reliability with a Data Access Guarantee as well, which speaks to the data ownership must-have unique to and valued by Quicken's key audience of conservative, high net-worth individuals.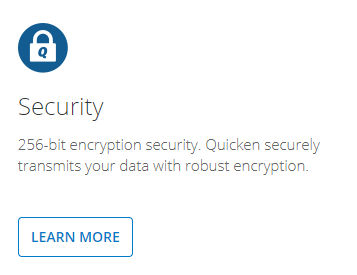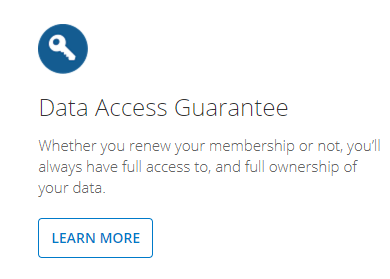 Understand Your Pricing

Strategy
For pricing pages to be successful, understanding your product's pricing strategy like the back of your hand will help drive understanding further experimentation. Understanding pricing strategy includes concepts such as:
Audience characteristics and trends unique to each pricing tier that you have
Retention metrics unique to each pricing tier
If available, understanding of the differentials in Customer Lifetime Value between each of your products
Having this type of understanding is foundational to knowing which product tier you'd like to highlight, with the intention of maximizing customer acquisition at the highest value and at the highest conversion rate.
Additional Advice on the SaaS Pricing Experience
In addition to each of the key principles highlighted above, it will become important to look beyond the pricing page to ensure that other marketing activities support conversion on the pricing page. The reality is that most prospects who come to a SaaS pricing page will not convert at first glance, so if you have the bandwidth, it's crucial to support the overall experience with drip campaign emails and retargeting advertisements encouraging prospects to consider purchasing your product. It's important to note that all the advice given above are backed by industry expert resources such as blog posts by Neil Patel, Price Intelligently, and Crazy Egg as well. Such expert sources also detail the importance of testing methodically and consistently, as SaaS businesses that have driven significant success with optimal pricing pages have iterated their way into optimal customer acquisition via the repetition of new tests.
Before we show our favorites, what makes a

Poor SaaS Pricing Page

?
Clutter kills conversion rates for SaaS. Just like how it hurts conversion rates to stuff a pricing page with as many disorganized features as possible as mentioned above, the temptation to stuff as many keywords and copy as possible into the pricing page will adversely affect conversion rates as well.
One common way that this manifests is a checklist of features with too many standard-looking checkmarks. Another version of clutter for SaaS businesses is, for more complicated industries, making it tough for customers to calculate how much they would be paying per month or per year for your product.
For a customer support tool, if prospective customers cannot calculate the cost of every seat reliably, no amount of calls from your Sales team or user experience optimizations can substantively lead to an uptick in your conversion rate. In the worst case scenario, your prospect could become more inclined to choose a competitor that has more transparent pricing instead, even if they end up paying more in the long run.
Before we take a look at the best-performing SaaS landing pages, please feel free to
sneak a quick peek at SaaS Pricing Pages that probably have a great deal of trouble on conversion rates
.
Now, let's explore some of our favorite SaaS Pricing Pages.
There are tons of great pricing pages out there and a lot of different approaches, but here are a few that stood out to us.
The first thing that stands out with Drift's pricing page is its bold, clear pricing. You can see it pop for their Pro and Premium plans. This is paired with well-integrated tooltips for differentiated features that reduce clutter on the page but also augment the depth of these features.
Drift makes it very easy for the average layperson to understand the pricing for its chatbot and live chat tools, an industry known for complex, esoteric pricing. In clear transparent copy, Drift charges $40 per chat seat per month for the Pro plan and $80 per seat on the Premium plan. If prospects who have high purchase intent know how much they're paying and are not confused about pricing, the likelihood that they convert increases.
You also can see that Drift markets its Pro and Premium plans above the fold, with a "Chat With Us" call-to-action. These are the plans targeted toward enterprise customers that require the help of sales development representatives to close the sale. Drift is focused on closing enterprise customers that have a higher customer lifetime value than small businesses do.
Small businesses can scroll down the page and find more affordable plans as well.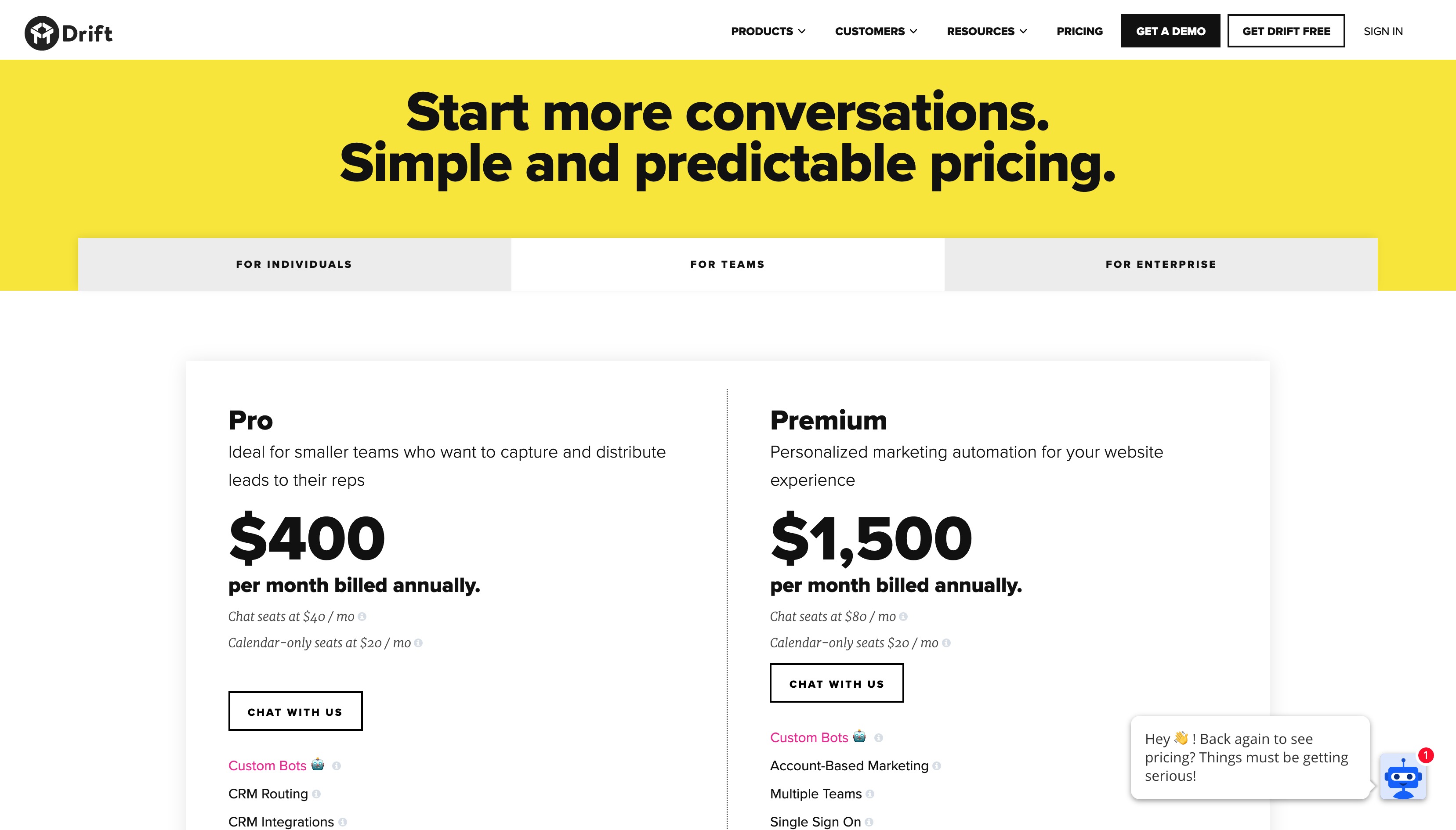 Price Intelligently calls Slack's pricing page the holy grail of pricing pages for its ease-of-use and for making it easy to calculate their estimated cost and know exactly how much value they're getting. Above the fold, the copy clearly explains the value proposition for teams and for enterprises.
Slack inherently brings significant value to its customers already, and by making their pricing as transparent as possible, they make it a no-brainer for a prospect to convert into a customer.
As mentioned previously in the blog post, Slack creates social proof of the reliability of its product by emphasizing security above the fold and also ties their product to nonprofit work via the Slack for Good initiative.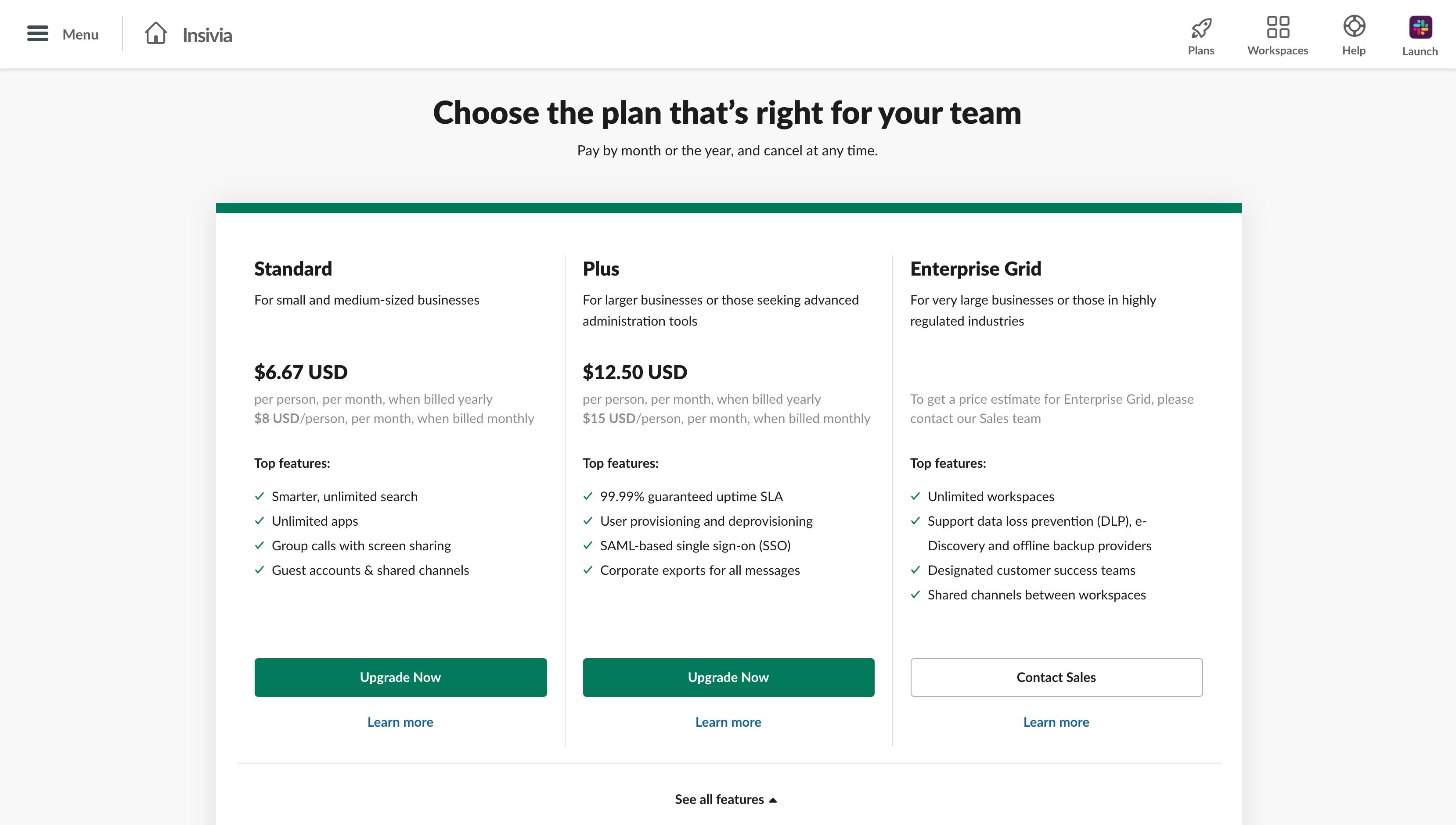 Envoy's product is tough to market, given that it's a combination of SaaS software and a live hardware-based solution for managing visitors to a physical location, and deliveries as well. Relative to this baseline, their pricing page is very straightforward and crystal-clear.
Envoy helps prospects who may still be on the fence truly figure out what their product is for by pairing the pricing page by providing a clear-cut explainer video on the page.
They have four standard, segmented cards for each of their tiers, paired with a cascading list of prioritized and easy-to-understand features that support each product tier. For their products, Envoy optimizes to their customer lifetime value by defaulting each tier to the Annual plan model, showing in colored lettering that going Annual means accumulating savings.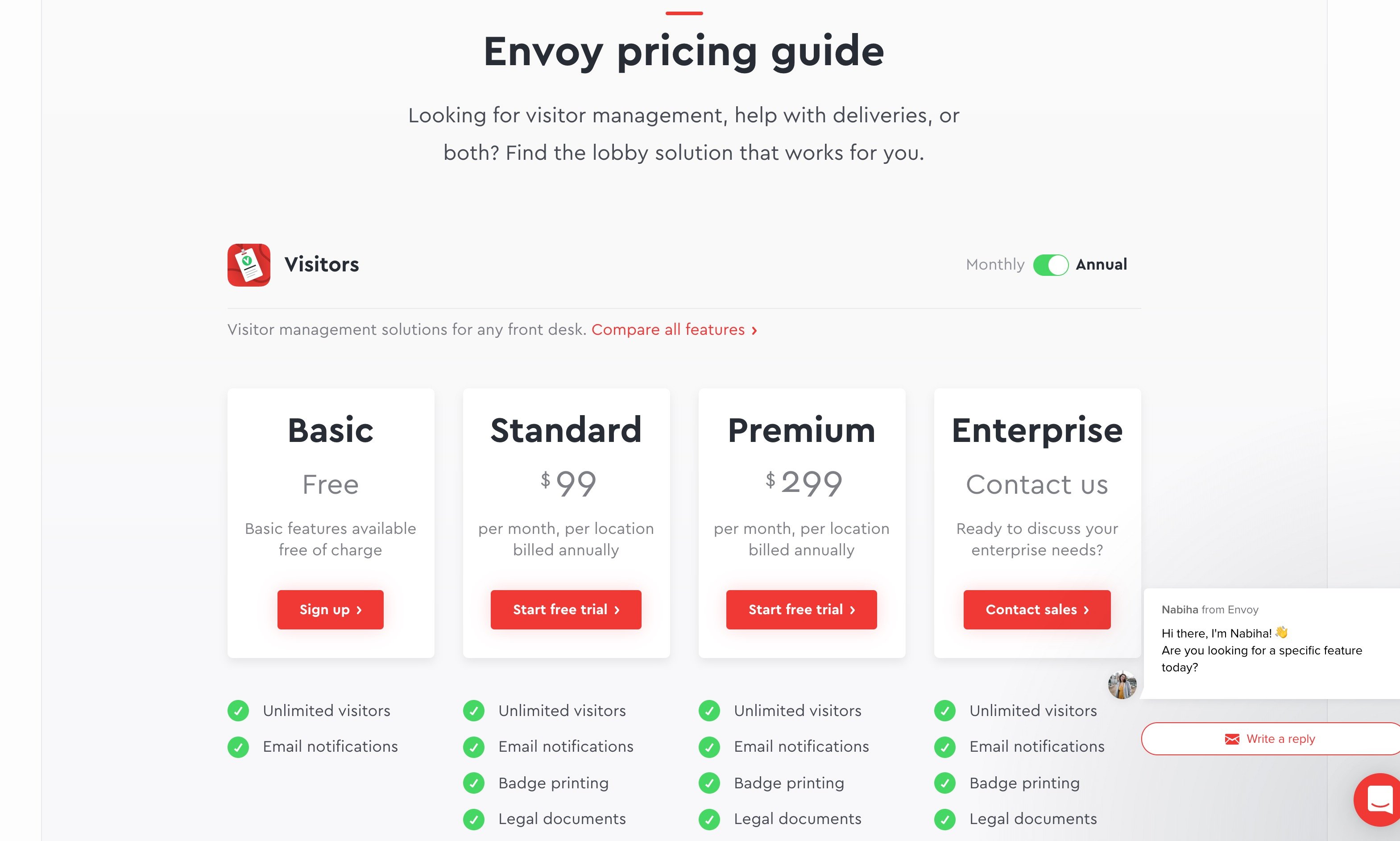 Confluence's pricing experience is more of an overall flow. They do a great, low-friction job of hand-holding users and getting them to try the product step-by-step. The pricing page is broken down into the following experience:
Pricing calculator: Encourages the prospect to sign up by using a pricing calculator based on how many users are on a team
They give the user three easy options to choose from on the next page, highlighting their most popular option as well
Finally, they ask the prospect for their information before converting them
The whole process is very dynamic and encourages strong user interaction throughout the experience, which is great for conversion rates.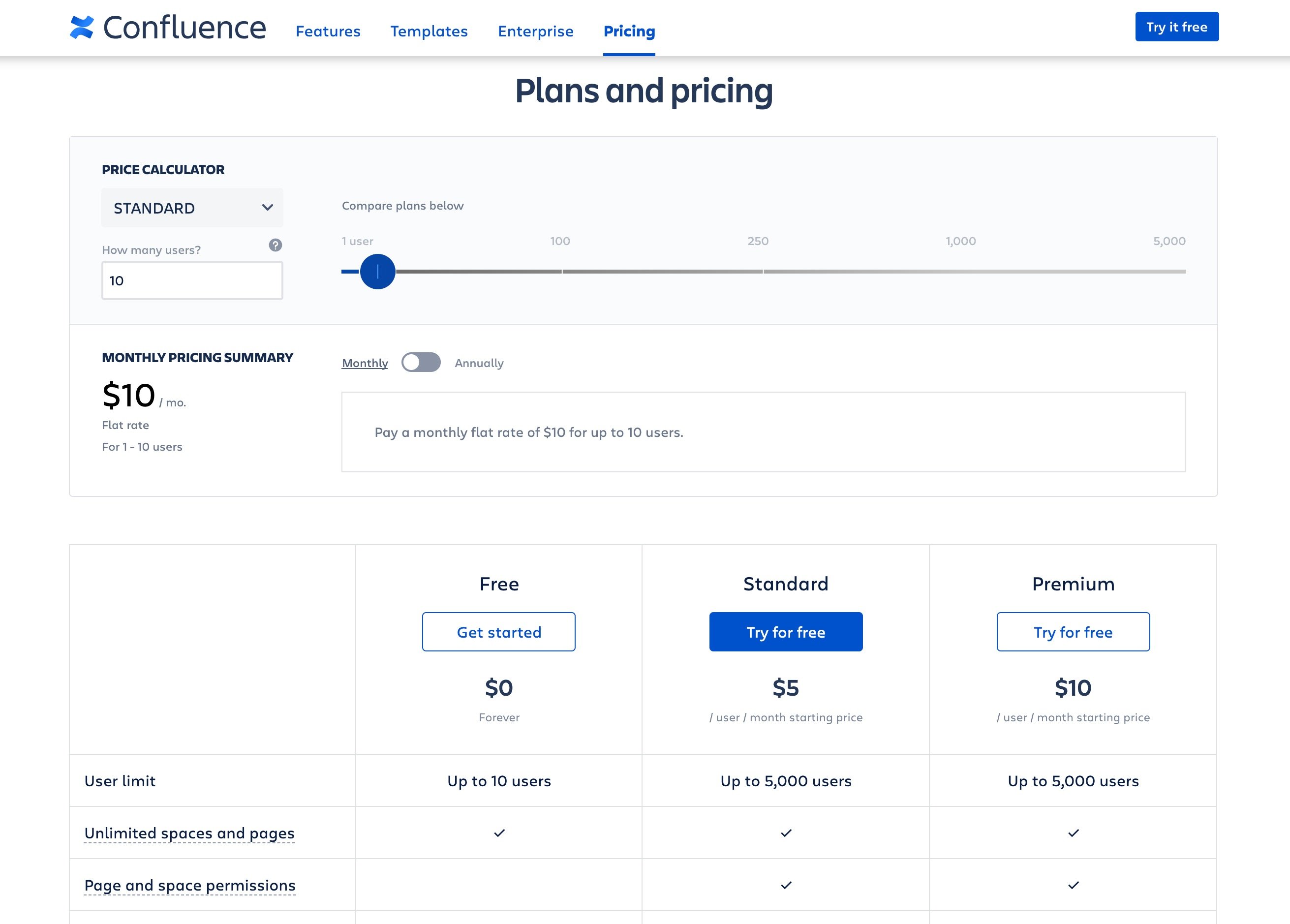 Docusign is a very easy product idea to understand. Essentially, it's an easy, frictionless and non-intimidating way to sign documents and have other businesses sign them as well. For Docusign to convert the optimal amount of prospects into customers, their pricing page needs to meet that bar set for ease-of-use as well.
In addition to benefit and feature-related copy on the page such as "Move business forward securely and reliably", the pricing page amplifies ease-of-use with friendly and fun copy such as "Save money, time and trees".
By looking at the pricing tiers that they have above the fold of the page, it's straightforward to figure out which plan you may want and convert immediately. This notion is further strengthened with an urgent call-to-action of "BUY NOW".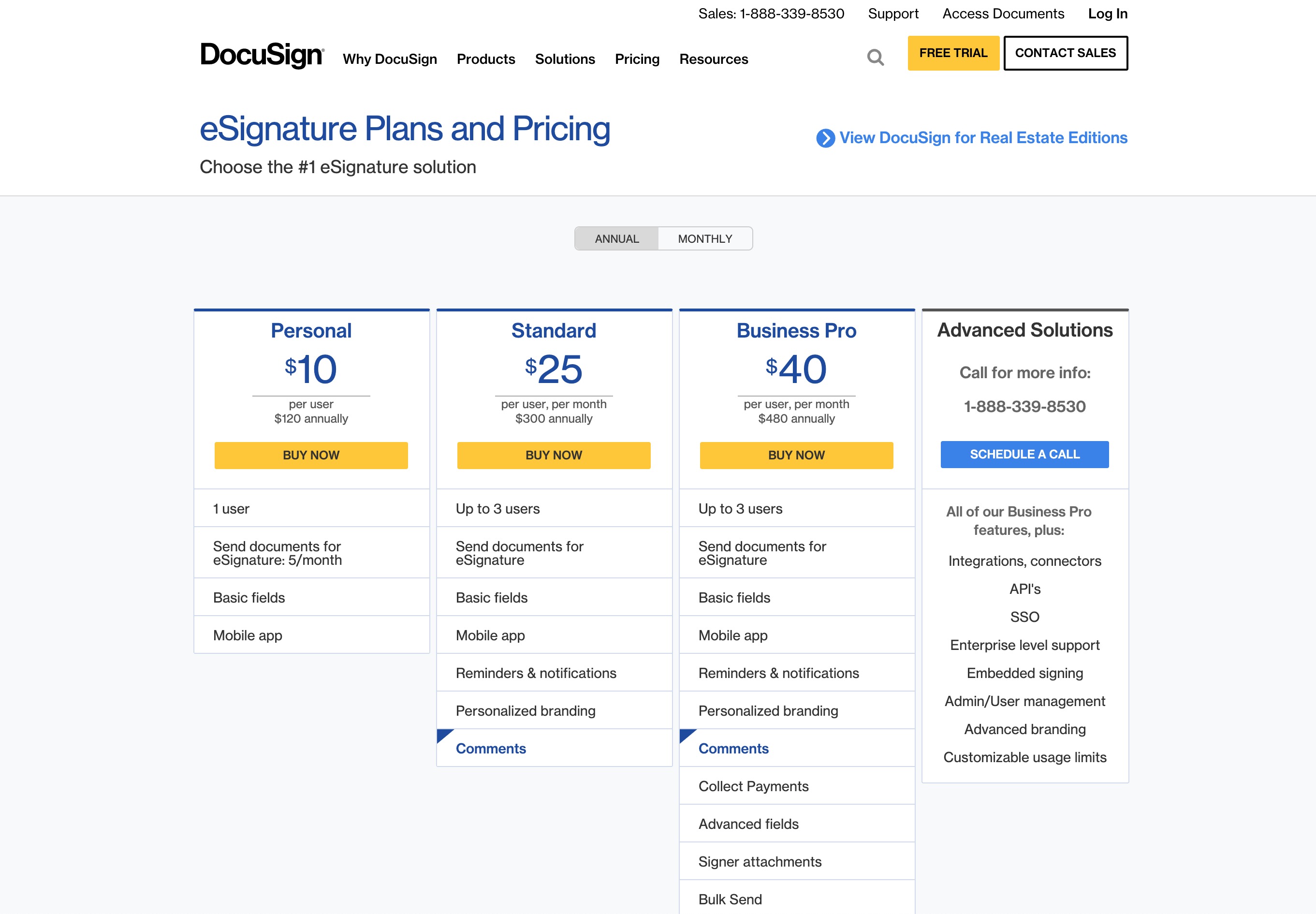 Intercom does a sophisticated job of testing ways to increase customer lifetime value. Here's the evidence: Intercom not only highlights the plan that they would prefer most prospects to convert on, but have quantified that 68% of businesses who have purchased their product choose the Pro option.
They've married the tactic of highlighting their favorite plan with a little bit of social proof, attempting to funnel prospects away from the Essential plan to the Pro plan, which is worth almost twice as much.
The highest-priced Premium plan is tightly integrated with Intercom's own chatbot tool as well, so large enterprise customers can expect a response right away from a sales development representative.

As their primary product, Tableau offers Tableau Creator to customers, a powerful suite of analytics products that allows customers to create actionable reporting. There are additional view-access and exploration-related tools that they offer for larger teams and organizations as well.
It does not hurt that the design of their plans is aesthetically pleasing, but most importantly it's great that they're willing to sell their most expensive option, Creator, upfront for Teams and Organizations. The reasoning is perhaps twofold:
Organizations can't use Explorer and Viewer with having one employee driving new reporting using Creator first
Consequently, Tableau allows themselves to list the most expensive option on the left-hand side of the page first, which is where prospects tend to look first when looking at a pricing module
If the pricing tiers for teams and organizations were in any different order, Tableau would not be maximizing their conversion rate and Customer Lifetime Value.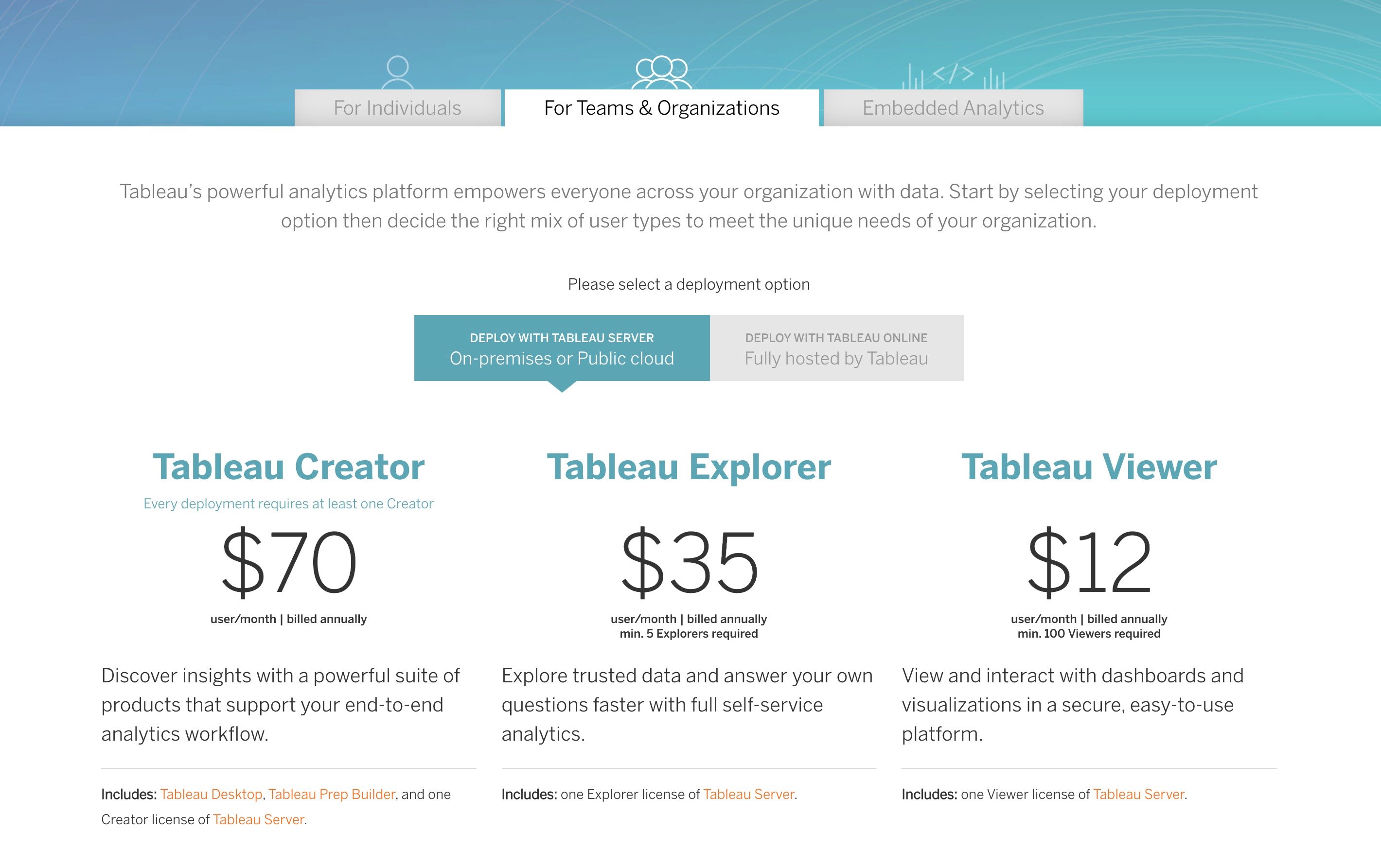 Dropbox's pricing page isn't only aesthetically pleasing and well-designed, but it's also a page that a high percentage of prospects would be likely to convert on. One reason is that Dropbox leverages their considerable in-house design talent to highlight the "Advanced" plan with a "Best Value" tag, creating a clear, subtle contrast and pairing it with straightforward pricing and copy.
The idea isn't exactly new as it's been covered in depth above in this blog post, but in this case, it's the execution of the idea that counts for Dropbox's pricing page. Dropbox seems to value converting customers in bulk, as opposed to highlighting their Enterprise plan options like Drift does.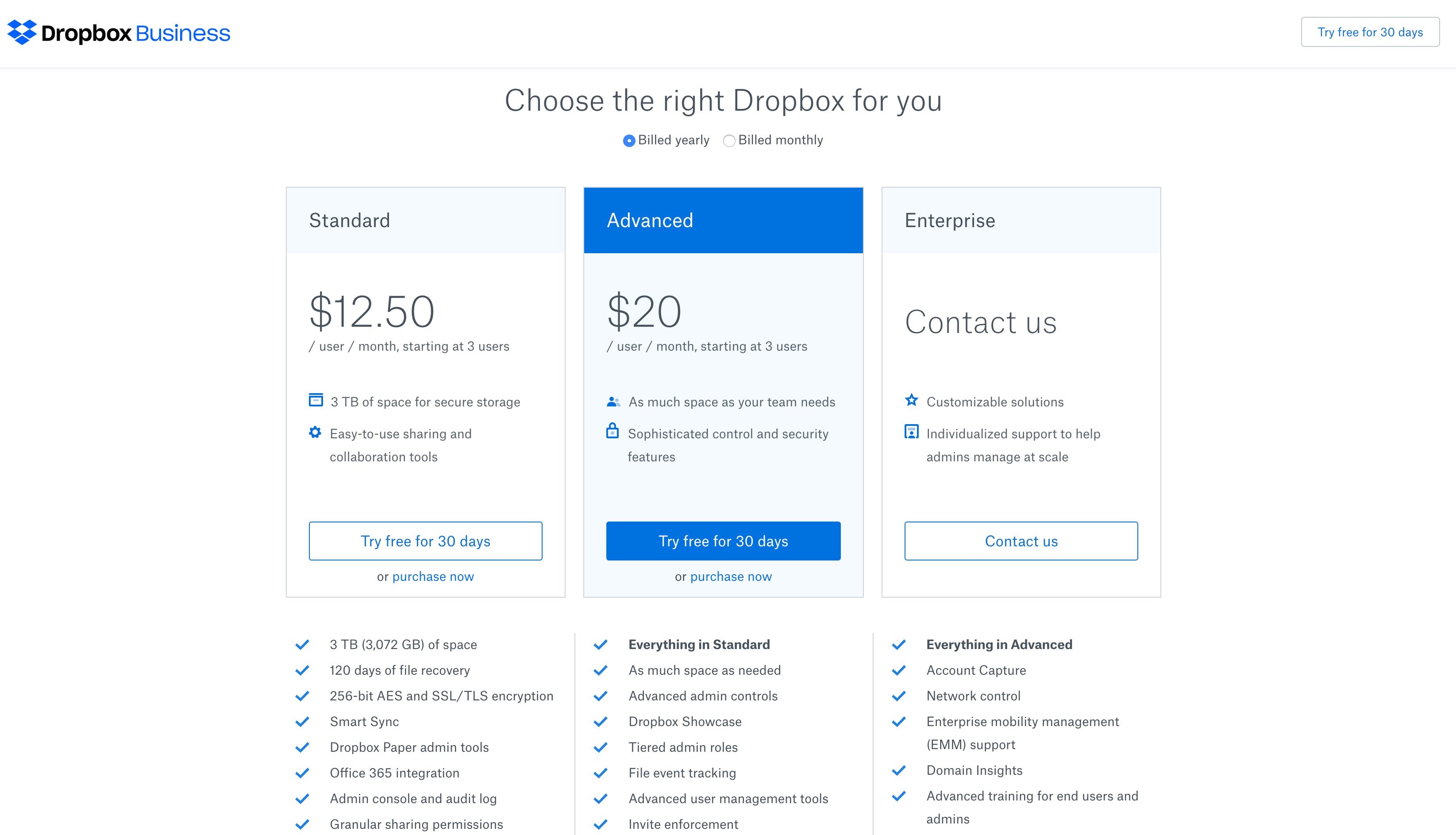 If a prospect takes a look at the LastPass pricing page, within the first few seconds of glancing at the tiers, users can tell with high accuracy which plan they would want to purchase, and why. One reason the process is so frictionless is because LastPass is a pretty self-explanatory password management tool. Another is that the copy is short, sweet, and actionable both with the headers and with the body copy.
It's easy to differentiate between their Free and Premium products for individual users. For those who want to extend password protection to a larger group of family or friends, they can easily choose the $4 Families option off the bat.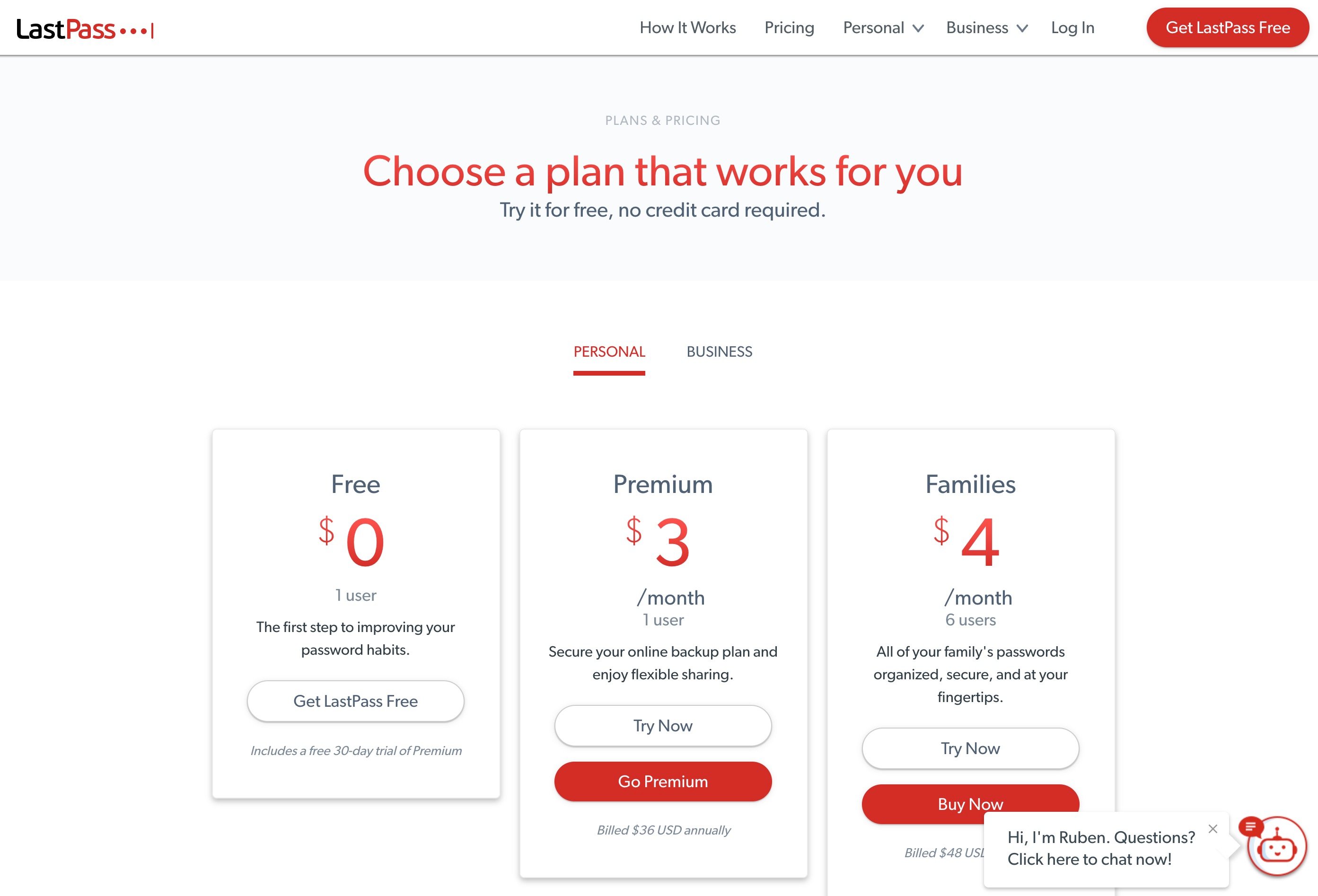 Quicken's page is predominantly geared toward prospects who are in the "purchase" phase of the typical buyer's journey, as shown by the "BUY NOW" messaging on their call-to-action buttons as well as copy that is geared toward repeat-users familiar with personal budgeting tools.
The company also manages a fine balance between giving prospects the right options to purchase and having them choose the pricier options that ultimately drive more value. Quicken executes the common "Most Popular" tactic on their pricing page by highlighting the Deluxe product, which drives the greatest mix of purchase rate paired with the customer lifetime value metric.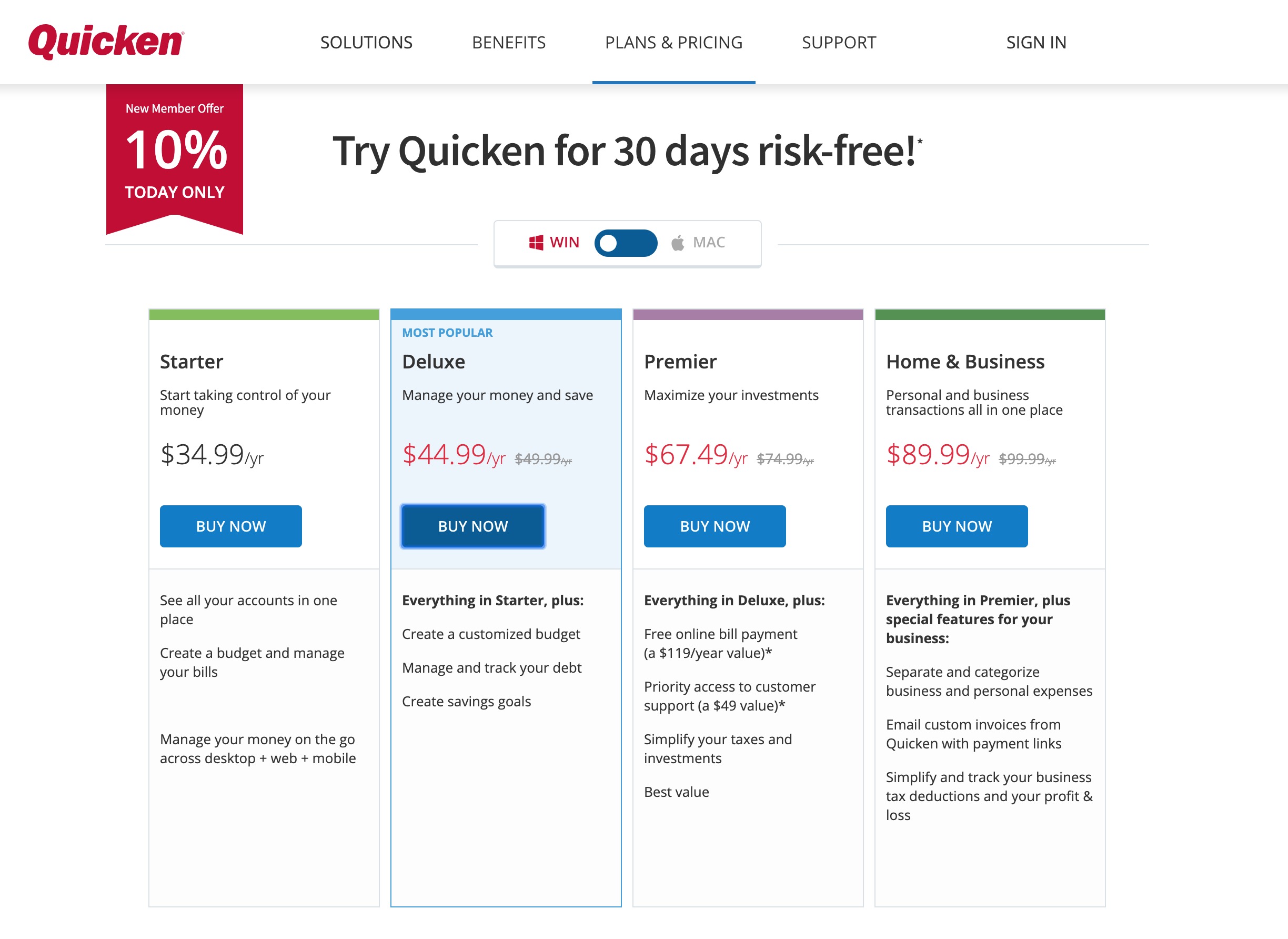 If you're interested in increasing conversions by optimizing and a/b testing your SaaS pricing page, you'll want to consider partnering up with Insivia.
Insivia's got the domain knowledge and strategic expertise that acts as an accelerant for businesses who want to uplevel their pricing pages to drive more conversions and revenue. Understand your most important key performance metrics and target audiences and personas and what this all means for your pricing page.
Spend less time prioritizing the plethora of pricing page A/B tests ideas that you may want to consider running and instead leverage Insivia's expertise.
Based on a vast repository of pricing page A/B tests run across a diverse customer base with clear learnings, Insivia can recommend the best options off the bat specifically for your business so that you can start executing and driving results immediately.
About Insivia