Can a Mobile Phone Application help Grow my Business?
In a previous blog post we discussed the importance of creating a mobile version of your website. Let's take this a step further and explore whether developing a unique mobile application will create some buzz for your business.
By now you have probably seen or experienced all the fun applications on the iPhone. You can reserve a table at your favorite restaurant, get instant weather updates, find directions, or even play games. With everyone migrating to smartphone technology, many businesses are scrambling to create unique applications that create strong brand awareness and loyalty. I thought I would share a few examples with you. Hopefully, this will get your mind running and help you think of ideas for your business.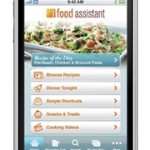 Kraft Foods recently jumped into mobile application development. They created a mobile application that lets consumers design meals using ingredients made by Kraft right on their phone. Talk about creating customer loyalty. How many time have we been rushing home from work without a clue as to what you should make for dinner? Problem solved — because Kraft has an app for that.
This also works in the BtoB environment. For an example, we turn to Lexi-Comp based in Hudson, Ohio. Lexi-Comp provides up-to-date clinical reference guides for the Healthcare industry. These guides enable doctors, pharmacists, and nurses to do research and make important decisions for their patients.
Lexi-Comp now sells a medical software application that allows doctors to access this information right on their phone. It sells in between $74 and $299, and I will let you draw your own conclusions as to how this may have affected their business.
There is an old saying in business that says "if your competition is doing it, STOP!" In this case, if you competition is not doing it, try something new. When you have some free time, challenge yourself to find a unique mobile phone app for your business.
Confused about where to start? Call Insivia.
About Insivia