Top 39 Tools to Grow Your SaaS Company in 2022
User acquisition and retention is a complex ecosystem of activities for SaaS companies, but there are many tools that can help SaaS companies execute better.
The growth process can be daunting. How do you get your product in front of the right people as quickly as possible AND get them to sign up? Where do you start?
The good news is that you don't have to embark on the growth process alone - with the right tools, you'll be well equipped to find and serve your SaaS company's customers.
There are many sides of growth: sales, analytics, project management, seamless communication and plenty more. Below, we share our favorite tools across 12 key categories for SaaS companies.
Top Analytics Tools for SaaS Companies:
Google Analytics 4
Google Analytics initially launched in 2005, and has been helping businesses measure their digital success ever since. Google Analytics 4 (GA4) is the latest and greatest iteration of the free digital measurement tool.

GA4 was built with the future of analytics in mind, focused on modern needs such as the multi-device customer journeys, privacy, and integrations.
A few key attributes of GA4 include:
Website + app data collection
Privacy controls including cookieless measurement
Data occurs as events rather than session-based data
Predictive capabilities
Media platform integrations
Overall, Google Analytics 4 is an excellent free digital measurement tool to understand user behavior across various devices in the modern digital environment.
Adobe Analytics
Adobe Analytics is a part of the overall Adobe Experience Cloud. Unlike Google Analytics, there is no free version of Adobe Analytics, however the products allow growth and marketing teams to use detailed segmentation and up-to-date analytics across the marketing channel mix.
Adobe Analytics is very popular with enterprises due to the cost, and packs a lot of punch in its offerings.
An inherent benefit of Adobe Analytics is the innate ability to analyze user behavior across devices to understand the full user journey. Adobe offers predictive intelligence, adaptable reporting, and helps integrate various data sources into one platform.
Key Adobe Analytics attributes include:
Multichannel data collection
Offline data integration
Data warehouse offerings
Server-side processing approach
Real-time segmentation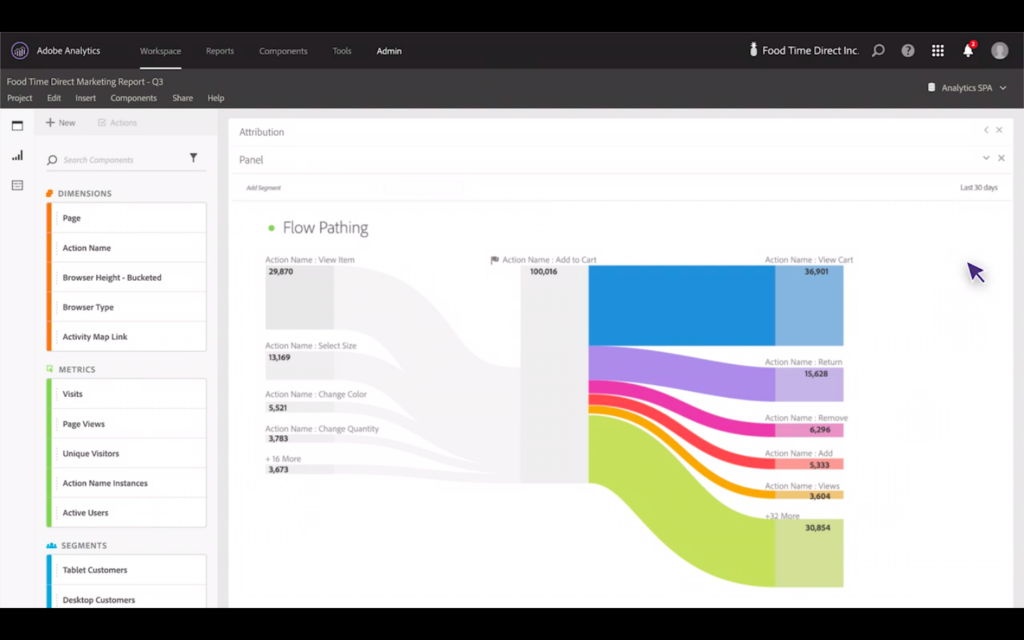 Adobe Analytics offers a robust analytics solution excelling in segmentation, data integration, and real-time analysis.
Heap
Heap doesn't refer to itself as an "analytics platform" - instead, Heap calls itself a digital insights platform.
Heap is focused on helping SaaS companies build a great digital experience, while continuing to optimize.
Heap helps determine:
Who uses the product and in what way
Key segments and their behaviors to help build personalized experiences
Where friction points occur, and how they can be fixed
Cross-device digital activity
The benefits Heap prides itself on are the ways its learnings improve conversion funnels, personalization, retention, and overall user experience.
There's also a big draw to Heap - it comes with an automatically captured data set, so you don't have to build events and goals yourself. They're already there and ready to collect data upon launch!
Attributes that set Heap apart include:
Easy set-up thanks to autocapture datasets
Full data sets (no gaps!)
Low-code setup with minimal engineering
Accessible data that can easily be shared across organizations, even for those who are not analytics-savvy
Clicky
Clicky is a web analytics tool that focuses on simplicity and the data that matters overall. Clicky's goal is to allow ease and high customizability for its users, while helping businesses quickly get insight into their visitors.
Clicky offers heatmaps, where users can visually see where website visitors are spending time on each page. Heatmaps can help determine friction points as well as hot spots on the page.
Out of the box, Clicky offers a fairly easy set-up: bot filtering, internal traffic filters, ease of segmentation, and is compliant with modern privacy laws.
Clicky has free and paid tiers of their analytics offering to appeal to budgets of all sizes.
Fathom
Fathom is a Canadian-owned website analytics tool that prioritizes privacy. Written in their own terms:
"Fathom is a Google Analytics alternative that doesn't compromise visitor privacy for data. We revolutionized website analytics by making them easy to use and respectful of privacy laws (like GDPR and more)." - Fathom website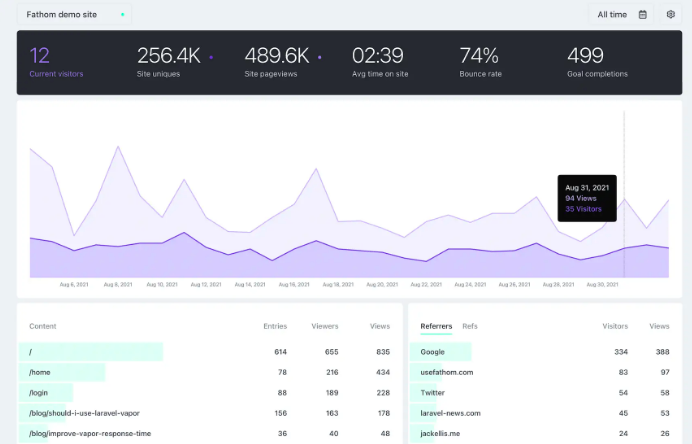 Major key attributes of Fathom include:
Fathom is privacy-first. They are in compliance with GDPR, CCPA, PECR, and ePrivacy - and more!
Sellers of software, not data. They created anonymous pageview tracking that doesn't store (or collect) personal data - which doesn't require cookie notices on-site.
Gets the full picture of data, due to a pioneered method for bypassing ad-blockers to get a full website view while not invading user privacy.
Simple Analytics
Simple Analytics is another privacy-first website analytics tool. With privacy protection as their business model, they comply with all privacy policies including GDPR, CCPA, PECR, and more. They are a EU-based company running on EU-based servers.
Simple Analytics ensures that all data is always encrypted, and that visitor personal data is never stored - which means no cookie banners popping up and encroaching on the user experience.
While being privacy-forward, Simple Analytics still gives a clear view into how visitors use websites, but does so without exploiting these visitors. Simple Analytics instantly shows how many visitors come to your website, how they arrived, and what they do while there.
Pricing for Simple Analytics starts at $9/month for their starter plan, and goes up to $99/month for enterprises.
Matomo
Matomo is a web analytics platform that empowers their users by providing 100% data ownership. They offer both Cloud and On-Premise solutions that allow for a flexible solution based on your business's unique needs.
Matomo is hosted by website owners on their own server, and the data is tracked within your own database. This means that data is fully within your own control - not Matomo's.
There are a variety of benefits Matomo offers:
Segmentation
Custom Dimensions
Form Analytics
Video Analytics
Heatmaps
Session Recording
100% unsampled reports
Open source software
Top Email Marketing Tools for SaaS Companies
Mailchimp
Mailchimp is one of the most popular marketing and email platforms. Through features such as newsletters, automated emails, and sign-up forms, Mailchimp simplifies audience outreach.
Mailchimp is incredibly easy to use, and helps businesses of all sizes grow their audience. With different pricing tiers for their offerings, businesses have the ability to pick what's right for the growth stage they are in.
Email lists can be built via forms or importing through existing lists. Mailchimp also provides professionally designed email templates and an email builder with drag and drop capabilities, minimizing the need for technical and design expertise.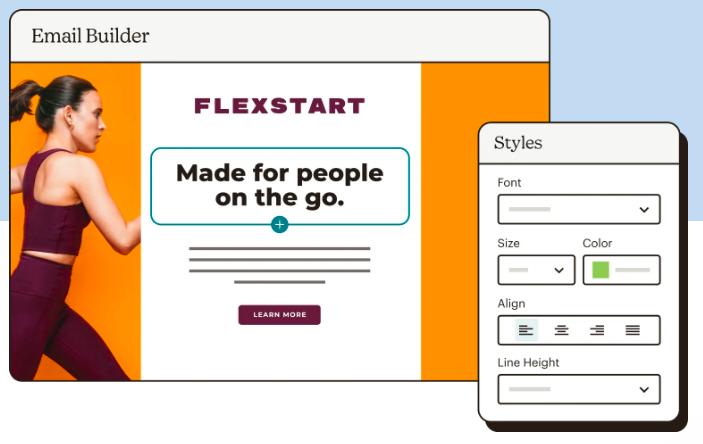 Mailchimp also makes it easy to understand which emails are popular, and which miss the mark. With built-in email analytics, A/B testing, surveys, and smart recommendations, Mailchimp helps businesses optimize their email campaigns to better find and communicate with audiences.
HubSpot
HubSpot provides marketing, sales, and customer service software for companies all over the world. Their email marketing tools have helped many businesses, especially because these tools are essentially free (but there are a few premium features that cost extra cash).
HubSpot's email marketing tools put the power to send emails in marketers' hands. With pre-designed templates and drag-and-drop email functionality, marketers can create emails on their own without having to wait for IT to code or designers to create.
Personalization and optimization help take HubSpot's email marketing to the next level. Marketers are enabled to tailor emails to audiences and optimize to improve performance through data.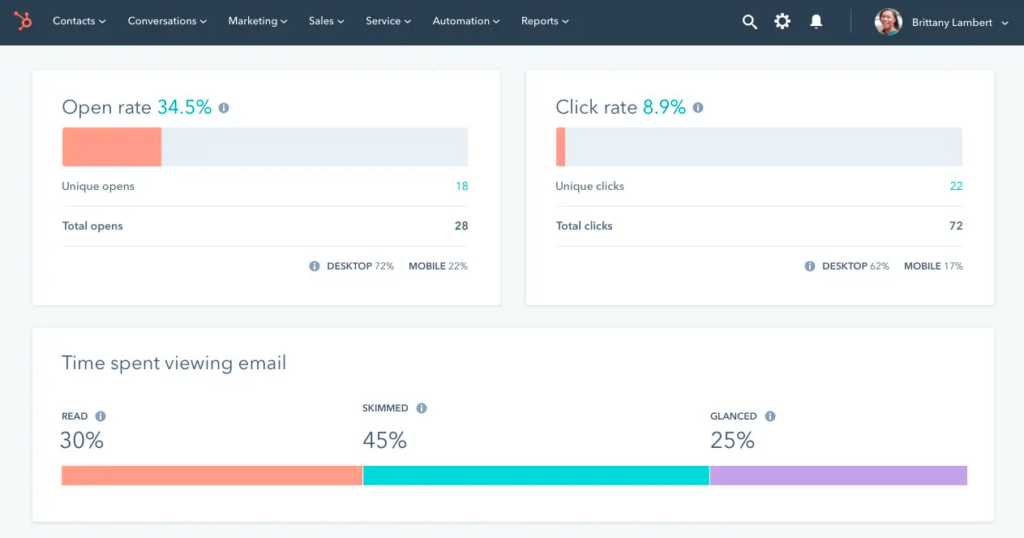 These tools have everything needed for a successful email campaign baked right in with minimal help needed from others.
ActiveCampaign
ActiveCampaign doesn't want your business to just send emails - they want their customers to drive growth with customer experience automation.
So what's customer experience automation? ActiveCampaign combines the following key marketing actions to create customer experience automation:
Transactional emails
Email marketing
Marketing automation
Sales automation
CRM
Similar to Mailchimp and HubSpot's email offerings, ActiveCampaign gives marketers the power to create emails themselves through templates and design wizards. ActiveCampaign gives marketers control of their email campaigns, and offers a variety of email types to send.
Examples for various email purposes include:
Broadcast emails
Triggered emails
Targeted emails
Email autoresponders
Transactional emails
Scheduled emails
ActiveCampaign offers pricing on a sliding scale and tiered basis, to allow you to pick the right fit for the stage your business is currently in.
Top Internal Communication Tools for SaaS Companies
Slack
Slack came onto the communications scene in 2013 and it took offices by storm. Slack gave workers a way to communicate quickly and differently than email, and changed the way businesses think about office communication.
Using Slack changes the way that organizations communicate. Slack "replaces email, meetings and outdated processes with something faster, better organized and more secure."
Slack strives to bring people together as a unified team through streamlining and enabling teams to communicate in an approachable way.
Key features of Slack include:
Channels
Slack Connect, enabling conversations across different organizations
Huddles and clips for quick video chats and sharing
Apps and integrations with services such as Google Drive and Office 365
File sharing
Channel and conversation search
Automated routine actions/communications
Slack offers pricing on different tiers, so you can pick your plan based on the size of your business.
Google Meet
Google Meet makes secure video conferencing accessible and available to businesses of all sizes. With nothing needed but a browser, Google Meet users can video call, share their screen, and give presentations. To sweeten the deal, Google Meet is free for all to use.
All that's required in addition to a browser is a Google Account. From there, online meetings can be created with up to 100 participants, meeting for up to 60 minutes.
Google Meet ensures that meetings are secure, and nobody can join the call unless directly admitted or invited by the host.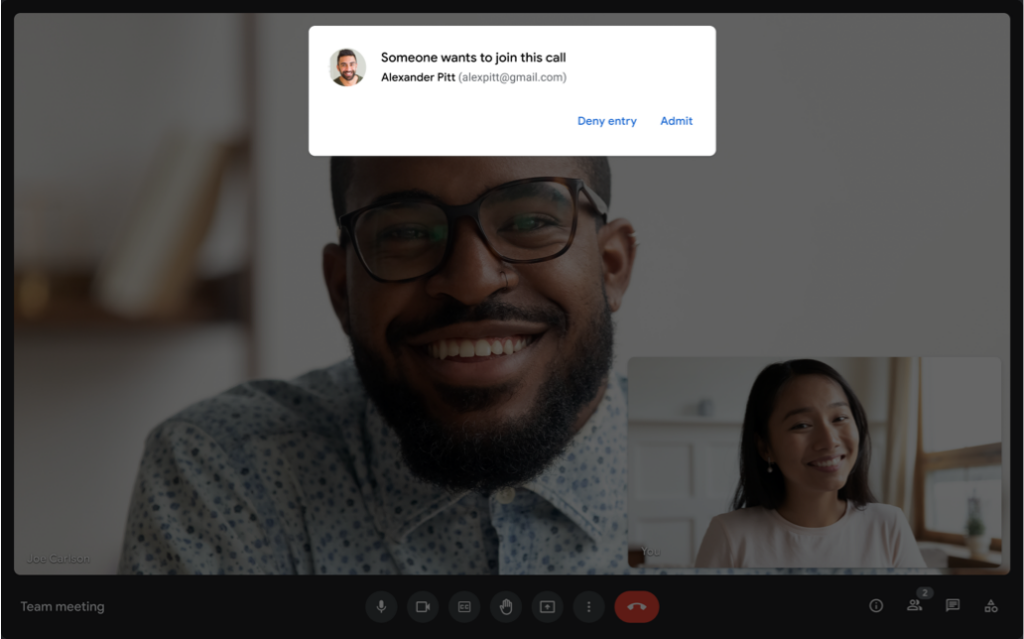 Meetings are made easier with Meet. Setting up and joining calls are simple - just set up the meeting and share the link with those who you want to invite. With an interface that's quick and simple, calls with large groups are easy.
Zoom
Zoom is a videoconferencing software that launched in 2011, and really boomed in popularity at the early days of COVID-19 in 2020. Zoom proved its reliability as it has continued to help businesses and their employees stay in touch with each other and with their customers, no matter what the unique scenario may be.
With Zoom, people can meet virtually from anywhere, on any device, at any time. SaaS organizations can easily stay in touch with Zoom, no matter where the team is located. Zoom also offers free and paid tiers, so the cost depends on your budget.
Key features of Zoom include:
HD audio and video meetings supporting up to 1000 video participants
Built-in collaboration tools
Filters, emoji reactions, polls, hand raising, and music or video sharing
Meeting recording and transcripts
Record your virtual meetings locally or to the cloud with searchable transcripts.
Streamlined calendaring
Team Chat
Top Project Management Tools for SaaS Companies
Asana
Asana helps teams make work easier. It is a project management tool that simplifies project management and provides teams with everything needed to stay on top of each task, deadline, and goal.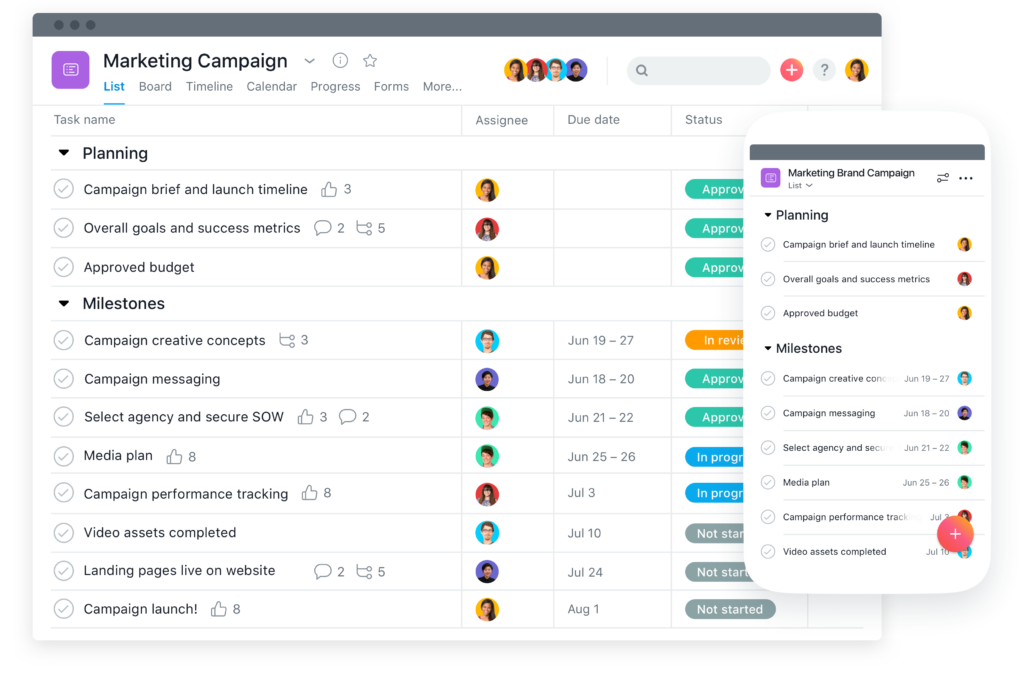 Asana provides everything a SaaS team needs to enable team-wide organization with one shared space and the ability to switch between projects. There are also a variety of views: it's simple to switch between list, kanban board, and calendar views.
Features like app integrations, reporting, goal-setting, forms, and automation help make it easy to increase productivity and work smarter, not harder.
There are pricing tiers that vary, so a SaaS team can pick the option that's the best fit for their size, from a free tier to an Enterprise tier.
Trello
Trello is a popular visual project management tool that keeps teams organized and on the same page. SaaS companies of all sizes have popularly used Trello for teams like marketing, design, product management, and engineering - or the entire company!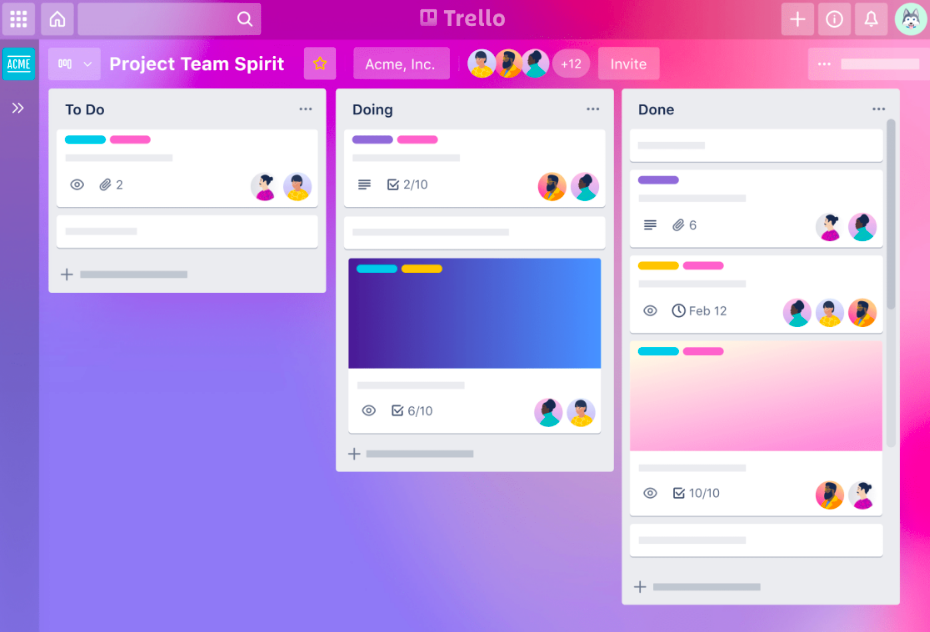 Trello projects can have files, checklists, automation, integrations, and there are even templates to help teams get started.
Like Asana, with pricing tiers from free to Enterprise, Trello has created project management options for SaaS businesses of all sizes.
Teamwork
Teamwork sets itself apart from the project management competition by differentiating itself as the only platform that's built specifically for client work.
The intention of Teamwork is to help businesses deliver work in a timely fashion, while staying on budget. Teamwork helps teams remove chaos and determine their profitability all in one place. The platform offers integrated solutions for project management such as knowledge sharing, collaboration, and customer relationship management.
Teamwork has a totally free pricing option, all the way up to a custom quote option for larger scale enterprises.
Monday.com
Monday.com describes themselves as a "Work Operating System (Work OS) that powers teams to run projects and workflows with confidence". With an intuitive and simple user interface, the tool helps teams build and optimize workflows, create business transparency, and improve collaboration.
Monday.com prides itself on a few key benefits:
Improving collaboration
Creating organizational visibility
Providing flexibility for the platform to adapt to your team
Increasing productivity
Insight into the full organizational picture with dashboards and reports
With many different pricing options, Monday.com helps businesses to create the optimal project management plan for their unique business situation.
ClickUp
ClickUp's project management platform guarantees that it will save teams one day a week in time. Its intention is to provide teams with one place for productivity, bringing teams, tasks, and tools together.
Clickup brings the power of hundreds of tools together into their one platform.
Features of ClickUp include:
An "everything" view for a birds-eye view on organizations
Customizable tasks
Nested subtasks and checklists
Automations for routine tasks and processes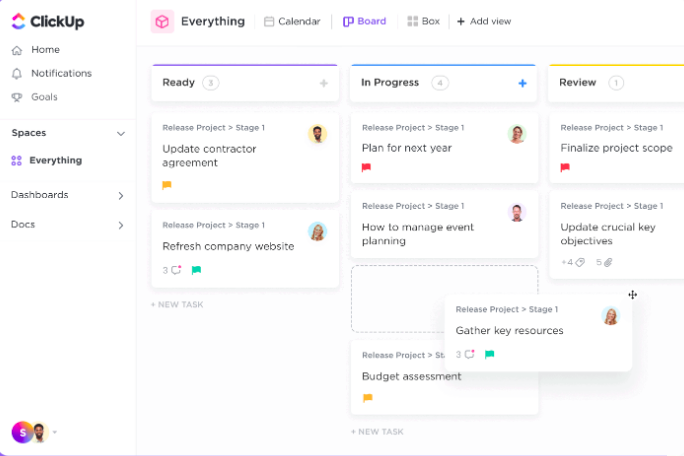 ClickUp offers a "free forever" pricing option, with various mid-tier options for growing businesses, as well as an Enterprise offering.
Basecamp
Basecamp sets out to change the way organizations work, and not just be a project management tool. With Basecamp, organizations break up work into separate projects.
Within these separate projects, they host everything related to the work being done, from the team members involved, to discussions, documents, tasks, deadlines, everything and anything.
The idea is that Basecamp projects keep everything organized, rather than in a state of chaos. The intention is to make it easy to find things and sort them.
Within each Basecamp project are features such as:
To-Do Lists
Schedules
Files / Documents
Discussions
Auto Check-Ins
Basecamp keeps it simple, with two pricing options: free (which has limited features) and Business, which is $99/month.
Top Knowledge Management Tools for SaaS Companies
Guru
Many organizations are presented with the challenge of organizational knowledge management. Where does important information go? How do organizations ensure knowledge isn't lost? Guru aims to be the solution to these questions by organizing company information and making it accessible anywhere.
Guru acts as a company wiki that falls within organizations workflows, making the necessary information always at employees' fingertips. Employee onboarding, internal communications, and product enablement becomes much easier with Guru.
Key features of Guru include:
Collections and Boards
Slack and Microsoft Teams Integrations
Browser Extension
Guru offers pricing tiers that include Free, Builder, Expert, and Enterprise depending on a company's size and needs.
Helpjuice
Helpjuice is another popular knowledge management tool that aims to help scale internal knowledge-sharing, collaboration, and customer support.
According to Helpjuice, 75% of people that search for knowledge base software end up choosing Helpjuice.
Features that Helpjuice can provide SaaS companies include:
Customization to match company needs
Analytics that provide organizational insight
Instant search
Integration offerings
Easy authoring and formatting
For an example of what a Helpjuice knowledge base looks like, check out Shipt's help site.
Pricing starts at $120/month for the Starter option, and goes up to Premium Unlimited at $499/month with additional mid-tier options between the two.
Top Blog CMS Tools for SaaS Companies
WordPress
WordPress is a popular go-to for those looking to create web content. According to WordPress:
"43% of the web is built on WordPress. More bloggers, small businesses, and Fortune 500 companies use WordPress than all other options combined."
SaaS companies looking to grow benefit from creating relevant blog content, and WordPress is a popular option. WordPress offers powerful website building, making it easy for anyone to create blog content.
WordPress offers:
Plans that work for businesses of all sizes
Custom domains
eCommerce offerings
In-Depth analytics
SEO optimization
Mobile-friendly support
Ghost
Ghost promises to turn websites into businesses. Ghost is an open-source content platform that offers writing and publishing features that bloggers can easily tap into, and comes with modern tools for website building, publishing, newsletters, and subscription models.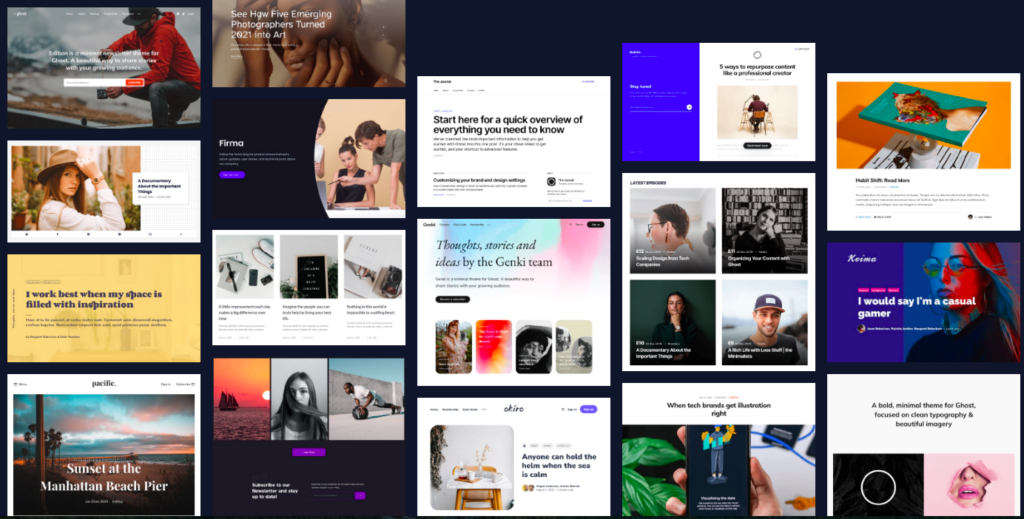 Key features of Ghost include:
Customizable building to create unique websites
Powerful editing capabilities
Data ownership
Ghost has varying pricing options that shift on a sliding scale based on needs and audience size.
SquareSpace
SquareSpace offers simplified website building and hosting capabilities to individuals and businesses looking to promote their offerings and ideas.
A popular option for blogs, SquareSpace offers specific blogging tools to make the content work for those writing it. They offer drag-and-drop functionality and the ability to categorize, share, and schedule content.
A few key features of SquareSpace include:
Built in SEO and Analytics tools
Award-winning web designs and templates
Mobile editing
Tool and app integration
Custom domains
With varying pricing tiers, businesses only pay for what they need.
Wix
Wix is another popular CMS platform to create a blog with to help grow your SaaS business. Wix is incredibly beginner-friendly, and makes it easy to build, design, and launch a blog. For more expert users, Wix also offers advanced features.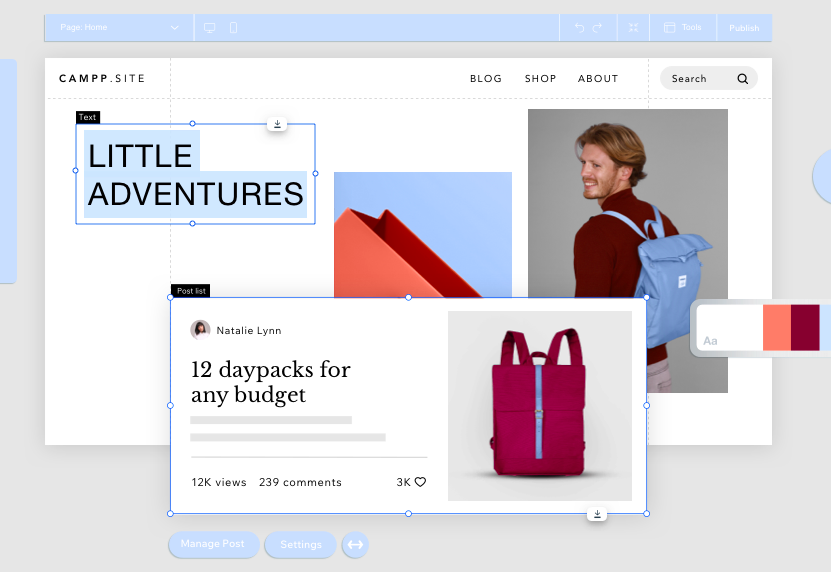 To build a successful blog and help grow your business, Wix offers built-in SEO and marketing tools to help increase your audience.
With Wix, you can establish a domain name, create a highly customized blog design, and create content that's easily scheduled and shared.
Wix offers a free option as well as enterprise plans to match businesses where they are in their growth stage.
Top Sales Tools for SaaS Companies
Pipedrive
Pipedrive bills itself as the first sales CRM created for salespeople, by salespeople.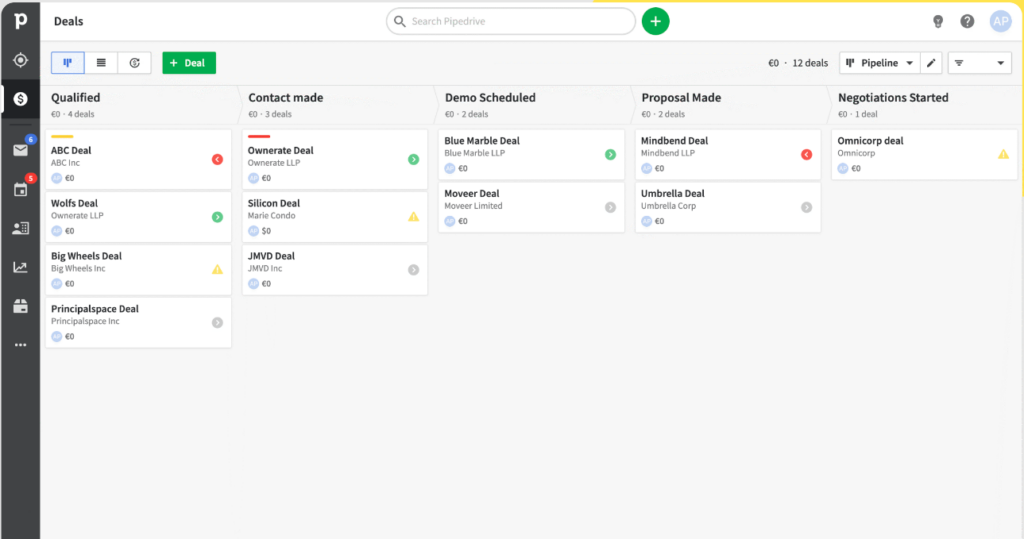 Pipedrive's ease of use is one of its best attributes. It's a deal-driven CRM that automatically tracks and organizes contacts with leads. It seamlessly visualizes the sales process, from the beginning to end.
Key features of Pipedrive include:
Visualized sales process
Mobile app
Lead generation chatbot
Contact management
Recurring revenue (for subscriptions/repeat customers)
Pipedrive offers pricing starting at $14.90/user/month for their Essential offering, and goes up to $99/user/month for their Enterprise offering.
Outreach
Outreach.io enables sales outreach, and is a tool that comes with accessible methods to streamline lead generation activities.
Outreach's offerings provide a system-of-execution for sales reps. With Outreach, sales reps can simplify and automate their workflows and as a result optimize pipeline generation and seller success.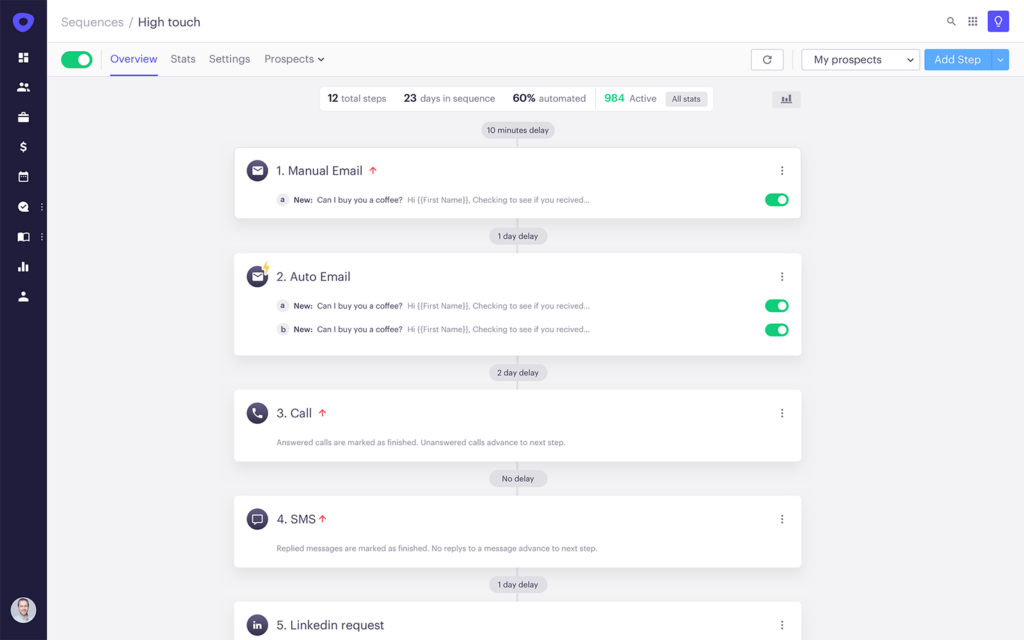 Major features of Outreach include:
Streamlined Workflows
Automated Data Sync
Sentiment Analysis
Opportunity Management
Meeting Scheduler
Top Live Chat Tools for SaaS Companies
Intercom
Intercom offers businesses a way to chat with customers quickly, and is a popular way for SaaS businesses to connect with their customers by providing a messaging platform.
Bringing together marketing, sales, and support, Intercom helps convert customers, engage at each touchpoint, and support customers at scale. Intercom offers many methods to help customers at various points of their journey, and offers functionality like live chat, self-serve, and more.
Key features of Intercom include:
Business Messenger
Customizable Bots
Automated Answers
Product Tours
Outbound Messages
Inbox
Intercom has varied pricing options based on businesses' unique needs.
Drift
Drift is a platform that offers conversational marketing and sales enablement to support and engage customers. The whole purpose of Drift is to have a human-centric approach to marketing, sales, and service.
Drift's Conversation Cloud offers up a multi-pronged approach:
Conversational Marketing, for real-time engagement that's personalized
Conversational Sales, to connect with target buyers when they want to be connected with
Conversational Service, to provide customers with help and answers immediately
The Conversation Cloud comes with extra features, such as:
APIs and Integrations
Conversational AI
Reporting and Analytics
Audiences
Top CRM Tools for SaaS Companies
Salesforce
Our next tool needs no introduction. In the world of SaaS, it's highly likely you've heard of Salesforce. Salesforce is a highly popular CRM platform that provides software and apps centered around sales, customer service, marketing automation, analytics, and app development.
Salesforce owns a host of products, but one of their most popular and widely used products is their CRM.
Salesforce's CRM is called Salesforce Customer 360, and is an AI-powered platform that provides employees with the data and information necessary to make smart decisions for their companies and customers.
Key features of Salesforce Customer 360 include:
Full ability to integrate data from any source, take action in real time, and visualize it
Automate the majority of repeatable business functions
Scalable and secure technology
8,700+ partner apps and services to integrate with
Zoho
Zoho makes web-based business tools, and owns an award-winning CRM platform.
In Zoho's own words:
"Zoho CRM acts as a single repository to bring your sales, marketing, and customer support activities together, and streamline your process, policy, and people in one platform."
Zoho's CRM brings together multiple key aspects of the customer journey, including:
Sales Force Automation (including lead and deal management and workflow automation)
Process Management
Omnichannel Contacts
Analytics and Reporting
Predictive Sales and Intelligence
Zoho offers transparent pricing on a tiered basis, so SaaS businesses can choose the plan that fits their current situation best.
Top Outsourcing Tools for SaaS Companies
Upwork
Sometimes SaaS teams can't do all the work themselves, and pulling in some outside help can have incredible return on investment. Upwork is an excellent market to find talent to fill in the gaps on your team, bring in fresh ideas, or get some extra hands on deck during projects that need to move fast.
Upwork has a vast network of freelancers with an even vaster array of skills to meet whatever need your business might have.
Areas of expertise include:
Development and IT
Design and Creative
Finance and Accounting
Writing and Translation
Sales and Marketing
Legal
Upwork makes it easy to connect with and manage freelancers, providing tools and features to streamline the process.
Key features of Upwork include:
Collaboration tools
Account support
Secure, simple payments
Fast and easy talent discovery
Fiverr
Fiverr is another way to connect your business with freelancers. As an online marketplace for freelancer services, Fiverr enables freelancers to list small one-off jobs online. These jobs can range in diversity to anything from voice over work to logo design to user testing.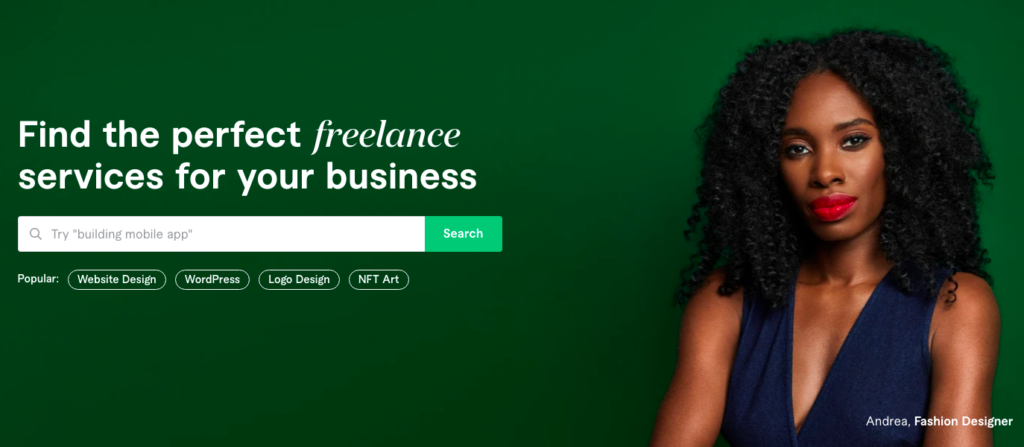 Like Upwork, Fiverr offers a variety of digital expertise with their worldwide network of freelancers. Key features of Fiverr include:
Freelancers with rates at every budget
High-quality services at project-based pricing
Freelance talent from around the world
Protected payments
Support around the clock
Top Social Media Tools for SaaS Companies
Hootsuite
Hootsuite is a social media management platform. The platform's user interface is a dashboard, and supports the integration of cross-platform social networks, including TikTok, Instagram, Twitter, LinkedIn, Facebook, Pinterest, and YouTube.
Hootsuite enables SaaS businesses to streamline and house all of their social media marketing efforts in one place. With Hootsuite, SaaS companies can:
Publish and schedule posts, worry-free and easily
Engage customers and manage messages across multiple channels
Monitor social listening activity
Advertise content
Analyze results
Hootsuite offers pricing plans across tiers such as Professional, Team, Business, Enterprise, and Custom. The pricing and functionality available range widely, from $49/month to $739/month.
Buffer
Buffer is a software that enables businesses to manage social media accounts in one spot, similar to Hootsuite. It refers to itself as a toolkit, where small businesses can manage everything they need to have a strong social presence.
With Buffer, growing SaaS businesses can plan and publish content from one single dashboard. It's compatible with Instagram, TikTok, Pinterest, Facebook, LinkedIn, and Twitter.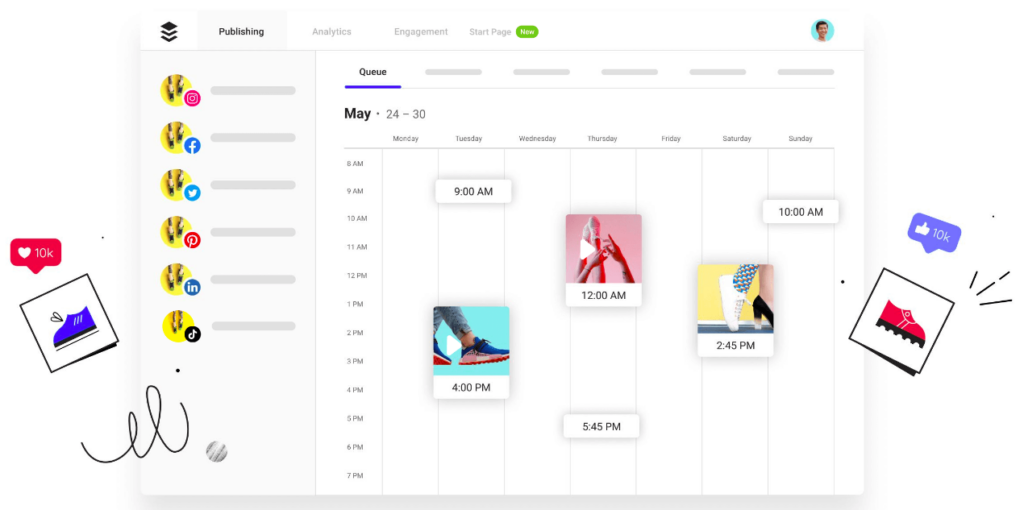 Buffer gives businesses the power to easily communicate with their audience through comments and messages, and makes understanding analytics easy as well. With Buffer, your SaaS company will be all set to plan, publish, engage with, and analyze social content for your audience.
Buffer's pricing has a free option, paid tiers called "Essentials" and "Team", and an agency option for agencies running multiple clients' social media accounts.
Social Pilot
SocialPilot gives SaaS teams an easy-to-use tool to manage social media marketing. It puts automation into teams' hands, from publishing posts to analyzing posts' performance. It supports Facebook, Instagram, LinkedIn, Twitter, Pinterest, TikTok, and Google Business Profiles.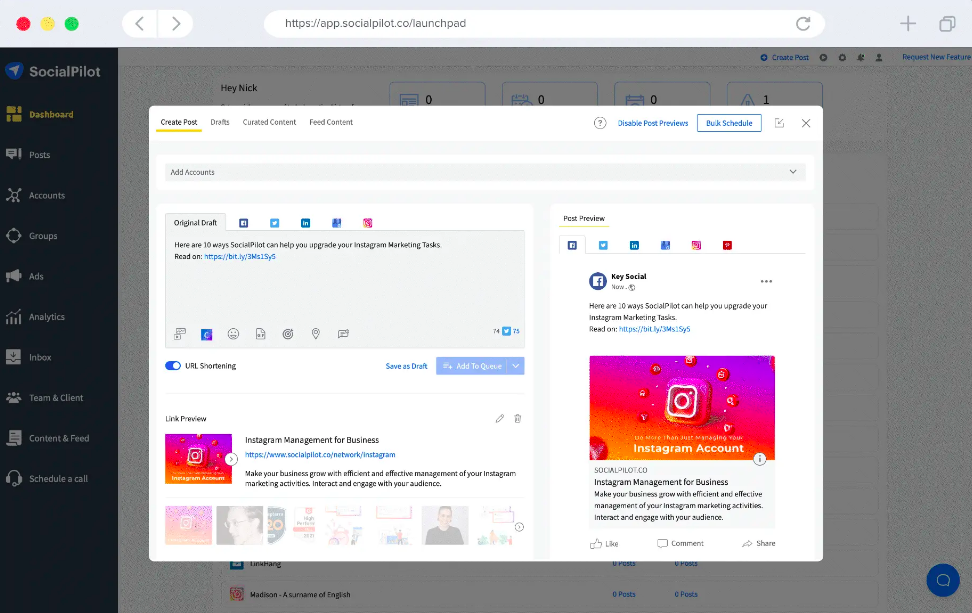 Key features of SocialPilot include:
Social Media Scheduling
Social Media Calendar
Content Curation
Browser Extension
Bulk Scheduling
Engagement Analytics
Social Inbox Management
SocialPilot has offerings for professionals, small businesses, agencies, and enterprises. Ranging from $25/month to $106.25/month, or a custom priced enterprise plan, SocialPilot supports a variety of business types.
Top SEO Tools for SaaS Companies
Google Search Console
Google Search Console (GSC) is a must for any SaaS business looking to improve their SEO game. The tools and reports within GSC help measure how well your website attracts customers via SEO, understands performance, and identifies issues.
Overall, GSC is a necessary tool to understand how Google sees your website, and identify how to improve your rankings.
GSC enables SaaS businesses for the following:
Mobile-first indexing
Site links
Error identification
Submit pages for indexing
What makes GSC even better? It's a free service!
Semrush
Semrush is a widely used SEO tool that's popular for technical site audit, competitor analysis, keyword research, and backlink analysis. SaaS businesses looking to grow their website traffic and broaden their reach would definitely benefit from Semrush's offerings.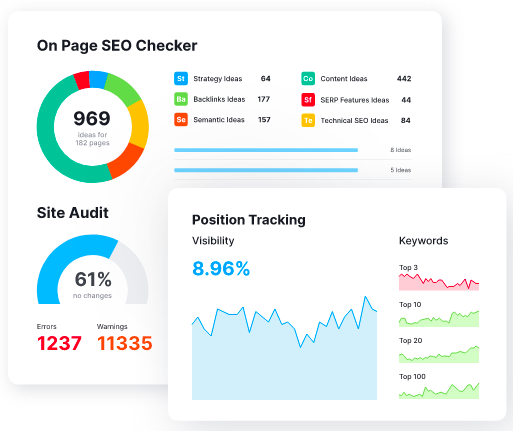 Features of Semrush include:
Keyword research
Competitive analysis
On-page SEO
Local SEO
Content marketing
Rank tracking
Content optimization
Semrush's pricing comes on a freemium model, and offers plans starting at $119.95/month.
Ahrefs
Ahrefs is a popular all-in-one tool to drive SaaS business growth for better SEO rankings and increased traffic. Its software suite contains SEO tools for things like link building, competitor analysis, site audits, rank tracking, and keyword research.
Key SEO tools within Ahrefs include:
Site Audit
Site Explorer
Keywords Explorer
Content Explorer
Rank Tracker
Ahrefs has pricing starting at $99/month for small businesses, and $999/month for enterprises. There's also a few plans in between for those who fall somewhere in the middle.
So there you have it - 39 tools to help your SaaS business grow beyond your wildest dreams. Looking for some help with building your growth strategy and harnessing these tools to their fullest ability? Hit up Insivia!
About Insivia