SaaS Pricing Models
SaaS businesses frequently operate out of 7 popular pricing models. These models are:
Freemium
Subscription based / flat-rate
User-based
Usage-based
Tiered-user
Per active user
Feature pricing model
As of the 2021 openviewpartners.com survey of SaaS businesses, 41% of businesses use seats/users as the primary pricing metric, but usage/transaction-based pricing comes in as a close second at 39%.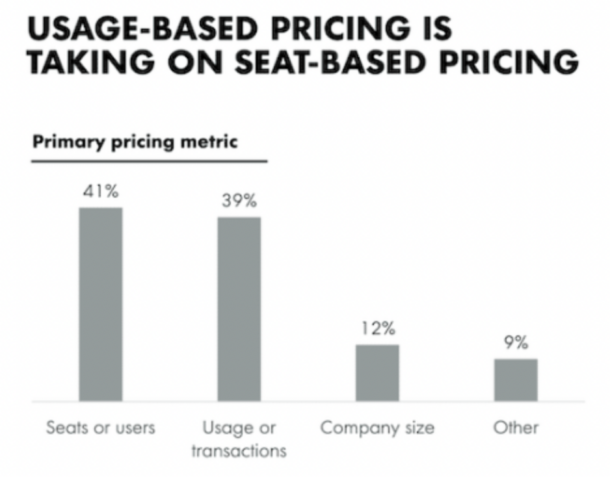 Survey results of primary pricing metric by openviewpartners.com
Freemium Pricing Model
A freemium model offers a product that's completely free to use, with an option to opt for additional paid packages for elevated service, more features, or an ad-free experience.
By providing customers with a trial, a "lite" version of features, or an advertisement-driven platform helps get a foot in the door to encourage customers to upgrade to a paid tier. Popular examples of SaaS freemium pricing models are Slack and Dropbox.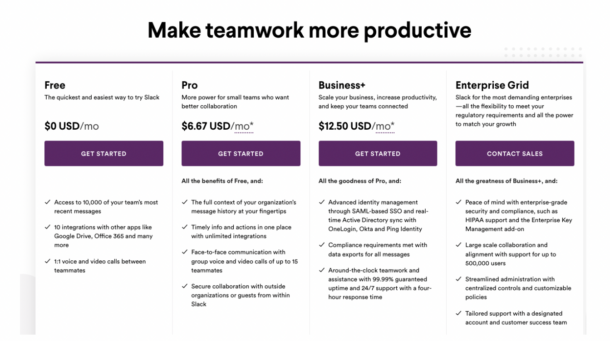 Slack freemium pricing tiers
Subscription-Based / Flat-Rate Pricing Model
Subscription-based pricing (or flat-rate pricing) harkens back to the early era of software. On a subscription-based pricing model, potential customers pay a price for the product either typically on a monthly or annual payment schedule. This payment then provides the customer all features of the product.
Fewer companies are using this form of pricing due to complexity of customers and services offered. With current trends in the SaaS space being around unbundling and customization, this model is not as popular anymore.

One SaaS business that uses a flat rate for business is Basecamp
User-Based Pricing Model
In a user-based pricing model, SaaS businesses charge customers on a per-user basis. Due to the ease of scale and the appeal to both large and small companies, the method has been attractive to both SaaS business and customers. The simplicity makes it very easy for SaaS businesses, particularly in the early stages, to manage revenue.
However, it's common for customers to share accounts to save on buying more seats, and churn likelihood can be high.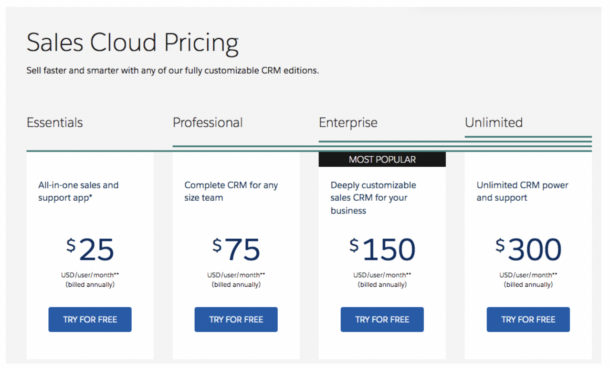 Salesforce Sales Cloud prices customers on a per user basis
Usage-Based Pricing Model
The usage-based pricing model can also be called the pay-as-you-go pricing model. The name explains it pretty well: the more you use the product, the more it costs. The less you use the product, the lower it costs.
This pricing model started out being more commonly used with infrastructure or platform software companies. Customers would be charged as a result of how much data was used, for example. However, usage-based pricing models are becoming more widely adopted with other types of SaaS companies.
The benefits are that there are typically few barriers to actually using the product, and customers easily understand how their usage affects their price. However, for a SaaS business using a usage-based pricing model, it can be difficult to predict revenue, and customers may not realize how much they've used a product and be surprised by their bill.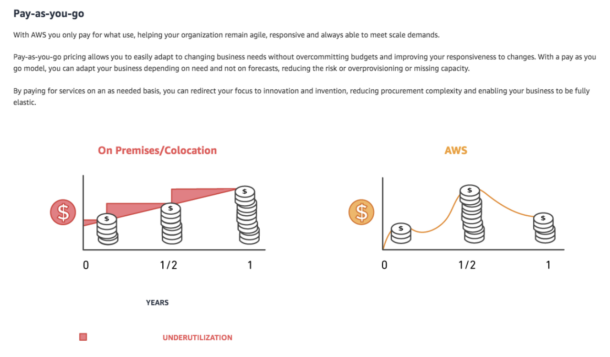 Amazon Web Services offers usage-based pricing
Tiered-User Pricing Model
Tiered-user pricing models are very popular among SaaS companies. Tiered pricing gives customers the ability to find a package that fits their needs best. Companies that use tiered pricing are able to create offerings that have a wide appeal across different customer bases.
The average amount of packages offered by SaaS companies is 3.5. At around 3 packages, these are typically created as a "low, medium, high" price point option. However, companies are free to create as many packages at different price points as they wish.

HubSpot's Marketing program tiered user pricing model
Per Active User Pricing Model
The Per Active User Pricing Model ensures to customers that they will need to pay only for users who actively use the product, not users who are sitting idly.
One concern with "per user" pricing is that a new customer could spend a large sum of money for a new enterprise-tier SaaS product, only to have their employees never use the software. The per active user pricing model reduces this risk to potential customers by ensuring that only active users of the product will actually need to be paid for.
Looking deeper into Slack, in the pop-up where they share their Pro tier cost is $6.67 USD/mo, Slack shares that this figure is per active user per month.

Slack pop-up defining how only active users need to be paid for.
Feature-Based Pricing Model
A feature-based pricing model puts the monetary value on the total number of features, rather than the total number of users such as with the user-based pricing model. This pricing model also bears a resemblance to tier-based pricing, as there are different packaging options in feature-based pricing models. However, in this model, the prices are based on the total number of features that a customer can use.
For QuickBooks customers, the higher the tier, the more features are unlocked.