Evaluating Your Software Brand Positioning Through SWOT Analysis
Today, being a successful software company is an arduous task. Many software companies are competing neck-to-neck and are always at each other's throats for survival in the contemporary world of technology. In times like these, your software firm must have an exemplary brand positioning. A SWOT analysis can help you evaluate your brand positioning and look for ways to make it better.
"If people believe they share values with a company, they will stay loyal to the brand," said Howard Shultz, the CEO of Starbucks. This is true; people go for brands that connect with them on a personal level. For these reasons and more, it's essential to highlight your value through brand positioning to compel people to purchase your software.
73% of consumers love a brand because of helpful customer service, studies suggest. A powerful brand positioning is what will make your software firm stand out and drive traffic to your website. To evaluate your software brand positioning, you can use the help of SWOT (strengths, weaknesses, opportunities, & threats) analysis. Today, we are here to discuss just that.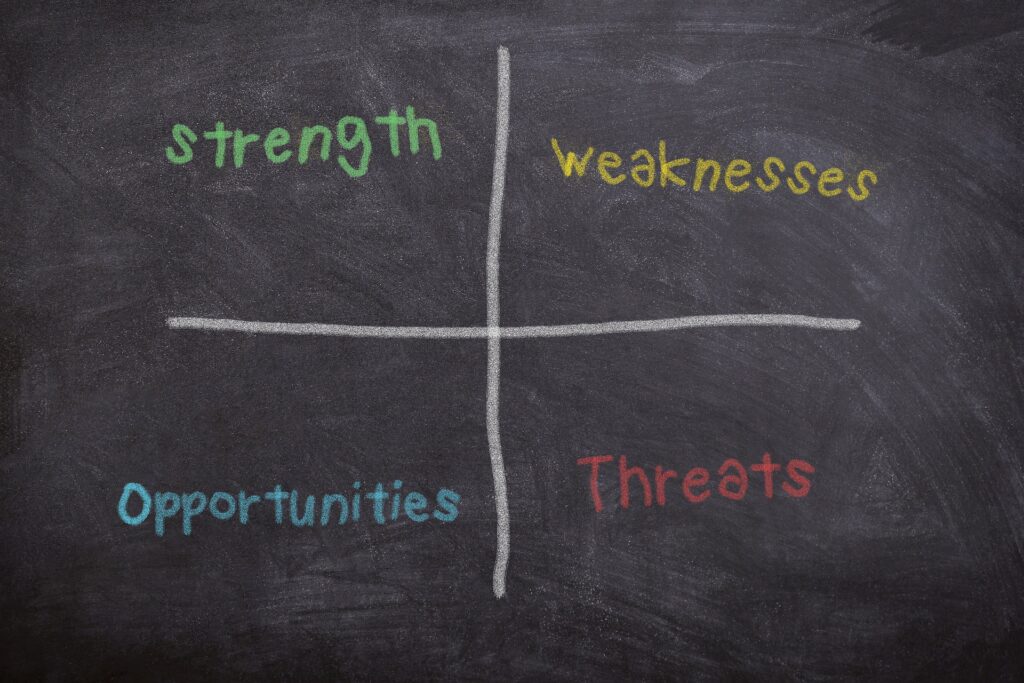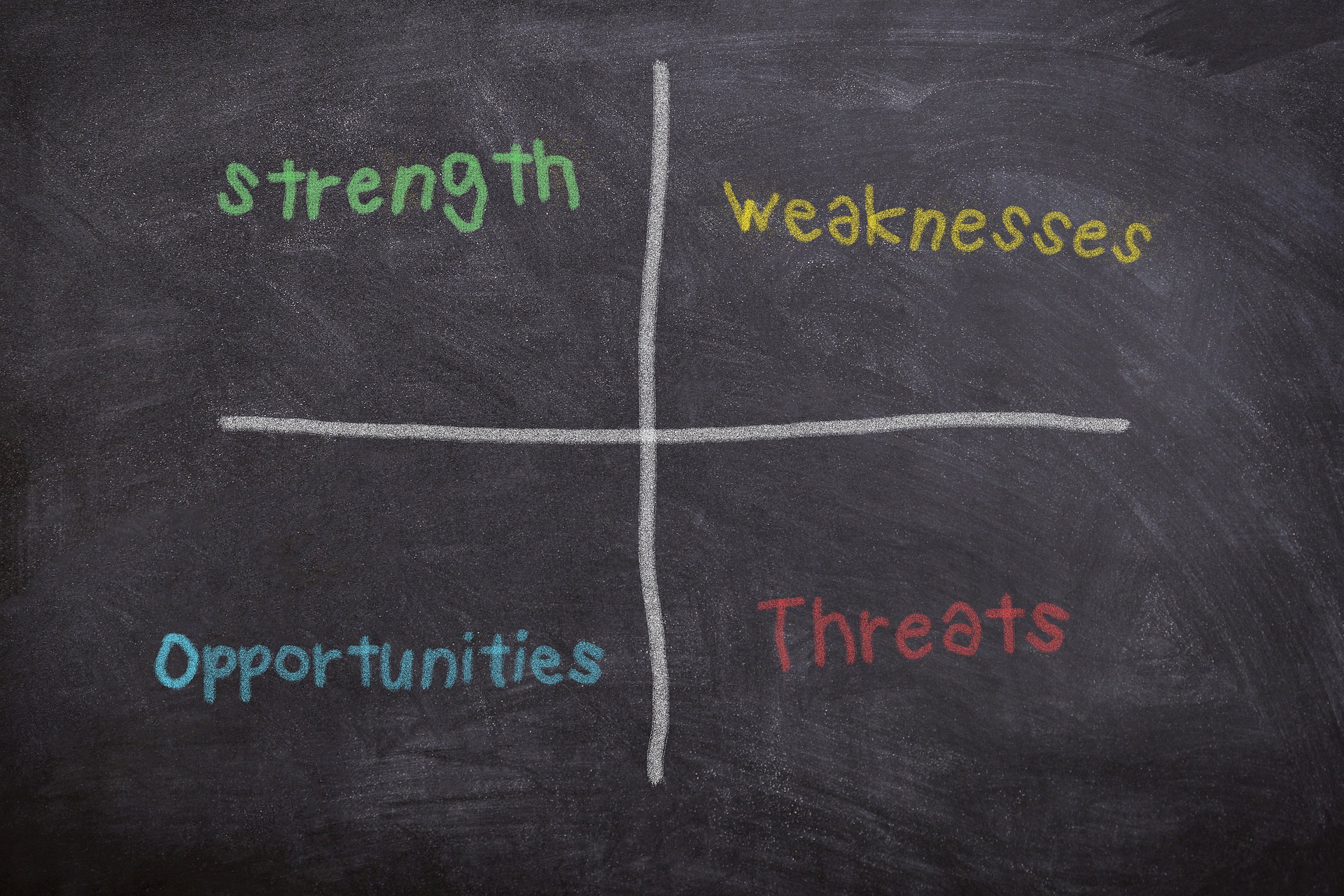 What is brand positioning?
Brand positioning is the act of creating a company's offering and image in order to hold a distinct position in the minds of its target market. In other words, brand positioning defines how your brand differs from its competitors and how it makes its place in the minds of buyers.
A strong brand positioning strategy, thus, entails generating brand connections in the minds of customers to influence how they perceive your brand. If your messaging does a good job of explaining why you are different from similar software products, it should drive more customers for your B2B SaaS company.
It is anticipated that by 2022, 78% of businesses would be relying only on B2B SaaS. Therefore, it's crucial that your software firm starts leaving an impact before that. This can be done through puissant brand positioning.
What is SWOT Analysis?
SWOT analysis (or SWOT matrix) is a strategic planning approach used to assist a person or organization in identifying strengths, weaknesses, opportunities, and threats due to competition in the industry or project management.
The first part of SWOT (strengths and weaknesses) focuses on the internal forces within your company or brand that work for and against you. Opportunities and threats are the good and negative external elements that your software firm must deal with.
Using SWOT Analysis To Evaluate Your Software Brand Positioning And Making It Better
To conduct an effective SWOT analysis, firstly, you need to make sure that you are completely honest with it. You should have an in-depth knowledge of your software company and know where your strengths and weaknesses lie. Next, you must make sure that you conduct a SWOT once every few months so that you are aware of the most recent developments.
To evaluate your brand positioning, you need to critically evaluate your strengths, weaknesses, opportunities to thrive, and threats in the industry. These factors can be both internal and external. You need to have an eye for detail and identify strengths and weaknesses even where they are most difficult to find. Consider your SWOT analysis as sort of an audit. It should be that detailed.
Strengths
You can use and highlight the strengths of your software firm to stand out among your competitors. You can market your software uniquely and innovatively to attract customers. 61% of people are more likely to buy from companies that deliver unique content. You can use your expert marketing know-how as your strength to market your B2B SaaS cloud software.
In designing a brand position, tell your readers how your software is nothing like those of your competitors. You can let them know how convenient it is to set up an account once you've purchased them and how you frequently roll out updates. You can also put your reputation as a first-rate SaaS company in the spotlight.
Weaknesses
You need to critically analyze and understand your weaknesses and look for ways to overcome them. Knowing your weaknesses is itself a strength as you are aware of where you lack. This helps you look for ways to beat that weakness before others make use of it.
It might also help you to perform a SWOT analysis on your competitors to look for their weaknesses. This way, you can build a brand position for your company that offers what your competitors do not.
Opportunities
The presence of advanced technology in the market is an opportunity. It would be best if you grasped this opportunity as soon as possible to come up with new software and updates that are not matched by any of your competitors. This helps in brand positioning as you are offering your customers what others are not.
54% of social browsers use social media to research products. You can tap into the power of social media and other platforms to advertise your software in an unparalleled way. You can also use this strategy to reach new customers before your competitors.
Threats
Changes in the economy and customer preferences might pose a threat to you, but there's nothing you can do about it. Your competitors might also pose a threat to you in acquiring your desired market share. To eliminate this threat, you need to make the most use out of your 'opportunities,' as mentioned above. To beat them to the chase, you can target their weaknesses and advertise your software in a way that proves that your software does not have the said weaknesses and offers much more value.
Conclusion
SWOT analyses are a great way to evaluate and boost your brand image by effective brand positioning. However, your software firm should pay attention to performing these analyses frequently and honestly. This way, due attention is paid to the changing requirements of the software industry, and more factors are brought to sight. SWOT analyses are free of cost, and the benefits that you can reap from them are magnificent.
About Insivia