Understand the Difference Between Objectives and Tactics
Objectives describe the desired outcome of a SaaS marketing goal, while tactics are the actual steps needed to reach them. It's important to keep this distinction in mind when creating your plan so that you don't get caught up in too much detail and lose sight of the larger goal.
Marketing is an essential part of any successful SaaS business, as it helps them not just reach a wider customer base, but also grow and evolve over time. However, creating a meaningful marketing plan that's effective isn't always straightforward, especially when it comes to distinguishing between objectives and tactics. Here are some tips on understanding the difference between the two so you can more effectively reach your desired outcomes.
Objectives
These are the overall goals of your marketing strategy – what do you want to achieve? Objectives should be measurable, such as increasing website traffic by 10% or boosting user engagement by 25%.
They should also be ambitious yet achievable and realistic; if they're too easy then you won't push yourself enough to strive for success. Objectives keep a large task in mind that maintains motivation across your team. However, marketing objectives do not need to be broad, in fact, they should be fairly specific in scope.
If your SaaS marketing goal is to increase brand awareness by a certain percentage, objectives that lie within that include elements such as boosting user engagement, social media attraction, website visibility, client outreach, and more. While the overarching goal is broad and unspecific, the marketing objectives should be measurable.
Tactics
Tactics are the specific methods used to reach those objectives. It could mean using PPC campaigns or targeting customers with personalized emails; whatever works best for your business.
Tactics should be tailored towards reaching their intended objective and goal, rather than being chosen randomly or simply because everyone else is doing them. It's important to track progress regularly so you can make adjustments if necessary.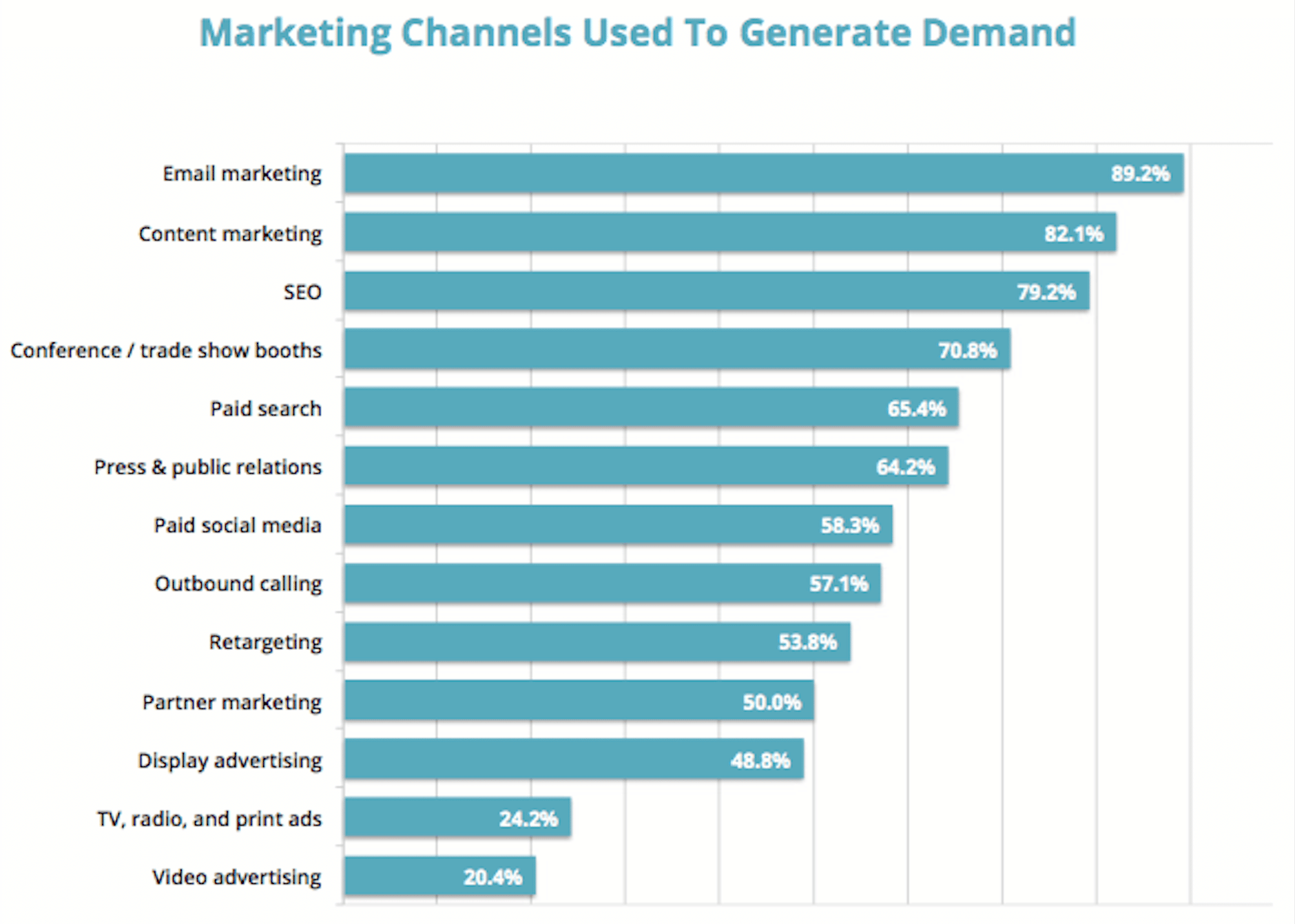 Examples of marketing tactics to generate demand include:
Content Marketing
An effective way to inform potential customers about your product, as well as build trust and loyalty among existing ones.
Tactic: Publish long form blog posts 3x a week about the product or service "how to," a trending topic about our SaaS industry, and Thought Leadership.
Search Engine Optimization (SEO)
SEO increases visibility of your website by improving its ranking on search engine result pages (SERPs).
Tactic: Monitor keywords each week and ensure each blog post contains at least two of the most relevant and high ranking keywords.
Social Media Marketing
If its sponsored ads or organic posts, SaaS businesses can reach out to their target audience in real time while promoting their products/services.
Tactic: Join one new online community each week on Reddit, Facebook, and LinkedIn and publish the content from that week in order to create lists of users who engage to target further.
Pay-Per-Click Advertising
PPC advertising lets you pay only when someone clicks on your ad; SaaS businesses can ensure that the right people are seeing their ad campaigns at all times.
Tactic: AB test across two target/niche audiences to determine which types of audiences respond to particular ad campaigns.