Chapter 2
Creating Great Website Content
Rebuilding your website requires planning your content, first and foremost. Website content will communicate who you are and what you do, in keeping with your brand voice or identity. Here are the three areas of content to focus on during your re-design planning - Architecture, Brand Voice, and Layout:
Architecture
The architecture of your new website encompasses what web pages you'll include and how they'll be structured. If you offer multiple services, for instance, you may want to group individual service pages under one general "services" webpage. The rule of thumb for website architecture is to keep things simple and logical.
First, you'll want to take an inventory of your existing pages and post them to your website. You'll want to see what you currently have and how they're organized in relation to the overall architecture. Once you have all your pages mapped out, you'll want to audit them to determine which ones you can remove. Think about things like if you can consolidate content from multiple pages into fewer ones, removing content that's incorrect or out-of-date and generally how you can make your message more concise.
Next, in addition to determining which pages you'll keep (and which you'll discard), you'll want to decide if there are any new pages that should be added. Maybe you've started a new product line that deserves its own page or want to start a blog page. Once you've identified those, you'll be able to merge and reorder the content of these pages to finalize where (and how) your content will be presented. This will enable you to merge and reorder the pages and create a hierarchy for how they'll be organized.
Once that's complete, decide on how you'll cross-link pages and present navigation options to the user. Try using website architecture tools like Slickplan to easily visualize and map out the content of the rebuild.
---
"Information architecture is the practice of organizing content so it's easy to understand. In web [re-designs], structural diagrams map the relationships between all the screens of a site, giving you a high-level overview of your site's components."
Filipo Di Trapani, Web Designer @ Shopify
---
Brand Voice
The content of your new website, both visual and written, should stem from your unique brand voice and identity. Whether you know it or not, your business has a brand voice, which sometimes needs to be discovered and refined while planning a website rebuild. Typically, your brand voice will be a combination of your customer-facing brand and your internal culture. Who you are and your company's values should shine through clearly in your content.
Here are the key factors to hone in on as you polish your brand voice as part of your website rebuild:
Core Values - These represent who you are as a company. Do you value providing the best price for customers? Maybe sustainability is one of your core values? Whatever they are, make sure they come through in your design and copy.
Value Propositions - What makes your company different from all the rest? What's the unique value proposition you offer to consumers that they can't get anywhere else? Your content should be written in a brand voice that emphasizes your key differentiators.
Brand Voice - Aside from communicating exactly what makes you different, you want to voice that in a way that sounds different from the competitors. Think of unique verbiage, slogans, catchphrases, and design elements that will be memorable to consumers.
Company Mission - Your brand mission is an extension of your core values, but put into action. If one of your core values is sustainability, what is your brand's mission towards achieving that goal? Maybe you source only organic materials or donate a certain percentage of profits to organizations that support sustainable business practices. Make sure these activities are noted and presented in a congruent way with your brand voice.
Positioning Statement - Determining your unique value proposition will go a long way towards determining where your brand is positioned in the market. Maybe you're the low-cost provider? Or perhaps you're the most reliable? Whatever your market positioning is, talk consistently about the topics that are important to your audience and how your brand can address them in a unique way.
Brand Identity - Whatever your brand identity is, it needs to come across clearly and quickly. A professional tax service will have a much different identity than a housecleaning service, for instance, so make sure your content tells the user right away who you are, what you do, and why they should be interested.
Below is Insivia's Brand Voice Framework, to give you an idea of what factors to consider when perfecting your brand voice prior to a website rebuild: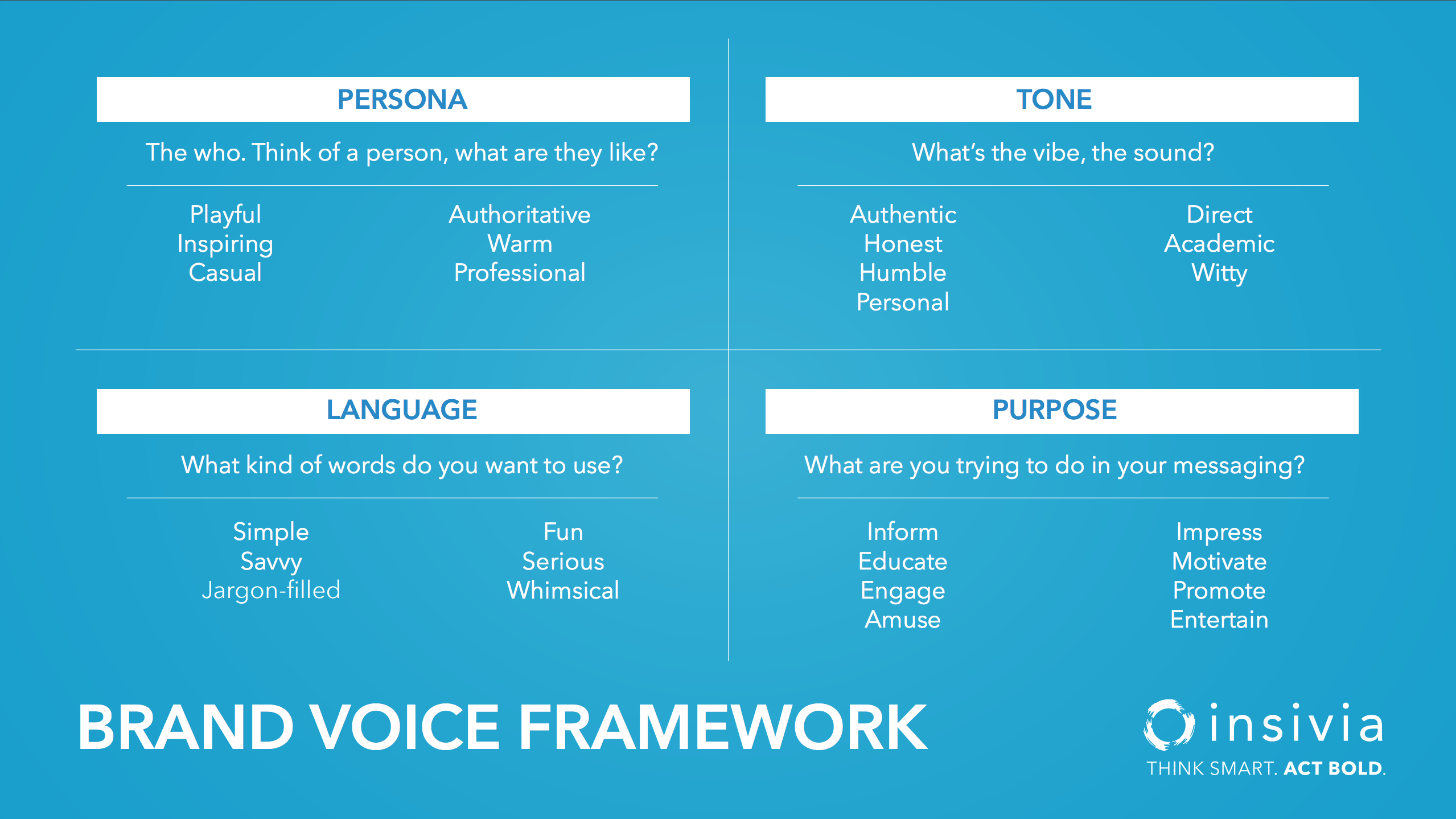 Layout
The layout of your website will go a long way towards influencing how users interact with your new site, as well as how they perceive your brand. Your rebuild layout should be simple, easy to navigate, and optimized for viewing on multiple devices. Known as responsive design, your layout should alter and optimize itself depending on whether the user is browsing on a PC, tablet or smartphone, Safari or Chrome, Apple or Android device, etc.
The main thing to keep in mind is that, since a website rebuild is such a big investment, your best bet is to work with a design professional. While do-it-yourself might seem like a cost-effective approach to designing your layout, most times the DIY costs of time and money are much greater than initially anticipated. Moreover, odds are that your completed DIY layout won't be completely optimized for all platforms and devices, or will come across as unprofessional.
Here are some critical factors to consider when working with your design professional to optimize your new website's layout: