More and more, companies are willing to drop large sums to grow their user base, and digital marketing spend is expected to grow to $645.8 billion by 2024. With this ballooning spend, businesses need to be more aware than ever of exactly what the results of that investment brings in.
At Insivia, we believe that budgeting marketing and advertising without knowing user acquisition cost is like sailing without a compass. The ugly truth is that in early stage SaaS businesses, far too many have no idea what their user acquisition cost (UAC) is, and are not actively seeking to determine this critical metric. Throughout this post, we'll share what user acquisition cost is and why it matters for your business. We'll also dig into how to get the return on investment from your marketing that's right for your business to increase leads and improve your user base.
What is SaaS User Acquisition Cost?
CAC is calculated by taking the overall cost of acquiring customers including both sales expenses and marketing expenses and dividing that cost by the total number of customers that were acquired. The cost and total customers must both be from the same period of time.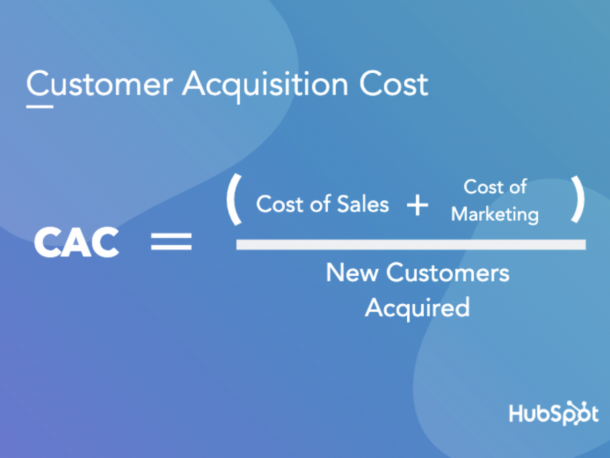 CAC formula visualized by HubSpot
Example of CAC Calculation for SaaS
Let's try out the CAC formula in a real world example. Let's say you are on the growth team at a SaaS firm and you're looking back on 2021. You get the data from your team to determine how many customers were acquired in 2021 and how much was spent on marketing and sales to acquire new customers.
If you spent $1 million on sales and marketing in 2021 and acquired 4,000 new customers, your CAC would be $250. Overall, your customer acquisition cost is $250 for 2021.
What Factors into CAC?
All sales and marketing costs factor into CAC. To make sure that this number is fully inclusive of all sales and marketing activity, here are a few factors to consider.
Advertising Costs:
Costs that go into SaaS product promotion to your target customers. These could be paid digital marketing ads, sponsorships, print advertising, whatever your company uses!
Labor:
Salaries factor into CAC. The salaries of people on the sales/marketing teams are included in CAC, along with sales commissions. Be sure to remember the costs of any freelancers or contractors too!
Overhead:
Any other expenses that keep the marketing/sales ship up and running. This could be tools your team uses, equipment they need to get their job done, travel expenses, trade show costs, rent, and so on.
What Can You Learn from Calculating CAC?
If you're still in the process of fine-tuning your product and finding your ideal target customers, the cost of customer acquisition will see a lot of variation.
However, many SaaS companies grow faster than they realize they're spending. The growth curse can be growing without an awareness of how much the company has spent to achieve this growth, and a rude awakening is realizing that you're not actually profitable due to these costs.
As your product shifts and changes during the refinement process, the analysis of your CAC through these changes helps keep a pulse on how much money is going into customer acquisition. CAC will help your business be prepared for growth.
Going back to our concept of payback period, the time your business needs to get back the CAC through your revenue will vary heavily by business models. The ideal scenario is that it takes no longer than 12 months to regain the cost of acquiring new customers.
For a new SaaS business, this might not seem like a feasible timeline at this point. That's okay - while you build up to that, use that time limit as a goal to aim for as your business grows in maturity. Cash flow is important to a healthy business, so recovering these costs at a steady pace helps keep business booming.
User acquisition cost (UAC) can also be known as customer acquisition cost (CAC). CAC is the average cost it took to close a new customer after you've calculated the expenses of marketing and sales tactics that it took to draw them in. These expenses should include the people, tools, property, anything at all that was used during the process of marketing and selling to the customer that helped convert them.
CAC can be calculated by dividing the money spent on attracting and converting the customer during a period of time with the total number of customers that were converted during that same time period. CAC shows us what financial effort went into enticing someone to actually make a purchase.
The lower your CAC is, the better your sales process is. On top of that, a lower CAC means a higher ROI.