Meet Saleslion, Our Digital Sales Room Product
Powerful tools and intelligent strategy to ensure sales teams are at the apex of their game.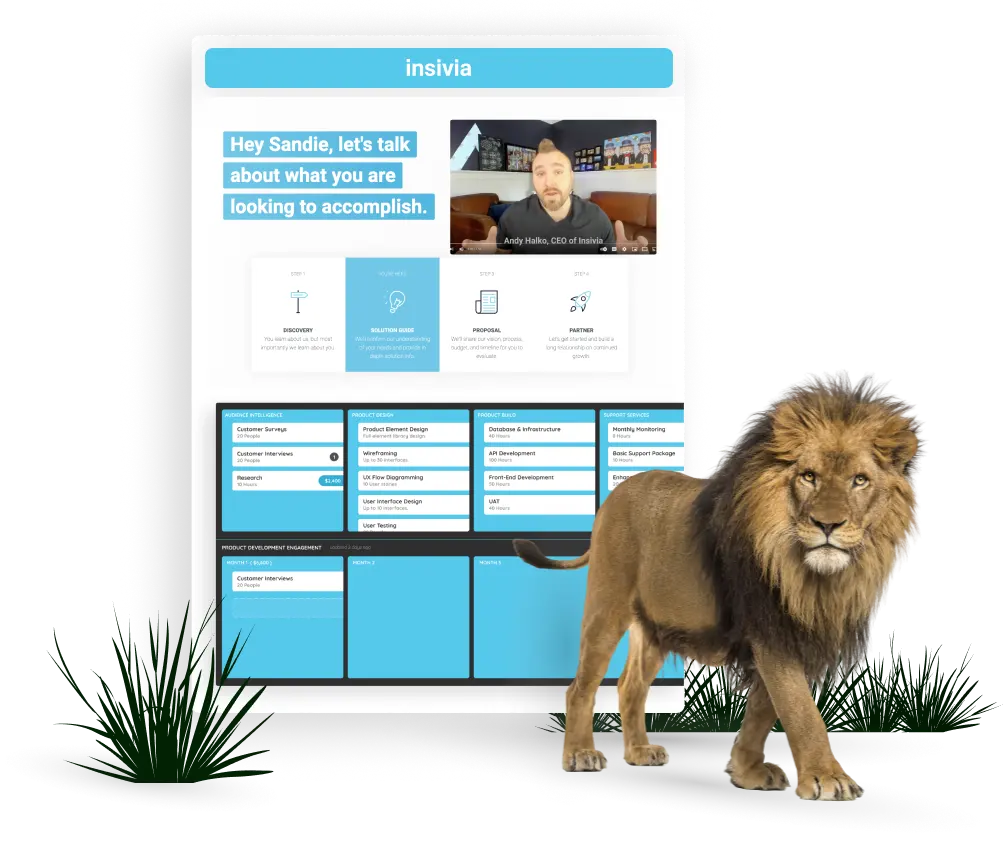 Reimagine Your Sales Experiences.
Create online, interactive proposals and sales materials to close more deals, faster.
Explore SalesLion
Sales Platform
Enhance every interaction.
Digital Sales Documents
Reinvent the way you support your sales process with branded, personalized web documents.
Engagement Tools
Leverage calculators, solution builders, pain ranking, gantt charts and more to make each interaction more valuable.
Analytics & Recordings
Track access, usage, and even watch prospects interact with your sales documents and tools.
Strategy & Training
Build the ultimate mousetrap.
Process Consulting
Work with our executive team to strategize the best sales approach to drive your team to success.
Training Videos & Platform
Record and document processes and tips into an online platform that makes it easy for new and existing sales people.
Sales Coaching
Get one-on-one support for new sales team members or technical team members transitioning to sales engineering.
Media & Assets
Communicate & impress.
Video
Tell customer and organizational stories as well as build a system of sales introductions.
Animation
Relate complex concepts in simple and entertaining ways with explainers and looping animations.
Visualizations
Design graphics for processes and other key concepts that are explained better with visuals instead of text.
The world of B2B sales has undergone a profound transformation with the rise of remote work and virtual interactions. Sales managers are now faced with the challenge of creating a remote selling strategy to effectively navigate this new landscape and achieve sales success.
The importance of statistics in sales cannot be overstated, as they provide valuable insights into the habits and strategies of top performers.
We have 15 key B2B sales statistics for 2023 that you need to know if you want to have successful sales.
Identifying the right sales enablement tool for your company can be daunting. You have to narrow down which tools fit your specific needs, how your sales team can use them to become more productive, and if it aligns with overall business objectives.