SaaS Website Redesign & Agile Web Development
Let's explore website redesign versus an agile web process and which one is best for your SaaS digital strategy to reach your target audience.
A SaaS Website Redesign versus Agile Web Process
A redesign is a total overhaul of a website's content, framework, and design; starting from scratch to redo all aspects or most aspects of a website. The process of redesigning is also known as waterfall development because it takes a step-by-step, start-to-finish approach. A full website redesign uses this strategy.
Agile web is a more consistent approach where you evaluate your website's conversion success from a specific section of your site on a consistent basis, redesigning these specific sections in the process. When taking this approach, you create iteratively through a short sprint cycle for each section as opposed to the start-to-finish waterfall approach. These agile sprints typically occur on a monthly cadence but the length of each sprint can be determined by what works best for your team and its goals.
Here is a graphic that does a great job breaking down how the steps of a waterfall development process compares to an agile one: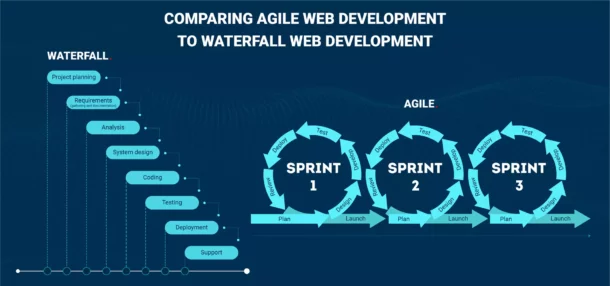 (source)
In today's SaaS market, an agile web process is ideal so that you can iteratively improve the conversions and results of the site. This process allows your business to be highly strategic and very targeted to your specific audience while achieving quicker results through a series of sprints that all contain the same steps of testing and designing.
However, we all understand those moments of burning it to the ground, and sometimes your website needs more of an entire overhaul. In this next section, we'll outline which web development strategy is right for your business.
When a Redesign Can Improve SaaS Website Conversion
Redesign is often considered when the foundation of the website is not at the level it needs to be from either a brand identity, marketing, or sales perspective.
While many digital strategies can feel complex, deciding it is time for a redesign is pretty simple.
Here are some reasons to look at a total redesign:
Your content management system is dated or unusable.
The overall brand and look across the site is outdated.
Your SaaS product has significantly changed or is launching a total pivot.
You are adding additional brands or products to your suite of offerings.
This is a bigger and more complex project, but may be required if the foundation you want to build upon is broken. Redesigning allows you to create fundamental process changes to the customer journey
In general, this strategy has you starting from a blank slate to re-evaluate the user experience, design, content, technology, wireframe, and backend from the ground up utilizing the waterfall-style methodology.
When SaaS Companies Can Use Agile Web Development for Optimum Results
If your site has a strong foundation where your core brand is up-to-date and the content management system is well built, agile web is a smart and strategic solution for improved outcomes.
Learn more about agile web development.
In most cases, even once you build a new website or redesign a website, you should then begin an agile website, sprinted redesign process to consistently deliver results for your SaaS offering.
"When we perform at our best, we look almost like during our smallest start-up days, moving quickly, iterating with customers in real time, proving out new business models in a very rapid and agile way." — Aaron Levie, co-founder & CEO, Box
Using Agile Process Sprint Planning for SaaS Digital Strategy
Another important element of the agile process is bringing in members from other teams to be a part of the sprint process. This cross-functional approach ensures that your digital strategy leverages the experts on your team, letting you look at your website from multiple perspectives that one team or person may not come up with on their own. When bringing more team members into a project, using the agile project planning process of sprints helps make sure you are using your teams' time efficiently while still keeping your website relevant through continual evaluation.
Sprint planning for your website refreshes allows you to make tactical design choices from the following perspectives:
Creating SMART, measurable goals so each iteration of the site can be built upon a stable foundation
Using data-driven analytics for your content
Assessing the health of your business regularly and in a focused manner
Developing growth targets that can be reevaluated within each Sprint
Setting month-long sprints that analyze a key page or section lets you achieve increased results for your SaaS business strategy. This process also encourages you to keep a constant eye on important growth metrics (churn, organic growth, website traffic, etc.).
We have seen why an agile process is best for keeping your SaaS website fresh, so let's dive into why websites are critical for software companies' digital strategies no matter the tactic.