How to Perform an SEO Competitor Analysis for SaaS and Tech Companies
SaaS and SEO: two acronyms that both seem more complex than they really are. With the right knowledge and tools, you can break through the competition and find the audience that's been looking for you the whole time.
The good news: SaaS SEO can be optimized by anyone with the right tools and methods to unlock competitors' strategies and find high value customers
We believe that far too much SEO research is focused on starting with a blank slate, when a competitor analysis can quickly uncover the intel needed to create your immediate and actionable task list.
Insivia knows both SaaS and SEO inside and out - as a SaaS-focused global consultancy and marketing agency, we use our industry knowledge to help our clients find qualified users and leads.
Expose your competition to reverse-engineer an SEO blueprint for your SaaS business to accelerate your organic search rankings.
Below, we share our top ways to identify keywords, analyze competitors, and get ahead in the SaaS space. Use this guide to lead your company to a successful SaaS SEO strategy.
We all start somewhere. Maybe you're looking for a refresh of your already robust SEO strategy. Maybe you've been relying on paid media ads and haven't focused on organic strategy. Maybe you haven't thought about digital marketing at all until now. No matter where your SEO currently stands, our methods will help you kick it up a notch.
SaaS means Software-as-a-Service. SaaS is a fast-paced and saturated industry, with companies offering a variety of services with vastly different audiences, from B2B to B2C to enterprise. SaaS offerings and companies continue to rise in popularity, encouraged by growth of cloud computing.
Search Engine Optimization (SEO) can sometimes feel like a challenge that you just can't get ahead in, especially when your competitors are taking the coveted featured snippets. Sometimes, it's hard to figure out where to start.
Why Focus on SEO Strategy for SaaS?
59% of U.S. consumers say that their research process for a new product or service involves consulting a search engine. The kicker is, less than 1% of people searching Google for an answer go as deep as the 2nd page of Google's search results.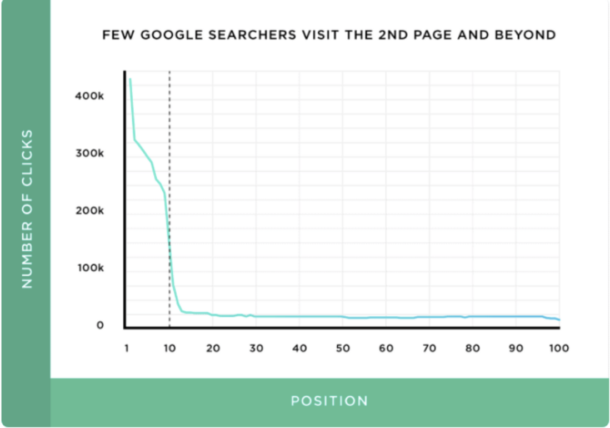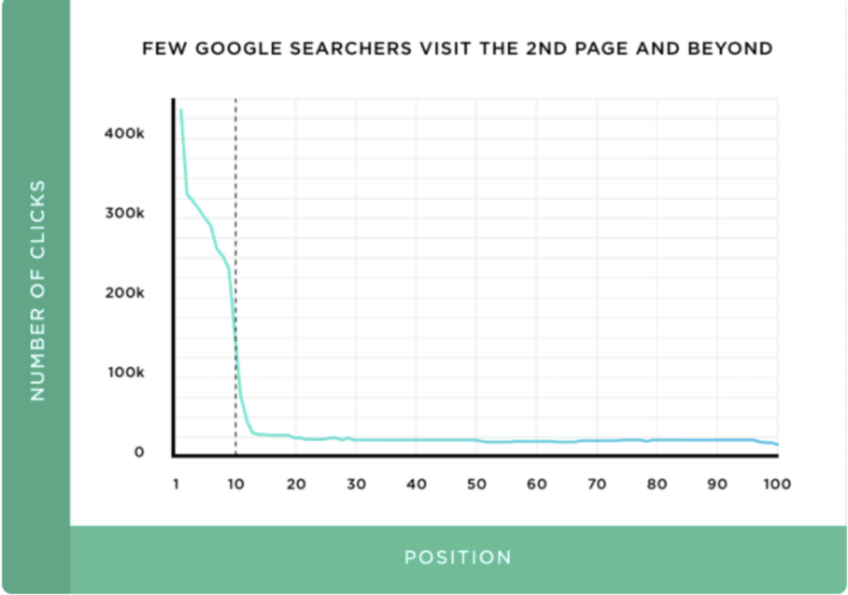 Graph provided by Backlinko.com
SaaS is growing rapidly, with no signs of slowing down. While many industries took a hit in 2020, SaaS continued to grow. SaaS companies need to stand out now more than ever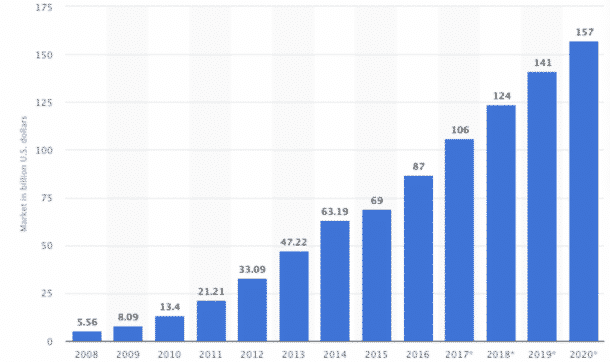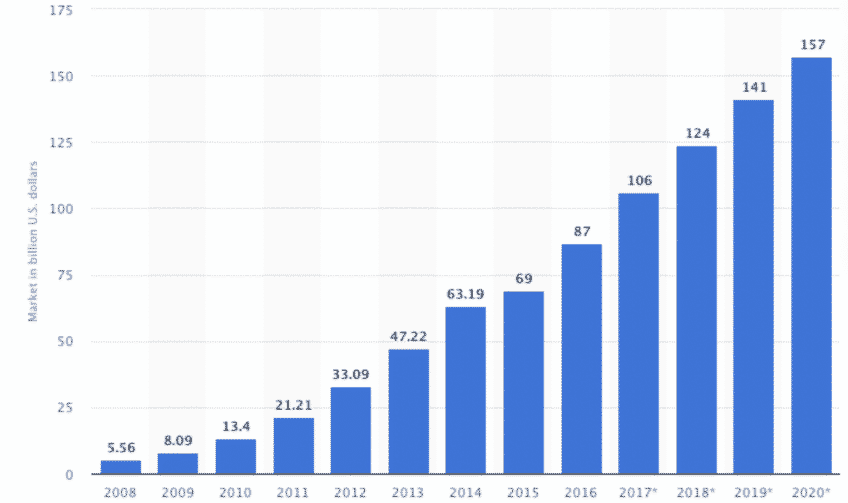 Total size of the public cloud software as a service (SaaS) market from 2008 to 2020 (in billion U.S. dollars) - Statista 2021
Competition is fierce and flourishing. Strong SEO will help your company stand out and capture a larger portion of the ever-growing SaaS market.
What Will Investing in SEO Do for My Company?
SEO drives free organic traffic to your website. A good SEO foundation will help your customers find you on their own, and requires no advertising payment to make it happen.
Increased organic discovery
An effective SEO strategy helps relevant audiences find your business via applicable search queries
Increased high-quality web traffic
The traffic coming to your site from SEO will be people actively seeking out what your company provides
Reduced PPC CPA
Pay-per-click cost-per-acquisition is a tricky metric. You pay for each click when using digital paid media. These clicks are unpredictable, and can't guarantee that these paid clicks will become paying customers.
Impressive ROI after initial investment
It takes time for SEO results to show. However, once your hard work starts to catch on with customers, the ROI will speak for itself - provided your SEO gets you into one of those coveted first page rankings.
"Always on" promotion
SEO doesn't have an off-switch. Your content and keywords are always ready to be found.
Increased credibility with potential and existing customers
Being present and easy to find makes companies appear more legitimate and trustworthy to customers. Search engine users expect relevant and trustworthy results to appear early on in their search results. Being in one of those top spots puts you in the top trustworthy position.
Help Your Audience Find You - First
As mentioned above, being ranked highly with your SEO strategy is key. Your audience needs to find you before they find your competitors' offerings.
What is an SEO Competitor Analysis?
If you've ever taken a business course, you're probably familiar with the concept of competitive analysis. A competitive analysis evaluates the strengths and weaknesses of competitors, both current and potential. Using this information, a strategic plan is built to act on opportunities and threats in the industry.
An SEO competitor analysis conceptually is a version of this, with its own unique set of tools and analysis tactics. At the end of the day, the goal is to use your competitors own strategies against them while taking advantage of their SEO weaknesses.
In an SEO competitor analysis, tactics include researching the keywords, links, content, and more of your SEO competitors. Once this research is complete, strategy and action begins. With the knowledge acquired, the most successful elements of competitors' tactics can be implemented into your own SEO strategy.
Why Conduct a SaaS SEO Competitor Analysis?
SEO competitor analysis takes some of the guesswork out of SEO.
The beauty of competitive analysis is that your competitors have done some of the work for you!
By identifying what keywords are important to target, what content needs to be created, and what links should be built, you can build on what your competitors are doing that's already working.
The competitor analysis will be specific to
your
customers,
your
industry, and
your
products and services. You'll learn things about your customers and competitors that you never knew before, and be able to act on these learnings to take more of the market share for yourself.
A Non-Digital Competitor Analysis Example:
There are three coffee shops in your town. You have regulars, but you've seen some of your customers boldly walk by your store with another shop's coffee cup in their hand.
You then go incognito and visit the other two coffee shops to learn some intel about your competitors. What are they offering customers that you aren't? What are their most popular items? What are their specials, their pastries? What's their seating situation?
Figuring out the competitive draw of these shops and turning around and making your own potentially better versions of these offerings changes things for both you and your customers. Your customers know where to go to get all their coffee shop needs fulfilled, while you gain more of the local coffee shop market share.
Not Sure Who Your SEO Competitors Are?
That's perfectly fine. In fact, it's ideal. One of the key points of a SEO competitor analysis is finding your SEO competitors, so you're already on the right track. Sometimes your SEO competitors could be who we least expect! Sometimes, a pop song with the same title as your product could become your biggest competitor. Other times, a news event could change the search landscape for your products and offerings.
For example, how do you think Corona beer has been affected since the coronavirus pandemic began?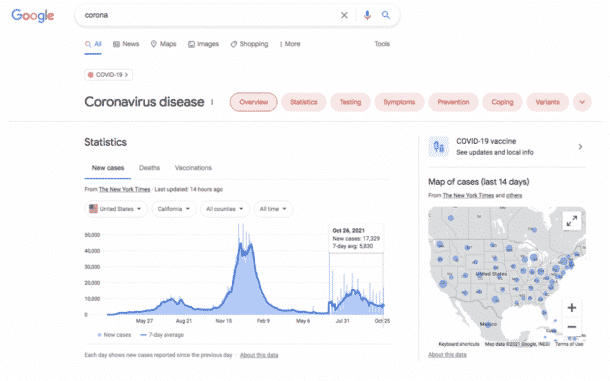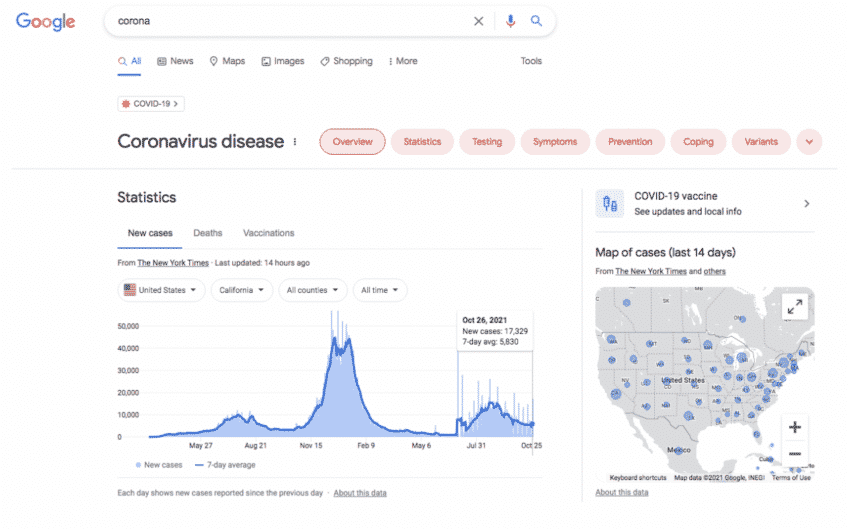 Google Search of "corona" in October 2021
Corona beer and coronavirus are SEO competitors, but completely different. In 2019, Corona beer could not have predicted that their SEO landscape for the search term "corona" would look this way.
What is an SEO Competitor Analysis: Beat the Competition in the SaaS Space
Now that you know why SEO for SaaS is important and that a SEO Competitor Analysis is a key way to get ahead in the SaaS industry, let's make it happen.
How do you Conduct an SEO Competitor Analysis for SaaS?
An SEO competitor analysis is one big analysis, made up of a few smaller, more specific analyses. There are a few key areas to dig in on to paint the true competitor landscape for your SaaS offering.
The 5 key steps of a SaaS SEO competitor analysis are:


Identifying SEO Competitors


Keyword Gap Identification


Content Gap Analysis


Link Gap Analysis


SERP Analysis


Competitor Analysis Key Terms
Before getting into how to conduct each of these analyses, let's dig into what some of these words and phrases mean.
Keyword:

The actual words and phrases that are searched by users to find your site via search engines. These words and phrases should be in your site content to allow users to find you.
Content:

Any type of consumable information online. For example, this article that you're reading? That's content!
Link:

"Linking" is a key part of SEO where the goal is to create more and higher quality inbound links to a site. An increased amount of quality inbound links tells search engines that this webpage is relevant, and helps increase search engine rankings.
SERP:

SERP stands for "Search Engine Results Page". This is the page that users see after conducting a search on a search engine. The SERP has changed over the years, with things like featured snippets, images, paid ads, knowledge boxes, and more. SERP features can vary widely.
Organizing Your SaaS SEO Competitor Analysis
One more note before we get started: you'll want to keep your competitor analysis findings organized and in one place.
There are a couple free templates available that you can make a copy of:




SaaS Competitor Analysis Step 1: Finding Your SEO Competitors
There are a few methods you can use to determine your SEO competitors.
1. Ahrefs Keyword Explorer
Ahrefs Keyword Explorer is a comprehensive tool for extensive keyword research. However, the useful tool comes at a cost: $99/month for the lite version, and $179/month for the standard version. Search a keyword relevant to your business in the tool to see what the "search volume" and "also rank for" reports tell you about what people are searching for.
2. Moz Domain Analysis
The Moz Domain Analysis pulls together important SEO competitive metrics. The tool shares keywords by estimated clicks, top ranking keywords, top featured snippets, and top search competitors. In this case, we're going to focus on top competitors. All you have to do is search your site's domain in the tool! Another benefit: this tool is free. Since we're focused on SaaS, let's use Slack as an example.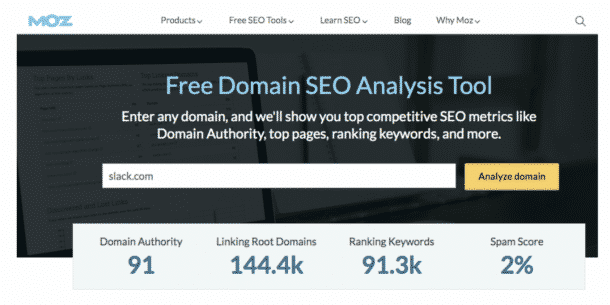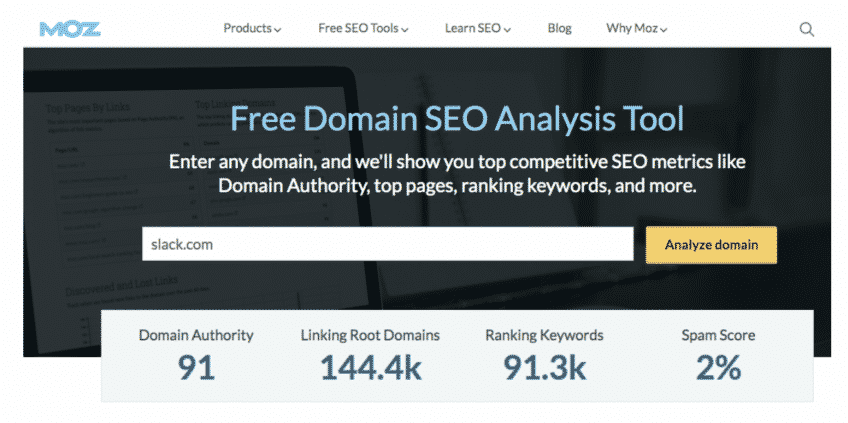 Immediate Results for Slack.com on Moz Domain Analysis
When we scroll down a bit through the tool, we see Slack's top search competitors. The positive side is that Slack's own domain and subdomains are the top domains.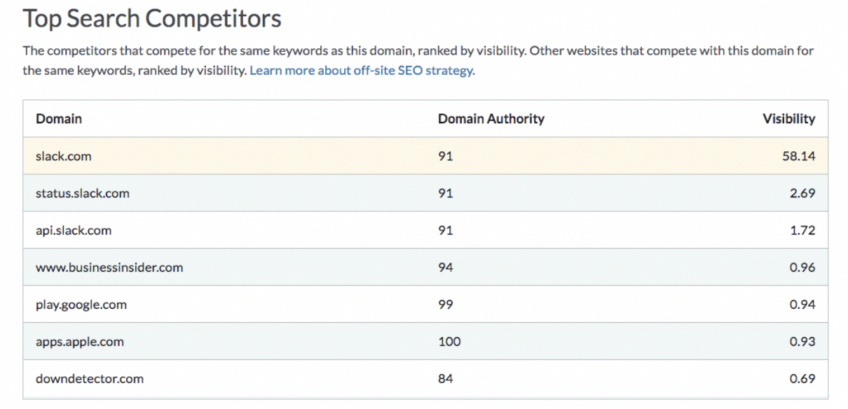 Top Search Competitors for Slack on Moz Domain Analysis
Interestingly, Business Insider, the Apple App Store. Google App Store, and Down Detector compete for the same SEO as Slack. When you think about it, this makes sense - people search to download Slack, search to see if Slack is down, and Business Insider writes articles about Slack. However, without doing this research, we wouldn't have thought of these domains as "competitors".
One additional note: Moz has "Moz Pro", a paid SEO tool to help with various aspects of SEO research. Within Moz Pro, there is a True Competitor tool to help with deeper research.
3. Similarweb.com
Similarweb is free and user-friendly. Search your website in the "Competitors & Similar Sites" section, and find what sites are similar to yours.
4. Simply Run a Search Yourself!
One easy way to see who your search competitors are is to actually explore the search landscape for your product or service. Type in a relevant keyword and see who shows up as your competition. For Slack, we could simply search "slack" itself, or search something like "team messaging app" or "messaging app".
For the search "messaging app", Google heavily promotes their own messaging app. There are also many articles from various outlets sharing lists about "Top Messaging Apps", making these outlets an SEO competitor.
Strategic Keywords to Guide Informational Content
For SaaS, informational content is necessary to a robust digital marketing presence. Informational content helps users find and learn about your product and service offerings. However, to make this content valuable, keyword research needs to be conducted first.
SaaS Competitor Analysis Step 2: Finding Your Keywords
We've found some of our search competitors and we know who to challenge. Now time to find out what their strategies are and how to get ahead.
A keyword gap analysis is a part of the competitive SEO analysis where you identify high-ranking keywords for your competitors that you don't currently rank well for.
There are a few key rules to doing keyword research right:
The identified keywords must have value - for example, relevant to your business, potential to convert
You should choose keywords you have a chance in ranking well for
Never compare only 1 competitor - ideally, compare more than two competitors for a more robust analysis
How to Identify SEO Competitor Keywords for SaaS
There are a few tools to use to get an understanding of what keywords you aren't currently optimizing for that you should be.
Ahrefs Site Explorer is a great tool to gather in-depth knowledge about search traffic and keywords for any website. By simply going to the Site Explorer tool, entering a competitor's name into the search bar, and exploring the "organic keywords" section, we're given a full list of keywords that this competitor ranks for. You can use filters to exclude any non-relevant keywords, and hone in on useful ones. Only catch: this is a paid tool.
2. Ubersuggest
Ubersuggest is another great competitor keyword research tool. Put a competitor you discovered in your competitor discovery exercise into the tool, and scroll down to the top keywords section of the tool.
To use Moz Keyword Explorer, you need to be logged in with a paid account or free trial. The tool helps do much of the analysis for you, and helps compare you with your competitors' keywords.
Answer the Public provides free search listening tools to see what people are searching for.
In the SaaS space, keyword research will help you uncover the real needs of your customers. To run with our Slack example, what are potential customers really searching for to help get in touch with their coworkers? What are existing customers searching about Slack to help use the product better? Use any of the three tools listed above to figure out what words competitors use to help potential and existing customers find them.
Uncovering Competitors' SEO Content
SaaS Competitor Analysis Step 3: Finding Your Content Gaps
Content gaps are where your competitors are ranking for keywords, but you're not. There is a gap in this type of content for your business.
Content gap analysis is a tried and true SEO content creation inspiration. To successfully conduct and implement a content gap analysis, do the following:
Identify competition's top content where you don't rank
Create improved and unique version of this content
Promote and share!
To create this new and improved content ourselves, we have to discover what that high performing content from competitors is.
Tools for competitive content analysis include:
Here's an 8-minute overview by Ahrefs about the nitty-gritty of conducting a content gap analysis.
Link Building to Increase Rankings
SaaS Competitor Analysis Step 4: Finding Your Link Gaps
Linking is SEO bread and butter, and is essential to achieving a solid ranking. Linking identifies pages that link to yourself - and what links say to search engines is "hey, this site has some good stuff".
The goal of a competitive link gap analysis is to identify sites that have linked to your competitors, but have not linked to you.
So how do we find sites that link to competitors but not your own top-notch website? Here are some top tools.
Moz Link Explorer - specifically the "Link Intersect" report
Once you've identified what websites are linking to your competitors and what types of content they're linking to, you can get to work building your content to knock out the competition, and reach out to these sites for a link.
So, we've taken all the right steps to know ourselves, our competitors, and their strategies. Now all that's left is to take over the SERP - or Search Engine Results Page. Small task, right?
SaaS Competitor Analysis Step 5: SERP Analysis
You need to keep an eye on how your competitors show up in the SERP. The way your competitors rank in the SERP is a huge indicator of SEO success.
The SERP has a lot to do with search intent. The way Google serves up solutions and results to users depends on the anticipated intent from searchers.
One important aspect on the SERP is the Featured Snippet.
Over 12% of search queries have a Featured Snippet according to data from Ahrefs. When there is a featured snippet, nearly 9% of clicks to that prime real estate.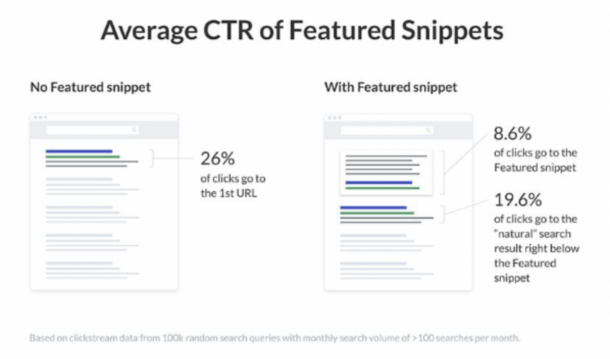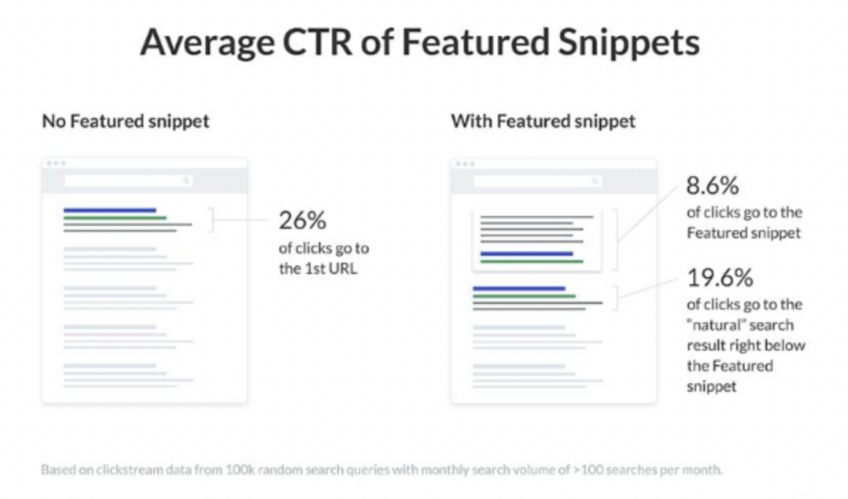 Featured Snippet Research and Data from Ahrefs
For your newly identified keywords and content opportunities, conduct a few searches yourself. See how results show up in the SERP. Are videos being served up? News articles? Images? Is there a featured snippet? See what formats show up in the SERP, and be sure to offer up content that will address users' needs.
SaaS SEO: Winning the Industry
SaaS is an industry that continues to grow. By conducting a competitor analysis for your SaaS product or service now, you will establish a strong industry presence for years to come.
Want to get started? Insivia's SaaS-focused SEO services produce first page rankings. Talk to an Invisia expert and see how we can help!
About Insivia