Chapter 1
Creating A SAAS Buying Funnel
Before we explain the marketing and conversion tools that we think work best for software companies, let's examine the buying funnel, define what conversions are, and suggest marketing actions that align with the stages prospects are in when making purchasing decisions.
What is the Buying Funnel?
Also referred to as the sales funnel, marketing funnel or purchase funnel, it's the process of acquiring customers. The funnel outlines typical stages a buyer goes through during the purchasing process, from initial awareness to becoming a loyal, repeat customer.
There are 6 stages in the funnel and prospects can enter at any point. Not everyone starts at the beginning or moves through the stages in any specific order. In fact, some prospects may skip stages entirely or move backwards to a previous stage.
The reason it's a funnel is because you will lose potential customers along the way, like in this marketing funnel example that helps visualize a customer's journey.
Why you need to understand the buying funnel.
The importance of understanding where consumers are within the buyer's journey and the funnel cannot be stressed enough. With this understanding, you can put marketing strategies in place to help engage, educate, and convert leads into customers at any point in the buying process. You can also maximize the value you bring at each stage by providing the right marketing initiatives and increase conversion with appropriate calls to action.
6 Stages of the Funnel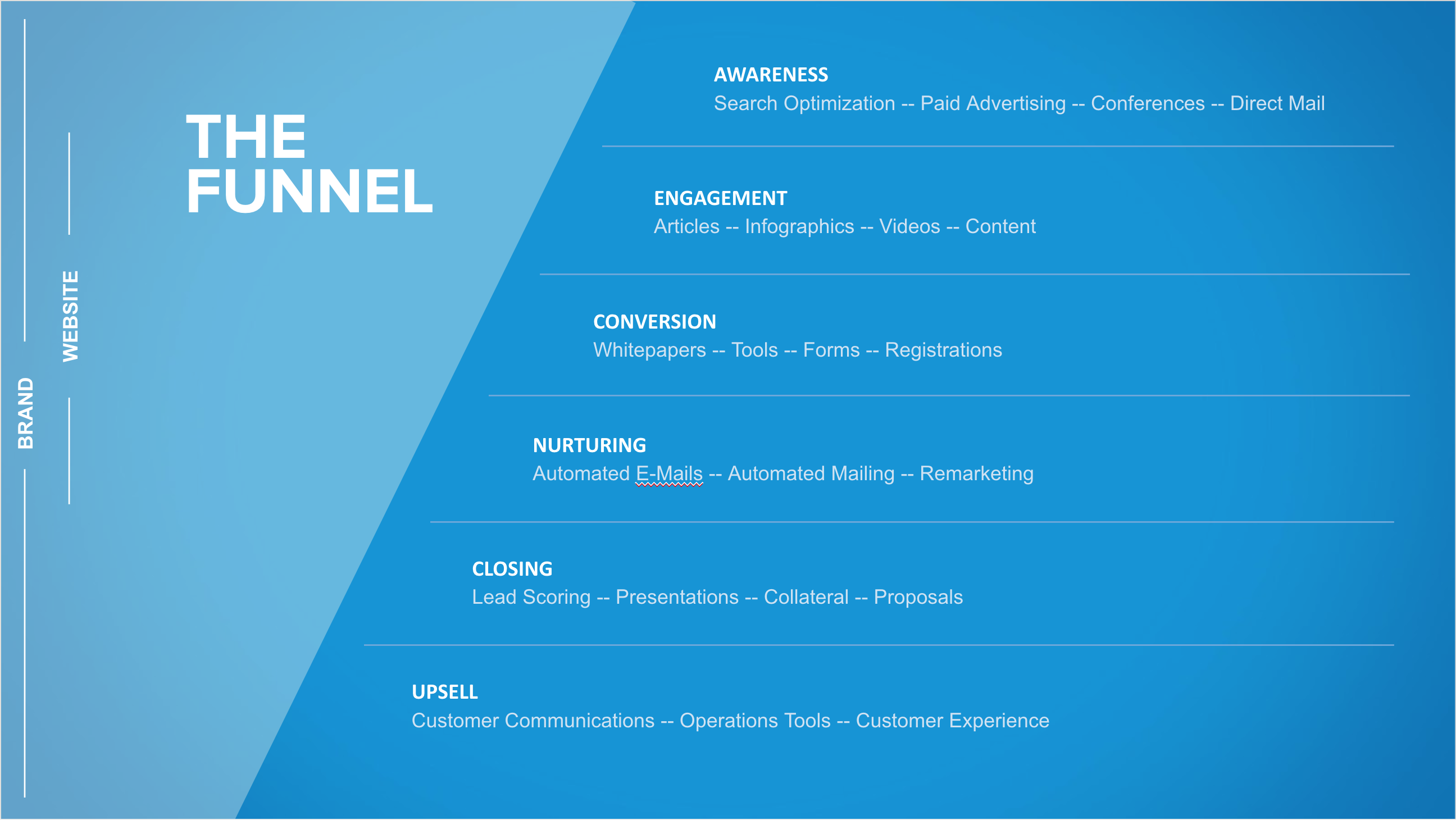 Awareness
This is where the customer's journey usually starts and is the widest part of the funnel, at the top. At this initial stage, people are aware that they have a pain, or problem, and they are aware that your software may be a potential solution.
Maybe they discovered your software by watching a video on Facebook or YouTube, or by doing an online search. These people, or leads, are just beginning to get information and may visit your website to get a general understanding of who you are and what you offer.
The awareness stage attracts new leads, helps launch a new product or promote a new feature on an existing product.
Engagement
Now that leads are aware of your software, the goal of this stage is to pique their interest and make them want to learn more. Once you get them "on the hook," make sure you keep their attention by creating a deeper level of engagement.
Leads in the engagement stage may do additional research to gather more detailed, product-specific information, and even check out some of your competitors as they evaluate and compare their options.
The engagement stage encourages leads to consider your software as a way to solve their problem, turning them into qualified leads.
Conversion
A conversion does not necessarily mean a purchase. Sure, that's the ultimate goal; but a conversion can be any action you want a prospect to take, from clicking a call to action (CTA) button and submitting a form to providing an email address to sign up for a newsletter. Choosing the right action at the right time can help improve your website's conversion rate.
Examples of Conversions:
Sign up for a newsletter
Download a white paper
Watch a video
Join a webinar
View a demo
Try a trial
Schedule a consultation
Submit a form
Contact us
Buy now
Call
Making sure the conversion is right is detrimental to success. According to the 3 Point Conversion Rule, a successful conversion needs to be aligned with the prospect's level of commitment.
For example: If a prospect who has just started researching various software options (a low level of commitment) is reading information on your website and the only conversion you provide is "Schedule an Appointment," you could turn the prospect off and lose a potential sale because the conversion does not match the commitment.
Conversion Examples for Low, Medium and High Commitment:
Low Commitment Conversions. Prospects are somewhat looking and not yet ready to buy. Suggested Conversions: "Sign Up for a Newsletter" or "Download a White paper."
Medium Commitment Conversions. Prospects are comparing and assessing options. Suggested Conversions: "Join Our Webinar" or "Watch a Demo."
High Commitment Conversions. Prospects are interested and ready to buy, but need more info before choosing a software. Suggested Conversions: "Contact Us for an Appointment" or "Get a Free 7 Day Trial."
Nurturing
Once a prospect has converted, whether by signing up for a newsletter or downloading a white paper, it's time to start the nurturing process. So, how do you nurture without being too aggressive and annoying? Well, that takes some finesse.
During the nurturing stage you want to offer educational information that's not too salesy and demonstrate your product's value. Remember, the goal is to keep prospects interested in what you have to offer so they continue to move down the funnel towards making a purchase and becoming a customer.
Be persistent and stay top of mind, but make sure you wait an appropriate amount of time in between "touches." It's all about delivering the right message at the right time. Maybe send out an email announcing an upcoming webinar or free trial offer. Whatever the conversion may be, just make sure you're telling prospects what they should do next.
Closing
The sales process ends in either a win or loss. During the closing stage, you want to try and create a sense of urgency. Unfortunately, this can be difficult in the B2B SaaS market. Let's face it, the world will not end if a prospect waits another month - or even year - before making a software purchase.
One way to help close a sale is to offer a free, limited-time trial offer so prospects can get a feel for how your software works. You could also offer a discount code that expires to entice prospects to act now. In addition, the purchasing process should be as easy as possible. If you sell directly online, make sure your credit card checkout transactions are secure and reliable.
Upselling
Congratulations on closing the sale and adding another customer to your list. Yay you! Now you need to make sure you keep your customers happy so they stay loyal and don't leave you for a competitor.
Satisfied customers help maintain existing revenue and drive new revenue through word of mouth referrals and brand advocacy. From writing online reviews and testimonials to sharing social media posts, having better customer relationships drives revenue.
Especially in the technology industry, it's imperative to stay current or even ahead of the trend when it comes to new software solutions. In the upselling stage, promote new features and software upgrades to existing customers to encourage them to make a series of purchases.
Marketing Actions Based on the Buying Funnel Stages
We've already established that the buying funnel is not actually linear, and is instead meant to help you understand the stages a prospect may go through when making a purchasing decision. This understanding helps determine which marketing initiatives, or actions, are the most effective at each stage. Since a prospect can enter the funnel at any stage, marketing actions can occur before or after the different stages of the buying funnel as well.
Examples of Marketing Actions:
Explainer and Interview Videos
Product Tours
Trials, Demos and Signups
Webinars
Downloads
Marketing Actions and the Funnel
Marketing Action: You create short, exciting videos about your software and share them via social media to create Awareness.
Marketing Action: You provide additional media, like more detailed videos on specific features of the software or customer testimonials, on your website to further educate prospects on the software to create Engagement.
Marketing Action: You offer newsletters, white papers, and demos or trials of the software to entice a Conversion.
Marketing Action: You follow up with prospects, outlining the next steps, moving them through conversions and Nurturing the leads.
Marketing Action: After Closing a sale, you thank the customer for their purchase and continue to provide quality customer service and valuable resources to keep them happy and create loyalty.
Marketing Action: You keep in touch with existing customers (the low hanging fruit), keeping them informed of new features and upgrades by Upselling.
The next several chapters outline each marketing action in detail and explain their importance.