Tip 1: Utilize Explainer Videos
The first sales funnel tip is to utilize explainer videos.
At the top of the marketing funnel, explainer videos are setting the stage for effective approaches to drawing in prospective customers. Creating an explainer video can be an essential sales tool for businesses to increase public awareness about their product or service. In addition, these videos work to captivate the audience's attention and interest them in what you have to sell.
Explainer videos establish credibility and provide industry knowledge about your business, making them an integral part of the marketing strategy. They create an engaging experience that helps drive sales in competitive markets by establishing the dominance of your business above its rivals.
While creating explainer videos for your business, the four things you need to keep in mind are the tone, the length, the layout, and the type of video.
Tone
Every explainer video needs to achieve two things for the viewers: they need to be entertaining and informative.
Entertainment without information will leave your prospects satisfied but with no greater understanding of your product or service or why your company matters. On the flip side, information without an entertaining hue will leave your prospects thoroughly educated, but thoroughly bored as well.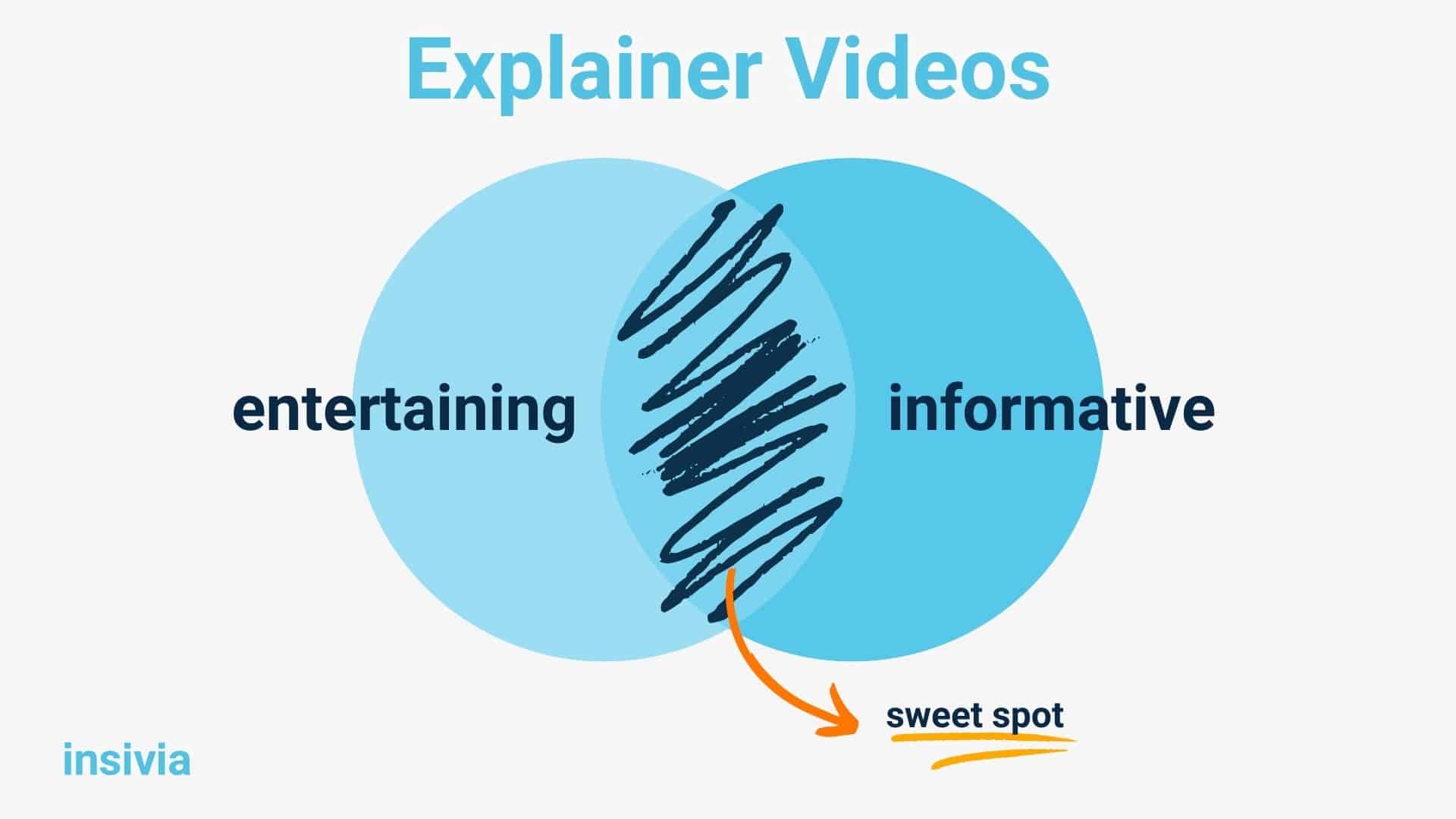 The sweet spot, as depicted in the graphic above, is the overlap between these two elements. And only by staying in that sweet spot can you guarantee an explainer video that adds value to the prospects watching.
Length
The next thing to keep in mind is the length of the video.
The average attention span of a human is 8.25 seconds. According to a popular myth, that is a full second less than the attention span of a goldfish.
Needless to say, the length of your video directly impacts how many of your prospects will actually watch it. Staying between 90 seconds to 3 minutes is usually a good range to stay in, ensuring that your viewers stay engaged enough to complete the full video.
And while this time range is short, it also helps you eliminate any fluff and compress your ideas and descriptions into a more condensed, concise, and clarified piece of content.
Layout
The two optimal layout choices for an explainer video are the Problem-Fix-Outcome layout or simply the product tour.
The Problem-Fix-Outcome layout is fairly straightforward and self-explanatory: these videos highlight the customer's problem first, then indicate how your company's solution can fix that problem, and close by showing the positive outcome that will result from your solution.
The product tour on the other hand can be a little more free-form. Product tours usually show a visual of the actual product or a template of what the product offers. And dissimilarly to the Problem-Fix-Outcome layout, these videos take the time to go through features and benefits individually.
On the whole, product tours are more product-facing than Problem-Fix-Outcome layouts. For companies who want to really showcase their product or service and the singularity of their solution, product tours are a great way to achieve that.
But if you are a company that is more interested in connecting with your customers on a personal level through your explainer video, utilizing the Problem-Fix-Outcome layout can be extremely beneficial for your customers to feel seen and heard during the sales process.
Type of Video
The final thing to keep in mind when creating your video is managing the type of video. The two main types of explainer videos are animated (like the one above) and live-action videos.
Animated explainer videos are great for delivering complex ideas in an engaging way, especially for SaaS companies with more complicated solutions. They can also be easily edited in the future if needed. However, they can oftentimes be more expensive to produce than live-action videos due to the time and effort involved in creating the animation.
Live-action explainer videos are usually cheaper to produce than animated ones, as they involve filming real people or objects rather than creating animation from scratch. They also add a level of relatability and humanization to the interaction that animations do not provide. However, these types of videos may not be as effective at conveying complex ideas as animated videos are.
A well-written article on the differences between animated and live-action explainer videos stated that companies should use animated explainer videos if they are interested in delivering complex ideas and should use live-action explainers to connect with their audience on a human level.
Recap of Explainer Videos for Top-of-the-Funnel Marketing
And while the explainer videos themselves might be all that is needed to push the prospect from awareness to validation of your product or service, it is important to end each video with a clear and solid CTA (schedule a demo, start a free trial, etc.) as well to ensure that they are moving in the right direction.
Overall, explainer videos can be incredible tools for marketers and sales representatives to use during top-of-the-funnel prospecting. By following the sales funnel tips, insights, and guidelines above around tone, length, layout, and type of video, you can help engage more prospects and drive them further down the funnel in a resourceful and timely manner.