What is a quick way to improve my LinkedIn profile? (Part 1)
LinkedIn allows you to show a public profile, like mine Andy Halko. On the profile you can place up to three outbound links to web sites you want to reference.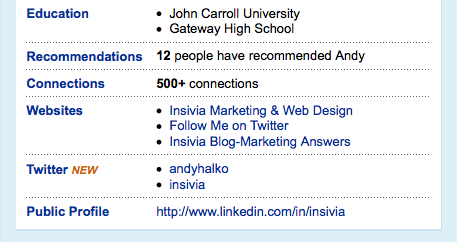 By default, when you create a link, the text for that link says 'My Company' and most people leave it like that. Well, instead of leaving it how it is, customize them. All you have to do is choose 'Other' when editing the links for your profile and enter your customized text!

Your links provide people a good description of where they will be going or can even tell them what to do with an action. It is amazing how many more people will click when it is action text like 'Follow me on Twitter' or descriptive to give a better understanding where they will be going.
Last but not least, use all three of the link options. Those are great resources and ways to move people from viewing your profile to taking an action with you.
Ask them to follow you on twitter, sign up for a newsletter, feature a product or any other specific action. Just make sure it links to a corresponding page (a link called 'Social Media Strategies' actually links to a page describing social media strategies) where they can take that action.
Want more ideas for how to implement a marketing strategy for your company? Contact us today!
About Insivia