Social Media Tourism Symposium 2013 – Elite 8 Voting
It's that time of year again when brackets are being filled in and Cinderellas are making headlines. The 2013 Social Media Tourism Symposium is back and Cleveland has made it into the elite eight. Now, we need all Clevelanders to help show their support and vote from 10am to 10pm Tuesday 3/19 and help advance Cleveland into the final 4. Voting is held on SoMeT's Facebook page and will open Tuesday at 10am. Cleveland's first match up is against the 5th seed, St.Pete/Clearwater Florida.
What is SoMeT? The Social Media Tourism Symposium is the only conference of its kind that provides an opportunity for destination marketing organizations, hotels, resorts, attractions, and tourism related entities to share ideas and learn more about how to leverage social media within the tourism industry.
How can SoMeT  help Cleveland? Cleveland's tourism industry is making a comeback and SoMeT will help give it that extra boost it needs. Locals already know that this great city provides tourists with beautiful waterfront, the Rock and Roll Hall of Fame, sports teams, superb museums, and world class restaurants, but it's time to start sharing it. This symposium will help bring new ideas into the city and help put Cleveland back on the map.
Check back for up-to-date results throughout the day!
Elite 8 Bracket – VOTE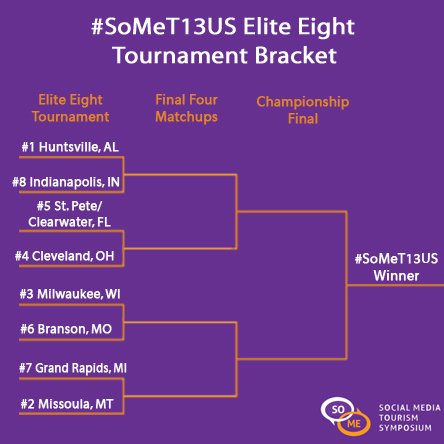 About Insivia