The Vision Gap Program
On November 1, 2018 at 11:30am - 1:30pm
Align Your Team and Drive Organizational Growth With The Vision System
Visionaries are the founders and leaders who drive organizations' futures. They are innovative, passionate, inspirational and open to taking risks. Sometimes it's difficult for visionaries to express their vision to others, which can cause confusion, disorder and distress.
On the other hand, when a team is aligned and working towards the same goal, magic happens! In this seminar we'll explain the different aspects of The Vision System and how it can improve your company's culture, brand, operations, customer experience and sales strategies.
A clear vision inspires and aligns your team.
1. How to assess your biggest challenges using The Vision System.
All areas within an organization should align with the vision. If the culture is not aligned, it's likely the brand and customer experience are not aligned either.
2. The importance of validating your vision.
Often, a visionary or leader is too close to the business and it's best to get unbiased perspectives, facts and data to provide validation.
3. How to communicate and evangelize your vision and avoid The Vision Gap.
Vision is often miscommunicated or not communicated at all. The Vision Gap is the difference between the vision in the leader's mind and what the team understands to be true.
4. Defining your culture, brand, operations, customer experience and sales strategies.
Market research tactics provide the data and facts you need to know about the different areas within your organization.
5. When and how to evolve your vision.
Your vision must evolve with your business and industry. Elements to consider include core values, culture, vision and mission statements, and more.
The Vision System seminar discusses proprietary a.k.a. "super secret" information and techniques that have not yet been released to the general public. Join us to discover ways you can better align your team.
When: November 1st, 11:30am – 1:30pm
Where: Insivia, 5000 Euclid Avenue #102, Cleveland OH, 44103
Speaker: Andy Halko, CEO – Insivia
About The Speaker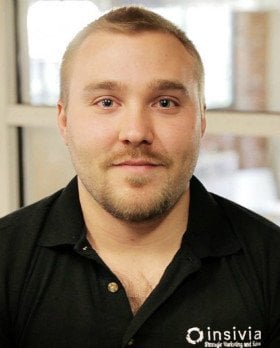 Andy founded Insivia 14 years ago right after graduating from John Carroll University, growing the Strategic Consulting & Digital Business firm to 20 plus employees, working with middle-market and fortune 500 companies.
Featured in a number of national publications and NBC Nightly News — while being a keynote speaker and avid volunteer growing entrepreneurial communities — Andy provides expertise in business strategy, a wide variety of marketing tactics, technology, and entrepreneurship.