How To Dominate Your Content Marketing Strategy And Create A Feeding Frenzy
On June 28, 2018 at 11:30am - 1:30pm
Executing a successful content marketing strategy requires awesome targeted content and the best tools to distribute it effectively.
During this seminar we'll provide the information you need to connect with the right audience, in the right way, at the right time, using their language, so you can dominate your competition.
1. Determine who your audience really is.
Before you can create valuable content, you first need to know who you're speaking to. We'll discuss how to identify your targeted audience using buyer personas. This will help determine compelling content topics and provide insight into the language you need to use to increase engagement.
2. Understand WTF your customers are thinking.
In order to deliver your message effectively, it's imperative to understand your audience. We'll explain how to know what's important to your customers, including their pain points and concerns, so you can address these issues in your content, attract more interest, and create more conversions.
3. Create a killer editorial calendar.
Success is almost impossible to obtain without the right plan. We'll show you how to create an editorial calendar that doesn't suck, so you can schedule and track your content marketing efforts across all channels.
4. Don't blow it.
Remember, content marketing is not all about you. It's about creating valuable information your audience wants to know. We'll reveal the latest and greatest "best practices" you need to follow when targeting, writing, optimizing, and sharing content.
5. If you've got it, flaunt it.
Believe it or not, there are more ways to distribute content beyond Facebook and LinkedIn. We'll discuss various content distribution tactics that can achieve greater brand awareness and audience engagement.
Everyone who attends is guaranteed to walk away with invaluable nuggets of information on how to get the most out of their content marketing strategy.
When: June 28th, 11:30am - 1:30pm
Where: MidTown Cleveland, 5000 Euclid Avenue #100, Cleveland OH, 44103
Speaker: Andy Halko, CEO - Insivia
About The Speaker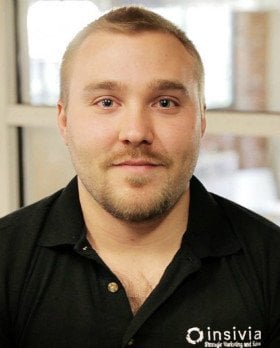 Andy founded Insivia 14 years ago right after graduating from John Carroll University, growing the Strategic Consulting & Digital Business firm to 20 plus employees, working with middle-market and fortune 500 companies.
Featured in a number of national publications and NBC Nightly News -- while being a keynote speaker and avid volunteer growing entrepreneurial communities -- Andy provides expertise in business strategy, a wide variety of marketing tactics, technology, and entrepreneurship.