JTNDdmlkZW8lMjBwcmVsb2FkJTNEJTIyYXV0byUyMiUyMHBvc3RlciUzRCUyMiUyRndwLWNvbnRlbnQlMkZtZWRpYSUyRnZpZGVvcyUyRnN0YXJrLWNhc2VzdHVkeS1oZWFkZXIuanBnJTIyJTIwYXV0b3BsYXklM0QlMjJhdXRvcGxheSUyMiUyMGxvb3AlM0QlMjJsb29wJTIyJTIwbXV0ZWQlM0QlMjJ0cnVlJTIyJTIwd2lkdGglM0QlMjIxMDAlMjUlMjIlM0UlMEElM0Nzb3VyY2UlMjBzcmMlM0QlMjIlMkZ3cC1jb250ZW50JTJGbWVkaWElMkZ2aWRlb3MlMkZTdGFyay5tcDQlMjIlMjB0eXBlJTNEJTIydmlkZW8lMkZtcDQlMjIlM0UlMEElM0Nzb3VyY2UlMjBzcmMlM0QlMjIlMkZ3cC1jb250ZW50JTJGbWVkaWElMkZ2aWRlb3MlMkZTdGFyay53ZWJtJTIyJTIwdHlwZSUzRCUyMnZpZGVvJTJGd2VibSUyMiUzRSUwQSUzQ3NvdXJjZSUyMHNyYyUzRCUyMiUyRndwLWNvbnRlbnQlMkZtZWRpYSUyRnZpZGVvcyUyRlN0YXJrLm9ndiUyMiUyMHR5cGUlM0QlMjJ2aWRlbyUyRm9nZyUyMiUzRSUzQyUyMS0tJTIwRmxhc2glMjBmYWxsYmFjayUyMC0tJTNFJTBBJTNDb2JqZWN0JTIwd2lkdGglM0QlMjIxMDAlMjUlMjIlMjB0eXBlJTNEJTIyYXBwbGljYXRpb24lMkZ4LXNob2Nrd2F2ZS1mbGFzaCUyMiUyMGRhdGElM0QlMjIlMkZ3cC1jb250ZW50JTJGdGhlbWVzJTJGaW5zaXZpYSUyRm1lZGlhJTJGZmxhc2glMkZTdHJvYmVNZWRpYVBsYXliYWNrLnN3ZiUyMiUzRSUwQSUzQ3BhcmFtJTIwbmFtZSUzRCUyMm1vdmllJTIyJTIwdmFsdWUlM0QlMjIlMkZ3cC1jb250ZW50JTJGdGhlbWVzJTJGaW5zaXZpYSUyRm1lZGlhJTJGZmxhc2glMkZTdHJvYmVNZWRpYVBsYXliYWNrLnN3ZiUyMiUzRSUwQSUzQ3BhcmFtJTIwbmFtZSUzRCUyMmZsYXNodmFycyUyMiUyMHZhbHVlJTNEJTIyc3JjJTNEJTJGd3AtY29udGVudCUyRm1lZGlhJTJGdmlkZW9zJTJGU3RhcmsubXA0JTI2YW1wJTNCcG9zdGVyJTNEJTJGd3AtY29udGVudCUyRm1lZGlhJTJGdmlkZW9zJTJGc3RhcmstY2FzZXN0dWR5LWhlYWRlci5qcGclMjZhbXAlM0JzdHJlYW1UeXBlJTNEcmVjb3JkZWQlMjZhbXAlM0Jsb29wJTNEdHJ1ZSUyNmFtcCUzQmF1dG9QbGF5JTNEdHJ1ZSUyNmFtcCUzQm11dGUlM0R0cnVlJTI2YW1wJTNCcGxheUJ1dHRvbk92ZXJsYXklM0RmYWxzZSUyNmFtcCUzQmNvbnRyb2xCYXJBdXRvSGlkZSUzRHRydWUlMjZhbXAlM0JtdXRlJTNEdHJ1ZSUyMiUzRSUzQ3BhcmFtJTIwbmFtZSUzRCUyMndtb2RlJTIyJTIwdmFsdWUlM0QlMjJ0cmFuc3BhcmVudCUyMiUzRSUwQSUzQyUyRm9iamVjdCUzRSUwQSUzQyUyRnZpZGVvJTNF
In person or online, it is always a great experience.
Representing the tangible on an intangible medium is about creating visuals that resonate and user flows that feel natural. Stark Enterprises is all about the experience and so are we – that's why it was so easy to deliver.
It was also important that we helped visitors find what they needed fast and to serve as a tool that was part of their process when planning a visit or being on site. Whether for residents, shoppers, workers, investors or store owners, it had to work right.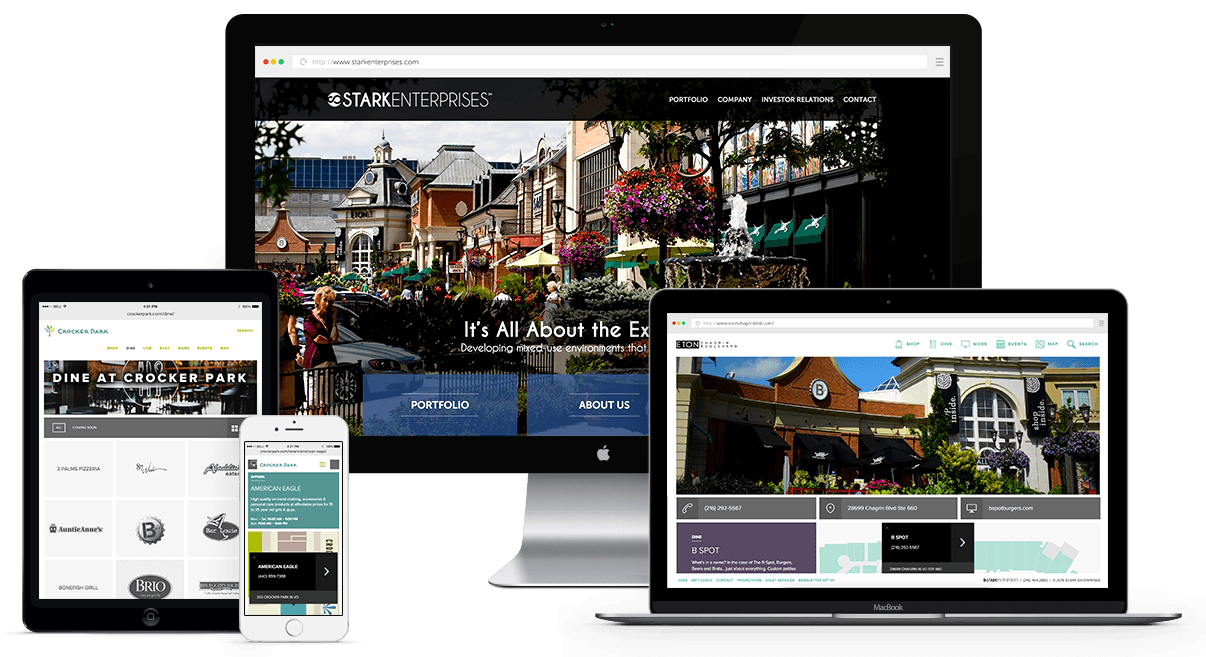 Different Locations. Cohesive Experiences.
From large retail centers and corporate sites to landing pages and small places, we have created amazing sites for Stark Enterprises that represent each place while keeping a consistent feel. Insivia set a standard for representing digital locations that drove envy in the industry.

Interactive Custom Maps
Getting people around is one of the most important aspects of a website for a place-based organization. That's why we build a user-friendly, illustrated interactive mapping tool for Crocker Park and Eton that works on any device.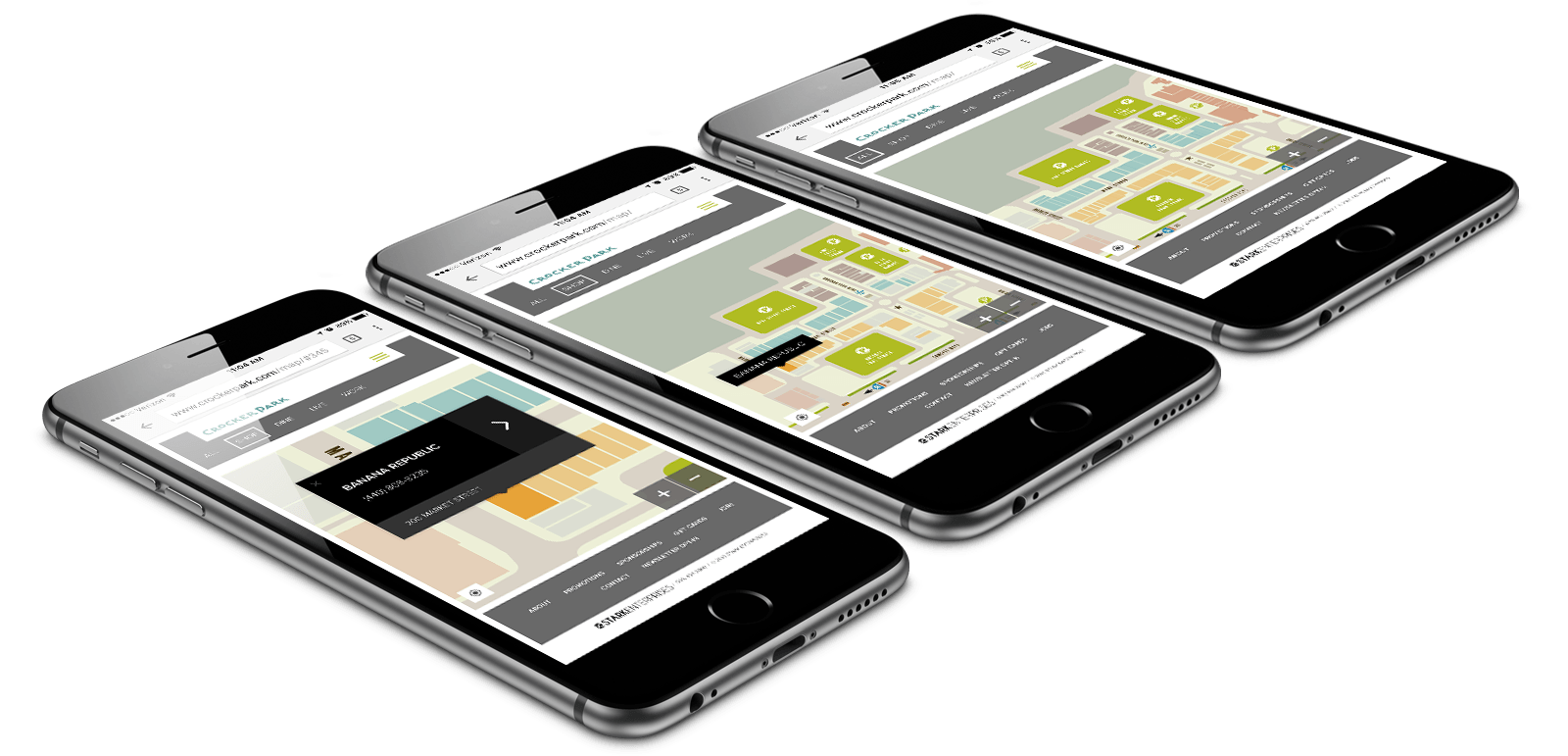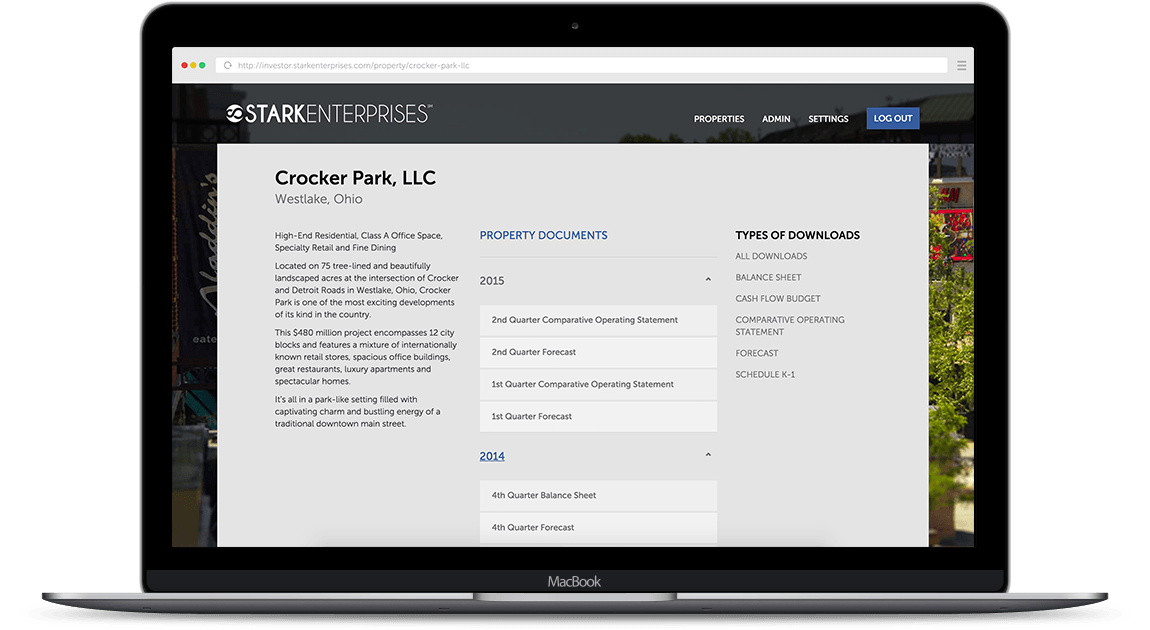 Investor Portal
Companies want to provide real-time access and service for more than just their customers. That's why we build intranets and investor portals that allow private access to documents, schedules and more. The web is your chance to engage with all stakeholders.
JTNDZGl2JTIwY2xhc3MlM0QlMjJnYWxsZXJ5JTIyJTNFJTBBJTIwJTIwJTIwJTIwJTNDdWwlM0UlMEElMjAlMjAlMjAlMjAlMjAlMjAlMjAlMjAlM0NsaSUyMHN0eWxlJTNEJTIyYmFja2dyb3VuZC1pbWFnZSUzQXVybCUyOCUyRndwLWNvbnRlbnQlMkZ1cGxvYWRzJTJGMjAxNSUyRjEwJTJGc3RhcmstY2FzZXN0dWR5LWV0b24tbGFwdG9wLmpwZyUyOSUzQiUyMiUzRSUzQyUyRmxpJTNFJTBBJTIwJTIwJTIwJTIwJTIwJTIwJTIwJTIwJTNDbGklMjBzdHlsZSUzRCUyMmJhY2tncm91bmQtaW1hZ2UlM0F1cmwlMjglMkZ3cC1jb250ZW50JTJGdXBsb2FkcyUyRjIwMTUlMkYxMCUyRnN0YXJrLWNhc2VzdHVkeS1tYXAuanBnJTI5JTNCJTIyJTNFJTNDJTJGbGklM0UlMEElMjAlMjAlMjAlMjAlMjAlMjAlMjAlMjAlM0NsaSUyMHN0eWxlJTNEJTIyYmFja2dyb3VuZC1pbWFnZSUzQXVybCUyOCUyRndwLWNvbnRlbnQlMkZ1cGxvYWRzJTJGMjAxNSUyRjEwJTJGc3RhcmstY2FzZXN0dWR5LWNyb2NrZXJwYXJrLXRhYmxldC5qcGclMjklM0IlMjIlM0UlM0MlMkZsaSUzRSUwQSUyMCUyMCUyMCUyMCUyMCUyMCUyMCUyMCUzQ2xpJTIwc3R5bGUlM0QlMjJiYWNrZ3JvdW5kLWltYWdlJTNBdXJsJTI4JTJGd3AtY29udGVudCUyRnVwbG9hZHMlMkYyMDE1JTJGMTAlMkZzdGFyay1jYXNlc3R1ZHktZXRvbi1tb2JpbGUuanBnJTI5JTNCJTIyJTNFJTNDJTJGbGklM0UlMEElMjAlMjAlMjAlMjAlMjAlMjAlMjAlMjAlM0NsaSUyMHN0eWxlJTNEJTIyYmFja2dyb3VuZC1pbWFnZSUzQXVybCUyOCUyRndwLWNvbnRlbnQlMkZ1cGxvYWRzJTJGMjAxNSUyRjEwJTJGc3RhcmstY2FzZXN0dWR5LXN0YXJrLWRlc2t0b3AuanBnJTI5JTNCJTIyJTNFJTNDJTJGbGklM0UlMEElMjAlMjAlMjAlMjAlM0MlMkZ1bCUzRSUwQSUzQyUyRmRpdiUzRSUwQSUzQ3NjcmlwdCUyMHNyYyUzRCUyMmh0dHBzJTNBJTJGJTJGY2RuanMuY2xvdWRmbGFyZS5jb20lMkZhamF4JTJGbGlicyUyRnVuc2xpZGVyJTJGMi4wLjMlMkZqcyUyRnVuc2xpZGVyLW1pbi5qcyUyMiUzRSUzQyUyRnNjcmlwdCUzRSUwQSUzQ3NjcmlwdCUzRSUwQSUyNCUyOGZ1bmN0aW9uJTI4JTI5JTIwJTdCJTBBJTIwJTIwJTIwJTIwJTI0JTI4JTI3LmdhbGxlcnklMjclMjkudW5zbGlkZXIlMjglN0Jkb3RzJTNBdHJ1ZSUyQyUyMGZsdWlkJTNBdHJ1ZSU3RCUyOSUzQiUwQSU3RCUyOSUzQiUwQSUzQyUyRnNjcmlwdCUzRQ==

"The Insivia team really made the process of working together smooth, easy and enjoyable while delivering an amazing solution. We love having them as a partner."
- Ezra Stark