How do I get a list of my inbound links?
When it comes to optimizing our site for search engines, inbound links are a huge part of the equation. There are a lot of strategies for building inbound links, and that's where the real work and science come into the picture. But what if we just want to know what sites currently link to ours?

Google Webmaster Tools provide a ton of great little tools and insights to help us improve and understand our website. Just visit https://www.google.com/webmasters/tools/ to get started. You have to verify your site which does require a little technical knowledge, but it's pretty easy.
One you are there and have your site verified, just use the navigation to the left and click "Your site on the web" -> "Links to your site." You'll see something like the following:
Once you're there, click on one of the highlighted numbers to the right to see the links coming to that page and you will see a screen with all the links that are connecting to your site: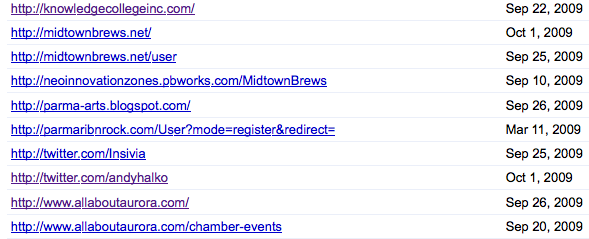 So, start building those links. And if you need help, just try out Insivia's Search Engine Optimization Services.
About Insivia