How Credible is your Website?
Over the years Insivia has met with quite a few businesses that are seeking a website just to have a website. At first this really confused us. Most clients we meet with use their site to generate sales leads or sell a product. However, we have learned that there are a handful of businesses that care less about using their site to find prospects and more about credibility. This intrigued the team at Insivia, so we started to ask more questions about why these businesses never sought to maximize the benefits of the web like all other businesses do.
First, let us put the idea of credibility into perspective for you. Think about the last time you did some personal online shopping. If your shopping began with a Google keyword search, you probably found a wide variety of sites that sold the product. Some of your findings were probably major retailers, while others were new to you. Chances are you reviewed each site with a careful eye to make sure they had the right product at the right price and they looked like a trusting business that was worthy of your money. And you may have even purchased a more expensive product because another site didn't look trustworthy.
They same thing happens in the BtoB world. Just because nobody is searching for you doesn't mean they are not critiquing you once they have been referred. A quality web presence with intelligent content will demonstrate your expertise and create value for your services. It will provide that comforting feeling that this company is for real and we can trust them to do business with us.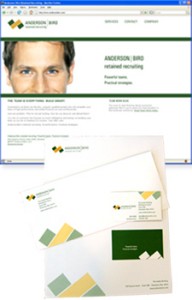 The perfect example of a company that establishes credibility with their website is Anderson|Biro. Two years ago a couple of gentlemen decided to start their own national recruiting business with a focus on real estate, finance, and collections industries. As a new business they knew it would be particularly difficult to sell a $20,000 to $50,000 job placements if their website appeared to be homemade. So they hired Insivia to design everything from logo, website, business cards, and letterhead. Today they are blowing out walls in a downtown high-rise so they can find more room for new employees. Could they have done all this without good branding? Of course. Did doing it right the first time make it happen faster? Take a look at their website and judge for yourself.
Confused about where to start? Call us today!
About Insivia