Get Sales and Have People Promote It Too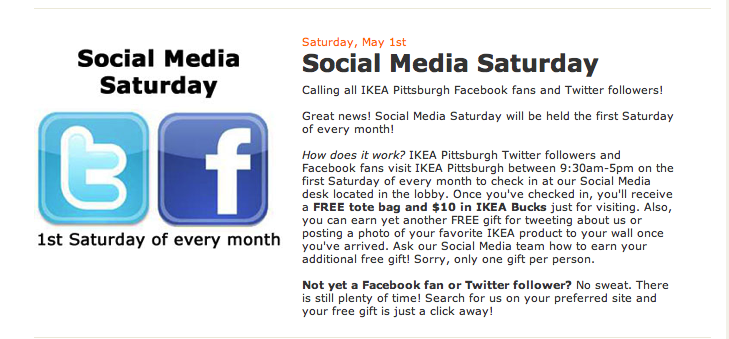 I was sent this by a potential client recently and loved the idea. IKEA (I love their furniture--our office is full of it) offers a promotion that if you tweet from their store, you get $10 to spend. Now, not only is IKEA getting people to the store, they are giving them only a small amount of money which most likely leads to a purchase well beyond that coupon, but also?they get free promotion!
By encouraging customers to share the fact that they are at the store, IKEA gets promotion to thousands of people most likely local to the store as well. Plus, the message is from a trusted resource--a friend or follower.
It's worth thinking how you could do this in your store or even on your website. After someone purchases a product or possibly even before, it's useful to have an easy method for people to tweet their experience, providing a link for others to do the same.
About Insivia