E-Commerce Platforms for Success
In the world of e-commerce businesses are striving for one thing, to do business better and faster. It's about attempting to give your customers controlled access and let them serve themselves. In order to achieve the results you want, you must dedicate your efforts to a series of online tactics and integrate your business seamlessly into the online world.
This process is headed by your marketing strategy which should revolve around finding a way to attract customers to your place of business. When working on the
development of your e-commerce
site you'll find that there are many options with different features and prices.
We've gathered 3 e-commerce platforms that are sure to help in the development of your online business.
Shopify
A great platform for any small business entrepreneur, Shopify is a simple turn-key system that is fully hosted, gives you full control of design, and includes extended features to assist with your business's continued growth. When singing up for Shopify you'll find that there are 4 packages that range from Basic at $29 per month to Unlimited at $179 per month. It not only offers the ability to build an online store, but also helps to educate the user to make sure their efforts don't go unrewarded.
Additional Features:
Content Management
Ecommerce Analytics
Mobile Commerce
On-Board Coaching
Order Tracking
Coupon Codes
A/B Testing
Big Commerce

This is a little bit ?more of a complex system that comes with more features and integration capabilities. With all the tools you need to build your ecommerce site, Big Commerce offers 5 different packages that range from $24.95 - $299.95 per month. All the packages include products, staff logins, storage and Google AdWords along with other baked in features. It also offers users a 15 day free trial with no risk.
Additional Features:
Domain Name
Secure Shopping Cart
Product Catalog
Email Account Reporting
Mobile-Optimized Store
$2,000,000 Integration Fund
Baked-In Features
Magento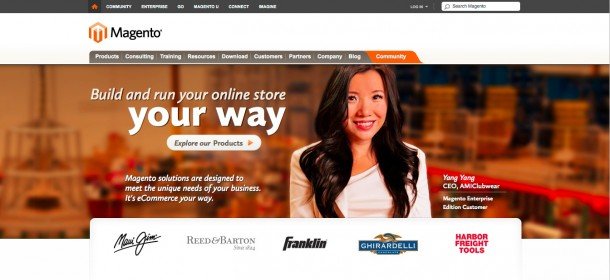 This is a non-hosted or hosted solution that offers flexible, scalable eCommerce solutions to help businesses succeed online. With more than 150,000 companies using the service, Magento allows businesses of all sizes the ability to control and customize the look and feel of their online stores. There are two categories, Magento Go, which is aimed for small business, and then there is the Enterprise Edition, which is for mid-large size businesses. The Magento Go offers a hosted solution with plans from %15 per month. If you are a larger company and looking for a more complex solution you can look into the Enterprise Edition that offers licensing fees from $14,420 per year.
Additional Features:
SEO
Custom Coupons
Multiple Payment & Shipping Options
Multiple Commerce
Mobile Commerce
Custom Landing Pages
Product Catalog
About Insivia