CG Thermal LLC is a customer focused, technology driven, solution oriented, custom graphite and ceramic heat exchanger company located in Northeast Ohio. As the company's success continued to grow, they saw the need for a stronger web presence.
They approached Insivia with two specific goals. The first was to present CG Thermal as a technical resource and their products as technically superior to their competitors. The second goal was to clearly define the best uses of their equipment, introducing the next generations of processing.
Our main challenge was to figure out how to market a manufacturer of technical products to engineers within specialty chemical companies. We made sure that the photography illustrated the products and services in detail so visitors could truly understand the capabilities. We also created the site layout so it was easy to navigate and drove people to action.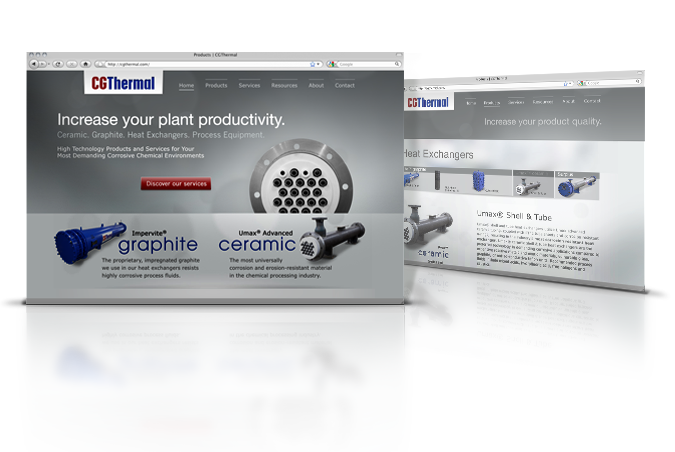 According to Greg Bercherer, VP of Sales & Marketing, "Insivia hit it on the head. Everything from the color scheme to the flow of the site does portray a crisp, clean, 'technical' image. The product uses and features are clearly stated, allowing overworked engineers to gain confidence relatively quickly to give us a call. Insivia's process is key. They spent time up-front to understand our company and markets, and force us to clearly define what we wanted to attribute to the site."
You can visit the new CG Thermal site at www.cgthermal.com According to Bercherer, it's "world-class"!
About Insivia