Thanks to the advent of user generated content and content management systems, there are millions of new pages of content being added to the web every day. Much of this content is valuable information you can use to make vital improvements to your business, while other content is just fun to keep tabs on. The challenge most people have is trying to keep up with all the new information that is being spread across the web. It's too hard for one person to scan all their favorite websites like a newspaper and find only the articles that interest them the most. Often you might miss the most valuable content because you simply cannot perform your daily activities and review 20 or more websites every day.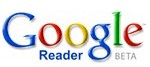 You can stopping worrying — there is a great solution to this problem. It's called an RSS Feed Reader, and it's one of the most underutilized tools on the web. RSS Feed Readers aggregate newly updated content from all your favorite websites into one easy to read and organized web page application. It has a similar organizational setup to Microsoft Outlook. You can review all new feeds or sort them by category and website.
Top Five Reasons to have an RSS Feed Reader:
1.)Clean up your e-mail inbox and your desk.
Unsubscribe from those annoying e-mail newsletter blasts and free your desk from magazine and newspaper clutter. Most websites will allow you to receive the exact same information in a RSS reader.
2.)Save time perusing multiple sites.
You don't have time to check in on your favorite sites every day. And you couldn't possibly keep up with the all the information you missed in the passed two days. By aggregating into one place you can view everything you missed when you have the time. I personally receive and average of 300 updates a day that I can scroll through in five minutes to determine whats most beneficial to me.
3.)Stay on top of your industry.
Subscribe to your favorite industry group websites, competitors, trade journals, and so on.
4.)Keep customers informed with news, events, and blog posts.
Establish expertise in your field of business by writing quality content related to your industry. RSS will allow customers and prospects to stay on top of what's new in your business.
5.)It's free!
I have been using this tool for about two years now to stay on top of my industry and favorite sports teams. Give it a try and let us know what you think!
View a listing of the Top 10 Web-Based RSS Readers.
Confused about where to start? Call us today!