This week retailers are ready for two of the biggest events of the year with Thanksgiving being followed by Balck Friday and Cyber Monday. In 2011 total annual retail sales added up to $4.7 trillion dollars, and up to 40% of that spending occurred in the holiday season kicked off by Black Friday and Cyber Monday. Millions of Americans are getting ready to spend, and retailers are following trends to ensure this year is a success. Here's an infographic comparing the two largest spending days of the year.
Originally posted by Kapital, click below to see the full infographic.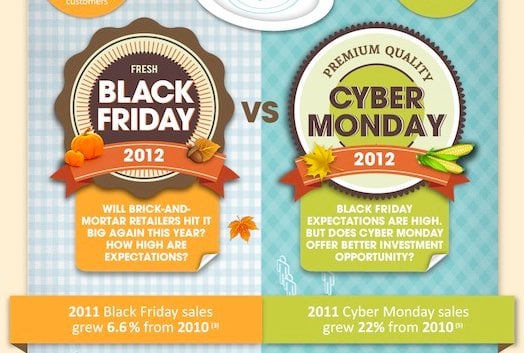 Share Your Thoughts
October 27, 2017 Workshop
A two hour unique seminar covering several topics on how to drive targeted traffic to your site utilizing both inbound marketing and paid advertising. We'll dive a little deeper to give the tips and tricks to achieve results.
Featured Case Studies
Great clients we love working with.